Increase of capacitors' energy density is of prime interest in number of today's applications. High energy density, high voltage capacitors are especially needed in fast-growing segments such as automotive, renewable energy generation and transmission, medical etc. Article written by EPCI and Brno University of Technology evaluates high energy density low Curie ceramic dielectric materials.
The paper was presented by Tomas Zednicek, EPCI, Czech Republic at the 3rd PCNS 7-10th September 2021, Milano, Italy as paper No.1.2.
High energy density dielectric materials are subject of prime research for decades. Simple plate capacitance calculation is following the equation: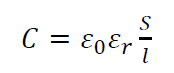 where
ε0 = permittivity of vacuum
ε r = relative permittivity of the dielectric material
S = surface of electrodes
l = thickness of dielectric
In order to achieve maximum capacitance value, εr relative permittivity of the dielectric material, surface area of electrodes shall be high, and the dielectric shall be as thin as possible. The capacitor must operate reliably at defined voltage in addition, so the dielectric shall feature high electric field strength in order to use a thin dielectric layer at desired working voltage. Surface area of electrodes is also important, and it may be related to the thickness of dielectric layer, as thin dielectric can follow fine structures / pores and thus create large surface area. This is especially important with increase of rated voltage of the capacitors as the thicker, high voltage dielectrics may not follow fine structure of electrodes. Thus, low voltage capacitors may successfully use nano/microstructure electrode materials, while high voltage capacitor electrodes has to be optimized for thicker dielectrics and also handling of much higher charging / discharging currents as the energy increase with voltage squared.
Selection of the right dielectric materials and capacitor construction is influenced also by other requirements such as required operation temperature range, high peak temperature withstanding during PCB mounting, humidity, vibration robustness, long lifetime etc.
HIGH ENERGY DIELECTRIC MATERIAL STUDY
High Energy Dielectric Materials – Overview
There were number of experiments and reported record high permittivity values achieved on various dielectrics since Figure 1. Chart was published by Pushkar in 2004. Nevertheless, the trials on such results achieved in laboratory conditions have not yet brought a breakthrough in practical "stable" and "useful" capacitor technology in mass production on the marker yet.
If we look what is a major change on capacitor technology market across past decades, one can notice a major increase of ceramic dielectric technologies that outperformed the other in number of sectors – miniaturization, cost, high voltage, stable parameters and reliability, low leakage current etc. Indeed, there are still some downsides on ceramic capacitor features and application limitations, nevertheless the fact that this technology has seen a major multi-level improvement across the past years and decades can be clearly noticed.
Aim of our research was thus focus to high energy and high voltage ceramic dielectric materials to check how / if we can achieve some improvements over the BOCA line and mass used dielectric types today.
If we look at Figure 1. chart from Pushkar at col. [1] and highlight domain of the currently most used technologies in mass production we can see that MLCC class II technology may outperform the others on first look into specifications, nevertheless the real application usage has to reflect its capacitance drop with applied voltage that may significantly degrade its energy storage capabilities, especially at high voltages. … Thus, it is also below BOCA line of max energy achieved. See Figure 1.
Note: the highest energy capacitor dielectric on the market is still tantalum wet electrolytic technology that reach energy density as high as 8J/cc at 250V, nevertheless high cost and higher ESR of this technology limit its use to a specific field such as medical implantable defibrillators.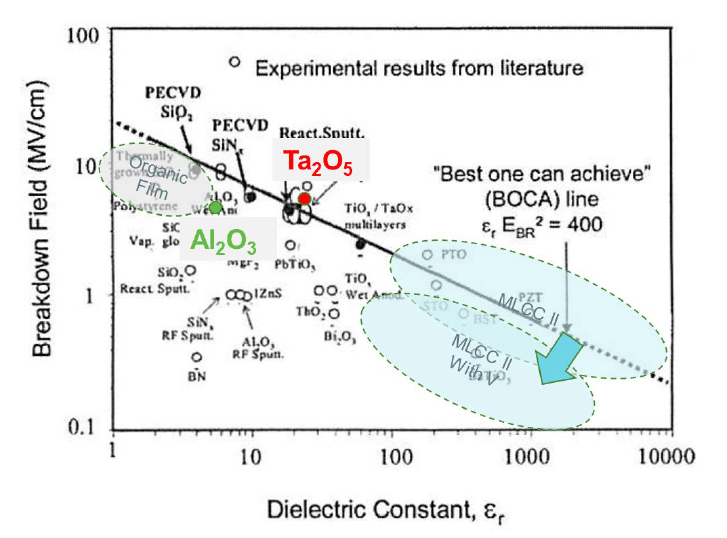 Unlike tantalum capacitor technology, ceramic dielectric materials offer much higher potential of further development and flexibility to adjust its material characteristics and thus our focused was towards this direction of material research.
High Energy Ceramic Dielectric Materials
The highest energy density on ceramic dielectric materials is achieved with class II ceramic materials with ferroelectric features usually based on barium titanate BaTiO3, where the polarisation (capacitance) is created by its crystal structure.
BaTiO3 has a cubic crystal structure above the Curie temperature (approx. 125°C or more). It turns into a tetragonal crystal structure that creates a dipole, respectively domains of dipoles with different dipole orientation below the Curie temperature.
The dielectric material grain size/shape/distribution may impact number of dipoles and domains and thus its features and characteristics. The maximum permittivity and capacitance value is achieved at Curie temperature area around 125°C for a standard pure BaTiO3 material.