Increase of capacitors' energy density is of prime interest in number of today's applications. High energy density, high voltage capacitors are especially needed in fast-growing segments such as automotive, renewable energy generation and transmission, medical etc. Article written by EPCI and Brno University of Technology evaluates high energy density low Curie ceramic dielectric materials.
The paper was presented by Tomas Zednicek, EPCI, Czech Republic at the 3rd PCNS 7-10th September 2021, Milano, Italy as paper No.1.2.
BT-11BS OPTIMIZATION as CERAMIC DIELECTRIC MATERIAL
BaTiO3-xBaSnO3 ceramic system permittivity and its piezo characteristics have been already studied in scientific papers [8], however the main scope was to maximize its permittivity to achieve best piezo-electric features. Figure 7 is showing its crystal structure changes versus temperature and confirms that BT-11BS feature the highest permittivity among the BT-xBS system according to [8].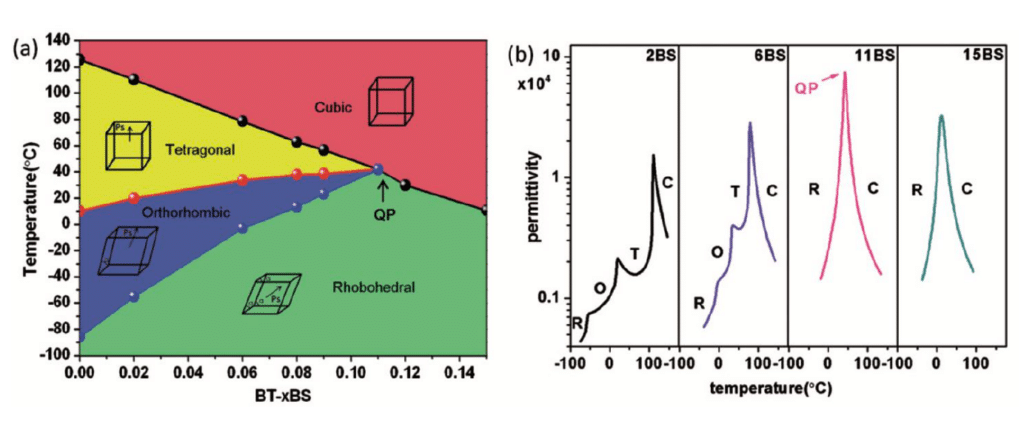 The BT-11BS material has a cubic crystal structure in temperatures above 37°C and rhobohedral structure in lower temperatures according to the source. It shall be noted that the peak high relative permittivity on BT-11BS in reference around 70K may achieve a good feature for piezo-electric applications, but it may not be optimized for capacitor dielectric where electrical field strength and dielectric losses may degrade its high energy storage capabilities.
The maximum of the BT-11BS dielectric constant was found to be ~ 17K at 41 °C on material prepared in reference [9]. The recovered energy density was 0.08 J/cm3 and 91% efficiency at 60 °C and the BT-11BS was considered as a potential material for further energy storage capability study.
Our next task for BT-11BS optimization as capacitor dielectric material included:
preparation of the ceramic material by different techniques to achieve homogeneous microstructure with good functional properties.
preparation of the ceramic material using different particle size to evaluate its impact to the material features.
perform capacitance measurements and characterization
BT-11BS Particle Size Structure Optimization
For the optimization of this ceramic system, we studied the impact of particle size and sintering temperature for samples synthesized by Process 2. and Process 3. methods. Particle size of the ceramic powder was 100nm and 5μm, respectively. Four different sintering temperatures were chosen: 1380°C, 1400°C, 1420°C and 1440°C. This technology tuning resulted in eight different samples, which were further evaluated.
BT-11BS OPTIMIZATION RESULTS
BT-11BS Process 2. Test Summary
BT-11BS material in its first evaluation showed some potential benefits with promising shape of E-P loop and efficiency above 75%. The impact of particle size and sintering temperature was studied on eight samples synthesized by the conventional solid-state method.
The optimized material prepared by conventional solid-state method showed increase of efficiency >80% and the permittivity up to 16K at 37°C temperature (~8K at room temperature) with overall energy densities around twice higher compared to pure BT reference sample (~0.1 J/cc @1Hz).
The increase of energy density as well as energy efficiency when operating the structure above the Curie temperature is an interesting finding illustrated in figures 30 and 31. The permittivity at temperatures above the Curie point is more stable with voltage.
The energy density may increase further with higher frequencies such as 100Hz and ED may increase in thin layers – for example prepared by tape casting MLCC manufacturing process.
BT-11BS Process 3. Test Summary
BT-11BS material prepared by Process 3. technique resulted in fine particle size, dense, homogenized structured material with different features compare to the materials prepared by Process 2. method.
The Process 3. material shows lower permittivity in range of ~ 3K at room temperature but increased electrical strength that allowed application of electrical field up to 0.09 MV/cm (vs 0.03 MV/cm in the case of conventional solid-state method).
Capacitance of Process 3. prepared samples drops at maximum voltage by ~50% vs ~80% drop on conventional methods (for comparable electric field). This results in significantly lower dependence of its permittivity / capacitance to applied voltage and increase of energy density at higher electrical fields.
The maximum energy density achieved was 0.4 J/cc at 82% efficiency, that is ~10x higher energy density compared to the reference pure BT material at 1Hz.
The Process 3. samples in our lab scale preparation had a limitation in too high thickness of test samples with very high breakdown voltage. Thus, to be able to analyse the sample disks in our test devices we had to grind and polish the sample to enable the measurement. These processes may degrade the pure material capabilities by some degree, thus in reality performance of the BT11-PS material prepared by Process 3. method may be even higher compare to the test results presented herein.
The energy density may increase further with higher frequencies such as 100Hz and it may present state of the art energy density in ceramic dielectric materials.
KEY FINDING: CAPACITANCE vs BIAS DROP IS MUCH LOWER ABOVE CURIE TEMPERATURE
The reason for the increase of energy density and Efficiency of charge/discharge cycle observed on BT-11BS materials can be determined from the dependence of the dielectric constant on the applied voltage (electric field on the sample). Figure 8 shows the dependence of dielectric constant on the applied voltage in the range -800 to +800 V for five different temperatures in the range approx. 25°C to 70°C.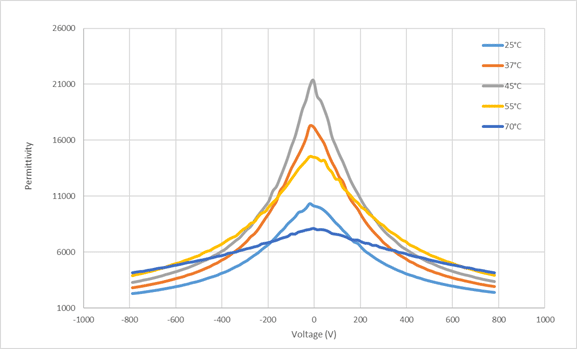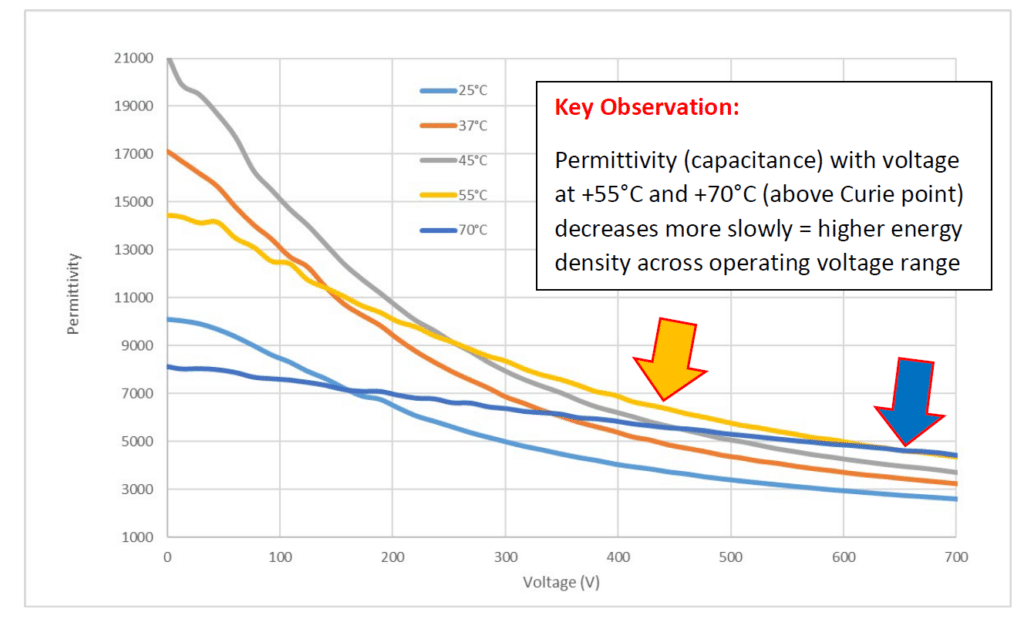 Dielectric constant decreases with increased electric field for all temperatures, but the closer we are to the Curie temperature (about 46 °C for these samples), the higher is both peak value of dielectric constant as well as the dielectric constant value for maximum applied voltage. However, for temperature above the Currie point the decrease of dielectric constant with electric field is considerably slower – see Figure 8. and Figure 9.
This phenomenon has been observed also in the case of pure BT reference material, and BCST material, where capacitance dependence with voltage was flatter for temperatures above the Curie Temperature. Based on this observation we can assume that this behaviour is not specific to the BT-11BS material, but common for ferroelectric ceramic dielectrics.