Alter Technology published on its doeeet.com website an article with overview of active and passive components dedicated to "New Space" and LEO Constellations.
Much like the defence industry moved from Military Qualified ceramic devices to COTS, the space industry is facing the same shift from Space Qualified for Low Earth Orbit (LEO) missions with short mission life, and requirements for small size. However, there are unique challenges with the space environment that are different from the military environment: radiation requirements, thermal cycling, and outgassing.
The space community has long resisted the use of COTS due to inherent risks and uncertainties in the process, including lot traceability, validity of radiation test results, test program correlation, and lack of manufacturer warranty and support.
The major space agencies around the world have long specifications for the postprocessing of COTS to qualify them for space use. It is costly and time-consuming to do the testing and carries the risk of a lot failure leaving the designer to start the process over with a different part, add shielding, or include other mitigation techniques that add cost and weight.
If the manufacturers offer a space-qualified COTS product, those risks are greatly reduced and the benefits in performance, advanced technologies and reductions in size, weight, and power compared to existing space-qualified products coupled with the quality and radiation assurance will enable future spacecraft to deliver higher performance at a lower total cost than ever before.
Microchip: Hirel Plastic Rad Tolerant (HP) products
To support this trend, Microchip introduces its COTS-to-radiation-tolerant approach, combining the low-cost access of a COTS device with the benefits of wide market deployment, development facilities and large ecosystem with space-qualified versions that have scalable levels of radiation performance.
Microchip: Sub-QML RT FPGA products
Sub-QML RT FPGAs features:
Ceramic – Reduced Flow and Mil Temp Hermetic
Plastic Package –Industrial temperature, Military temperature
Radiation hardened by design
No screening will be performed but 100% EM at three temperatures.
Full traceability, homogeneity & COC are granted
Single base line.
STMicrolectronics: Rad-Hard Plastic
New product line LEO is started to develop product portfolio of Analog & Mixed Signal and Logic products. These new products will be packaged in plastic packages with assembly in STMiroelectronics´s high volume back end manufacturing site, on assembly line used for AEC- Q100 qualified products.
Rad Hard Plastic for LEO Key Features are:
Guaranteed at 50 krad(Si) High Dose Rate (for CMOS) and Low/High Dose rate (for BiCMOS). + SEL free @ 43 MeV.cm2/mg
Operating Temperature -40°C to +125°C
Plastic Packages (TSSOP20 for Signal Devices, PowerSO20 for Power Devices)
Bonding with Gold Wires
Finishing : Ni/Pd/Au whisker free
Assembly on lines used for AEC-Q100 qualified products
Single Plant Source per product for Assembly & Testing
Qualification: Based on AEC-Q100 + Radiation
Screening: Based on AEC-Q100

10 Thermal cycles @ 100%
CSAM by sampling 
External visual.
No serialization, No burn-in, Certificate of conformance
Some products are on-going development status, which will be extended according to generic demands, specific customer and program requirements, including Logic, Voltage regulator, POL, PWM, Discretes.
ANALOG DEVICES: Commercial Space (CS) Products
To address the New Space needs, Analog Devices is introducing a new line of commercial space products. CS products are based on released products, with best grade available and same package as commercial version. In this line, Analog Devices has established three commercial space product screening and qualification flows, designed to offer the best price/reliability ratio for applications targetting different requirements.
Renesas-INTERSIL: Radiation Tolerant Plastic Products
Seeing the emerging need and convergence of requirements for New Space, Intersil has created a cost effective radiation tolerant product development and manufacturing flow to address these emerging small satellite needs. The result is a new family of products that are being released in small form factor surface mount plastic packages, can help reduce the cost of satellite production, while still maintaining high reliability.
TEXAS INSTRUMENTS: Space Enhanced products (SEP)
Texas Instruments Space-EP provide a very cost effective means of mitigating the risks associated with using commercial off-the-shelf plastic encapsulated microcircuits. TI's approach, combining the best of the Enhanced Product methodology and Class V-like wafer processing, ensures a product that meets New Space applications, while providing small size and reduced system cost.
NANOXPLORE: RHBD Plastic Package FPGAs
Nanoxplore proposes the following approach to address cost reduction without downgrading Electrical and Radiation Performances of FPGAs:
Access to Rad Hard By Design (RHBD) silicon at same cost.
Commercial Organic Package
Proposes minimum screening flow: M-grade (Optional 24 hours Burn-In: MP-grade)

Internal Visual Inspection by sampling TEST METHOD 2010B, 
Electrical Measurements -55ºC & +125ºC
External Visual Inspection by sampling TEST METHOD 2009
RHBD Plastic FPGA options are:
NG-MEDIUM (34K LUTs/3Mb RAM/112 DSPs): NX1H35AS-FG625M & MP
NG-LARGE (137K LUTs/10Mb RAM/384 DSPs): NX1H140TSP-FF1752M & MP
NG-ULTRA (537K LUTs/32Mb RAM/1344 DSPs): NX2H540TSC-FF1752M & MP
ULTRA-150 (150K LUTs /12Mb RAM/460 DSPs): NX2H150TS-FF484M & MP
TT ELECTRONICS-SEMELAB: New Space Electronics 
TT Electronics-Semelab entry point for New Space Electronics discrete semiconductors and multi-chip arrays is shown in NS1 screening option below. The sequence provides an assurance basis with manufacture utilising robust, controlled, space proven processes and designs, including traceability to all materials and operations. NS2 screening option adds baseline mechanical and electrical screening to provide the next level of assurance.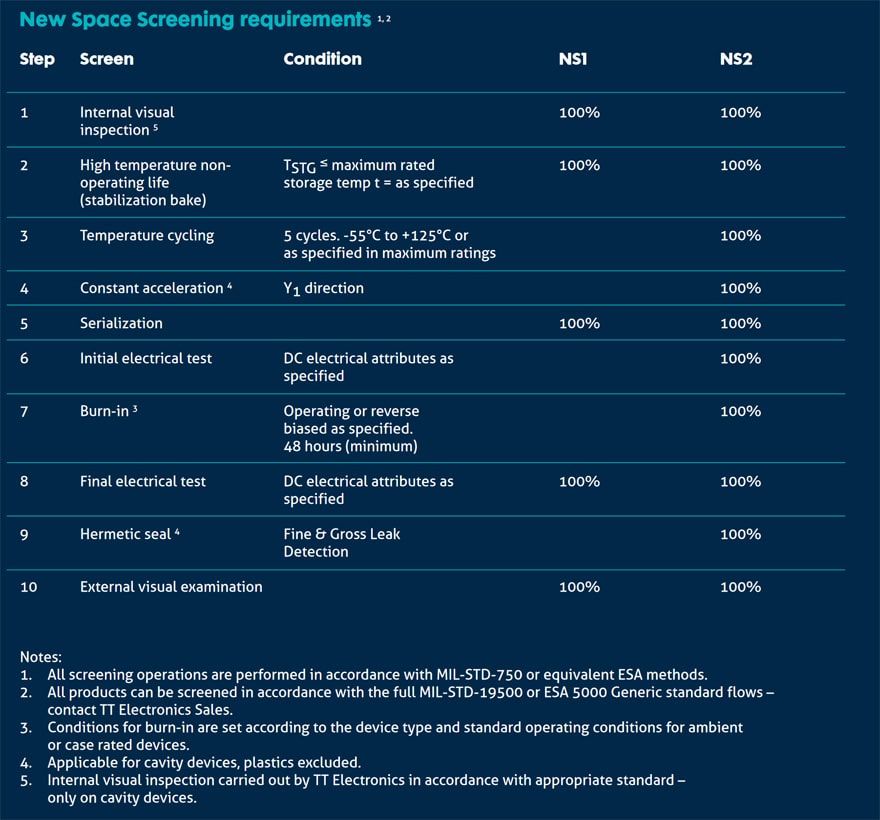 Cobham-AEROFLEX: LeanREL™ products
Cobham is now offering LeanREL™ products for Constellation/New Space markets. LeanREL™ includes:
Affordability vs mission assurance considerations
QML Material Pedigree
Radiation Assurance
Reliability Assurance
Tri-temp testing
Pinout and Foot Print Compatible with existing QML roducts
AXTAL: "Space-COTS Crystals" (SCC)
More and more space applications (New Space, Cubesat and other LEO missions with low radiation doses) or applications where the crystal acts as a non-time-critical clock (highest level of frequency stability is not needed), do not really require the use of fully space-qualified crystals such as the ESA detail specifications ESCC3501/xxx, which by the way includes a very limited number of package styles (no modern SMD packages)
Q-TECH: RAD TOLERANT for LEO applications
Q-Tech proposes a set of consistent and effective design and testing characteristics that will deliver optimal performance to the New Space market, using the most cutting edge small design options as both Q-Tech's 5x7mm and 7x9mm packages, offered in SMD and leaded configurations.
RAKON: High Reliability Radiation Tolerant COTS
The radiation tolerant XOs RK105 and VCXOs RK205 series are available in a 5.0 x 3.2 mm SMD package, are specifically designed for New Space applications and rugged environment where TID limit of 72/100 kRad and latch-up free till 32.4/62 MeV are required.
ISABELLENHÜTTE: (Almost Hi-rel) Mass production SMD resistor components for New Space applications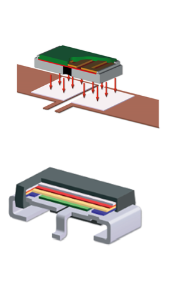 The approach followed by Isabellenhütte is to use the standard equivalents to the space parts, which are qualified in accordance with AEC-Q200 from Automotive Electronics Council, based on:
Standard-components (AEC-Q200) of Isabellenhütte are produced in the same manufacturing line than the space ones.
Standard-components (AEC-Q200) of Isabellenhütte do not have an inferior standing compared to the EEE-components in regards to the 24-months requalification.
Therefore, Isabellenhütte considers these standard components as "almost-hi-rel-parts-in-mass-production", and any case following can be available on demand:
Missing updated qualification data of the AEC-Q200 components, as well as LAT data applied to individual production lots.
Up-to-date AEC-Q200 qualification data of standard Isabellenhütte components.
Up-screening for risk mitigation can be done on the full Isabellenhütte portfolio of mass-production components, which will become more cost-effective as of a certain volume.
KEMET: High Reliability Alternative (HRA) SERIES
Kemet has just introduced a new High-Reliability Alternative (HRA) series of ceramic and tantalum capacitors into its reliability grades hierarchy.