Source: Electronic Products article,
sampling of the latest passive components for automotive applications by Gina Roos, editor-in-chief of Electronic Products.
The automotive electronic systems segment is forecast to grow 7% in 2018 and by another 6.3% in 2019, reaching $162 billion in 2019, according to IC Insights. The segment will also enjoy a healthy compound annual growth rate (CAGR) of 6.4% from 2017 to 2021.
So what's driving the increase? Lots of new technology features from autonomous vehicles and vehicle-to-vehicle (V2V) communications to advanced driver-assistance systems (ADAS) and other safety systems like backup cameras and lane departure detectors. Semiconductors like processors, analog ICs, memory devices, and sensors play big roles in these systems, but they also require passive components to make sure the systems are safe, stable, and interference-free.
Here is a sampling of the latest passive components for automotive applications.
Film capacitors deliver longer life

Vishay Intertechnology, Inc. recently launched the new F339X2 305VAC series of automotive-grade X2 electromagnetic interference (EMI) suppression film capacitors for standard-across-the-line applications (50 Hz/60 Hz). The devices operate as EMC filters for automotive and industrial power inverters.
The parts are qualified to both AEC-Q200 (rev. D) and IEC 60384-14: 2013/AMD1: 2016 grade IIB. To comply with the new humidity grading system defined under IEC 60384-14: 2013/AMD1: 2016 grade IIB, the F339X2 305VAC devices from Vishay BCcomponents withstand temperature humidity bias (THB) testing of 85°C, 85% RH for 500 hours at rated voltage with high stability on capacitance and dissipation factors. Vishay said that this rating enables the devices to deliver "greater robustness and longer service life in harsh application conditions."
The series offers capacitance values from 0.1 μF to 4.7 μF with tolerances down to ±10% and a permissible DC voltage of 630 V. Lead pitches are available at 15 mm, 22.5 mm, and 27.5 mm.
The encapsulation of the film caps consists of a flame-retardant UL-class 94 V-0 plastic case, which is epoxy resin-sealed. The lead-free devices are RoHS-compliant.
Power inductors combine small size, high inductance range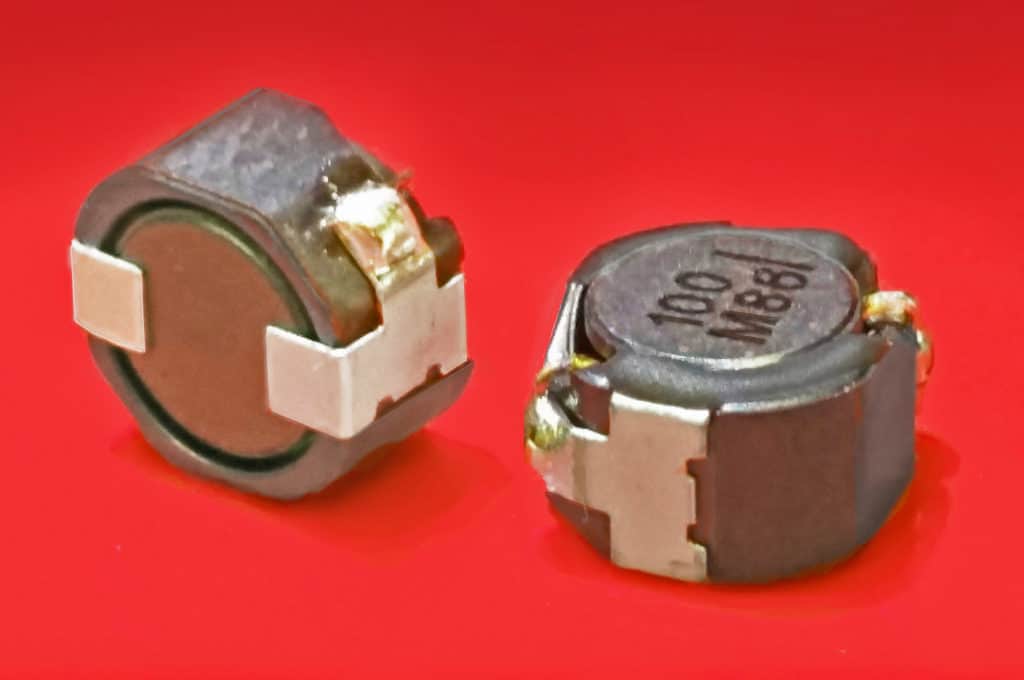 Aimed at automotive applications that require a small footprint and higher performance and meet the AEC-Q200 automotive reliability standard, Sumida Corp. offers the CDRH50D28B/T150 shielded drum inductor for a broad range of automotive applications. These include ADAS, electronic control units (ECU), battery management systems (BMS), navigation systems, infotainment systems, hybrid engine controls, and anti-lock braking systems (ABS). They can also be used in just about any high-reliability application.
The magnetically shielded, drum-core surface-mount inductors are based on Sumida's Ni-Zn ferrite core technology, delivering a small footprint with high inductance values (max. 100 µH), particularly for ADAS applications that require both. The power inductors are available in 13 values, ranging from 1.0 µH to 100 µH. DCR is as low as 18 mΩ for the 1.0-µH value. The maximum size for all values is 5.3 × 5.0 × 2.8 mm.
Part of Sumida's new series of high-temperature–resistant inductors, the CDRH50D28B/T150 operates up to 150°C. The full operating temperature range is –55°C to 150°C.
Sumida said that the ferrite-drum, ring-core construction provides a high level of magnetic shielding, which enables components to be placed closer together without EMI issues that could interfere with adjacent circuitry. The company attributes the high permeability of the ferrite drum-ring design to the inductor's lower DC resistance and better saturation current performance
Power inductor operates up to 155°C
Delivering automotive-grade reliability, Pulse Electronics Power Business Unit's PM220X series of surface-mount inductors can be used in automotive and industrial applications. The series matches the quality performance of Pulse's PA500X series for commercial applications with the addition of a higher operating temperature up to 155°C. The PM220x series meets AEC-Q200 and IATF 16949 manufacturing standards.
The high-current, composite core inductors can handle high transient current spikes without saturation, said Pulse. They also offer excellent temperature stability and larger terminations for lower DCR and stronger solder-joint reliability, according to the company.
Power film caps meet high power, high frequency requirements

Two of Kemet Corp.'s latest series of power film capacitors meet the requirements of AEC-Q200 and address the increasing demand for high-power and high-frequency applications. The C4AQ series targets industrial, automotive, and power supply designs for DC link, DC filtering, and energy storage applications, while the C4AF series is specifically designed for harsh environments in similar applications.
Featuring a polypropylene metallized film construction, the capacitors are available as two or four radial leaded board-mount devices. The capacitance range for the C4AQ series is 1.0 µF to 130 µF, with additional sampling for 170 µF and 210 µF. The voltage values range from 500 VDC to 1,500 VDC. Designed for harsher environments, the C4AF series offers a capacitance range up to 62 µF with voltage ratings up to 400 VAC. The operating temperature range of the power film capacitors is –55°C to 105°C.
The AEC-Q200–qualified devices within both series "address the requirements of the increasing amounts of electronic content in automotive applications," said Kemet, "where operating environments can be particularly challenging from both an electrical and environmental standpoint."
The RoHS-compliant capacitors are housed in rectangular, resin-filled enclosures and feature self-healing characteristics and low losses. Other features include high ripple current values, high capacitance density, and high contact reliability, said Kemet.
High-ESD–resistant power inductors address ADAS and powertrains

Touting the highest electrostatic discharge (ESD) withstand voltage for automotive power supplies, Murata Manufacturing Co. Ltd. recently announced that it beefed up its flagship DFEC Series of power inductors, used in consumer products such as smartphones, with the introduction of the DFE2HCAH (1008 size) and DFE2MCAH (0806 size) series for automotive applications such as ADAS, infotainment, powertrains, and in-vehicle networks. These parts also offer a small size and high inductance range while offering a high ESD withstand voltage.
The power inductors meet the AEC-Q200 standard and guarantee a 1-kV ESD withstand voltage, which is the industry's highest human-body model (HBM) for testing a capacitor. The DFE2MCAH Series' withstand voltage is 500 V. The operating temperature range is –40°C to 150°C. Samples are available.
Also designed for automotive applications, Murata claims the industry's first common-mode choke coil that is fully compatible with the automotive high-speed LAN standard, 100BASE-T1, that enables transmissions at 1 Gbits/s. In addition, Murata touts that the DLW32MH101XT2 is the smallest choke coil, measuring 3.2 × 2.5 mm, thanks to the company's winding technology.
Meeting the reliability required of noise filters used in 1000BASE-T1 communication circuits, the DLW32MH101XT2 supports the S-parameter characteristics specified by the OPEN Alliance automotive network standard organization. The operating temperature range is –40°C to 125°C. Samples are available.
Common-mode choke suppresses noise on CAN and CAN FD data lines
Designed for noise suppression in controller area network (CAN) or CAN FD applications, Coilcraft's 1812CAN Series common-mode chokes deliver noise suppression on CAN (1 Mbits/s) or CAN FD (5 Mbits/s) data lines in automotive and industrial automation applications. The series can also be used in FlexRay automotive bus systems.
The low-profile 1812CAN Series, measuring 4.95 × 3.18 × 3.0 mm, offers an inductance value range from 11 µH to 100 µH to filter a broad range of common-mode noise frequencies with high attenuation. Coilcraft said that the series offers up to 60% lower DCR than other CAN bus chokes, which translates into much lower losses on differential signal lines.
The 1812CAN Series is qualified to AEC-Q200 Grade 1 standards (–40°C to 125°C ambient), which makes it suitable for automotive and other harsh-environment applications. Other features include RoHS-compliant, silver-palladium-platinum-glass frit terminations, and a maximum reflow temperature of 260°C.
Coilcraft offers free evaluation samples of the 1812CAN series.
Film capacitors provide increased rated voltage of 350 VAC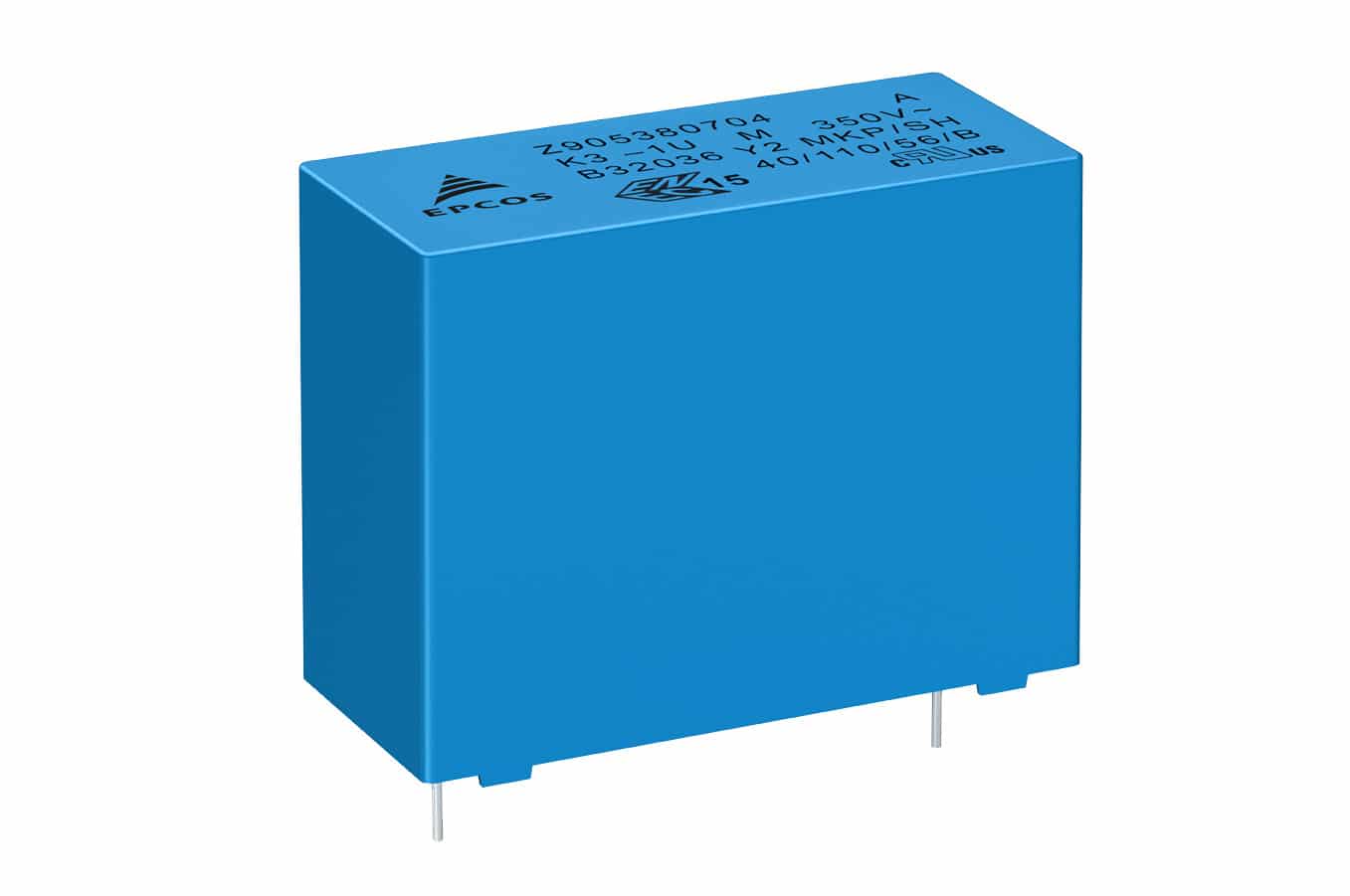 TDK Corp. offers a variety of components for automotive applications. The EPCOS MKP Y2 capacitors are just a recent example. Used for EMI suppression, these new capacitors offer a permissible rated voltage of 350 VAC compared with conventional types that are designed for rated voltages of 300 VAC. These devices can be used in automotive applications and photovoltaic inverters that require higher rated voltages and work in harsh environmental conditions.
The capacitance values of the B3203* series range from 4.7 nF to 1.2 µF. TDK said that even under harsh environmental conditions, the capacitors offer a stable capacitance value. Depending on the capacitance, they are available with a lead spacing of 15 mm (B32032*), 22.5 mm (B32033*), 27.5 mm (B32034*), or 37.5 mm (B32036*). The case and the epoxy resin sealing comply with UL94 V-0.
The EMI capacitors are approved in accordance with UL and EN and are qualified to AEC-Q200. They are also certified according to IEC 60384-14:2013/AMD1:2016 and classified in accordance with "Grade III high robustness under high humidity Test B." The test "is verified by a THB test at 85°C, 85% relative humidity and 350 VAC operating voltage, at which a capacitance drop of no more than 10% may occur," said TDK. The maximum operating temperature is 110°C.
Hybrid capacitors offer higher capacitance and ripple current ratings

Developed for the automotive sector, Panasonic recently expanded its conductive polymer hybrid capacitor product line with the launch of the EEH-ZS Series. The series offers an expanded capacitance range, doubles the ripple current capability, and is rated at 4,000 hours endurance at 125°C.
The EEH-ZS Series also offers new case sizes while keeping the same footprint (10 mm) and introduces hybrid capacitors that are 16 mm in length. All EEH-ZS Series products are AEC-Q200–compliant. They are also compliant to RoHS and REACH regulations.
The EEH-ZS series offers a capacitance range of 150 µF to 560 µF with rated voltages from 25 V to 63 V. Other key specs include a lower ESR down to 11 mΩ with a ripple current of 4 A rms. The lower ESR and higher ripple enhance filter and DC-link circuits in automotive control and powertrain applications, said Panasonic. These devices can also be used as replacements for other capacitor types such as larger MLCCs, aluminum electrolytics, or tantalums.
Film caps address EMI/RFI in EV/PHEV applications

Panasonic recently introduced the ECQ-UA Series of automotive-type metallized polypropylene film capacitors for interference suppression in automotive applications including electric vehicles and plug-in hybrid electric vehicles (EVs/PHEVs). They can also be used in applications such as input/output filtering for charging stations or the input side of onboard chargers and industrial power supplies.
The new line leverages Panasonic's original in-house patterned metallization process with fuse mechanism function to deliver higher reliability and stable capacitance over the product's lifetime. The devices are AEC-Q200–qualified.
The ECQ-UA Series film capacitors offer a capacitance range of 0.1 μF up to 4.7 μF with a rated voltage of 275 VAC, extendable to 305 VAC for short periods. The operating temperature range is –40°C to 110°C. The use of a flame-retardant plastic case and non-combustible resin are attributed to the series' accreditation in accordance with UL/CSA and European safety regulation for Class X2. All of the products are RoHS- and REACH-compliant.
The ECQ-UA Series film capacitors offer high humidity resistance (THB test: 85°C, 85%, 240 VAC, 1,000 hours) and high thermal shock resistance (–40°C to 85°C, 1,000 cycles).