Paumanok Inc. has released its latest market report on inductors: Inductors, Beads and Cores: World Markets, Technologies & Opportunities: 2020-2025
This study addresses the FY 2020 world market for discrete inductors, beads and cores with FY 2021 near-term forecasts and five-year forecasts to 2025.
INTRODUCTION TO PAUMANOK INDUCTOR MARKET RESEARCH:
This study-ISBN #1-893211-99-1 (2020)- is one of Paumanok's premier and most popular titles and represents the results of continual data collection on the subject of discrete inductors and peripheral magnetic components for almost 33 years. The study begins with a global market overview that describes each sub-set of the global discrete inductor components market, followed by a technology overview that addresses ceramic chip coil, ferrite bead and ferrite core materials; as well as inductor, bead and core component configurations.
PAUMANOK BIG DATA ON INDUCTORS, BEADS AND CORES
The study also contains a long-term historical reference for discrete inductor, bead and core market value, volume and pricing from 2003-2020, with forecasts for each year from FY 2021 to 2025. The study addresses demand for inductors in the individual component type and configuration as is sold in the industry as compiled from more than 50 vendors globally (Multilayered ferrite beads and bead arrays; chip coils; molded case wirewound chips; SMD wirewound coils, thin film ceramic chip inductors; axial leaded inductors, radial leaded inductors, and ferrite cores) and shows 13-year historical market development of the surface mount, axial and radial, and ferrite core markets from 2003-2020.
CHANGING DEMAND FOR INDUCTORS BY END-USE MARKET SEGMENT: FY 2020-2021
The study also addresses inductor consumption by end-use market segment is addressed in detail, with key circuit applications described in handsets, automobiles, computers, power supplies, TV sets, defense electronics, medical, oil & gas and other specialty sub-categories requiring electromagnetic compatibility, noise suppression at frequency and the flux features of the ultra-small inductor components. This study also looks more closely at the value-added and application specific inductor markets for applications in automobiles, optical networking, satellite communications, medical Class II and III Devices, and Defense Mil-Spec rated electronics. CHANGING DEMAND FOR INDUCTORS BY WORLD REGION: FY 2020-2021
Paumanok makes detailed forecasts for consumption for inductors by world region following the impact of the global pandemic upon manufacturing of inductors and consumption of inductors in market verticals in Asia, Europe and The Americas.
MARKET SHARE DATA EXPANDED: FY 2020Market share data is given for the world's top ten manufacturers of discrete inductors, as well as new share data on competition within the industrial, automotive and high reliability segment of the market. The 2020 report breaks out market shares into Wireless, Computer, Consumer; Automotive; Industrial and Power and High Reliability segments.
PROFILES:
Profiles are offered on more than 50 brand name vendors.
FIVE-YEAR FORECASTS:
A short-term forecast (one year) and long-term forecast (five-year) for consumption by end-use product market segment is given to 2025. The study also includes detailed forecasts in terms of value, volume and pricing by end-use market segment, key end-product market and by inductive component type and configuration to 2025.
RAW MATERIALS:
Also in this edition, a key technology analysis of materials consumed in the production of discrete inductors is given including metals and ceramics and a look at the technology direction of thin film Inductors as they make their way onto the market offering volumetric efficiency and operation at new frequency allocations.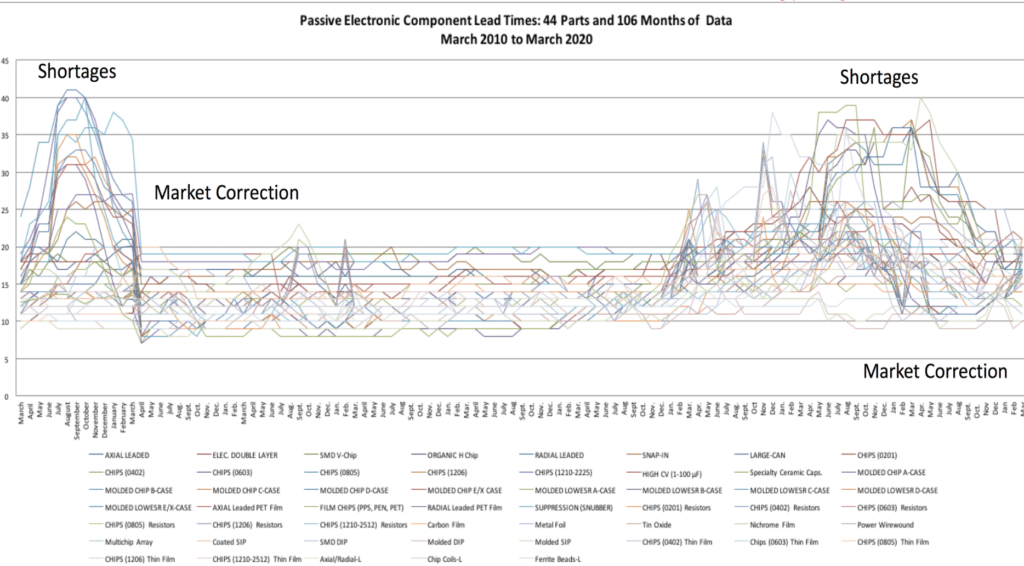 DETAILS:
An important report for manufacturers of discrete inductors, distributors of discrete inductors and buyers of discrete inductors.
See the expanded table of contents for a complete listing of topics, tables and graphs.
Published: July 2020
Pages: 240 Pages, 60 Tables and Graphs, 51 Producer Profiles
ISBN #1-893211-99-1 (2020)