ROHM developed the GMR320 series of shunt resistors featuring a rated power of 10W. GMR320 series is the largest rated power product in ROHM high-power low-ohmic GMR series lineup designed for high power applications in the automotive, industrial equipment, and home appliances.
Recent years have seen an increasing of requirement in the automotive and industrial fields for lower power consumption in higher power applications. This in turn requires shunt resistors that support high power and high accuracy current detection to achieve high efficiency operation in a variety of applications. ROHM's GMR and PSR series shunt resistors provide highly accurate current detection even at high power, making them ideal for high power applications in the automotive, industrial and consumer sectors.
The newly developed GMR320 series is offered in a resistance value range from 5mΩ to 100mΩ and a rated power of 10W, making them ideal for automotive engine ECUs and headlamps as well as motors and power supplies for industrial equipment and home appliances. Unique structure and optimized materials allow the GMR320 series to reduce surface temperature rise by 23% over standard products, ensuring high ruggedness against overcurrent loads even though it has the smallest size among 10W class resistors in the market . In addition, a high performance metal alloy for the resistive material provides low Temperature Coefficient of Resistance (TCR), that makes it reliable and highly accurate current detection possible even in the low resistance values.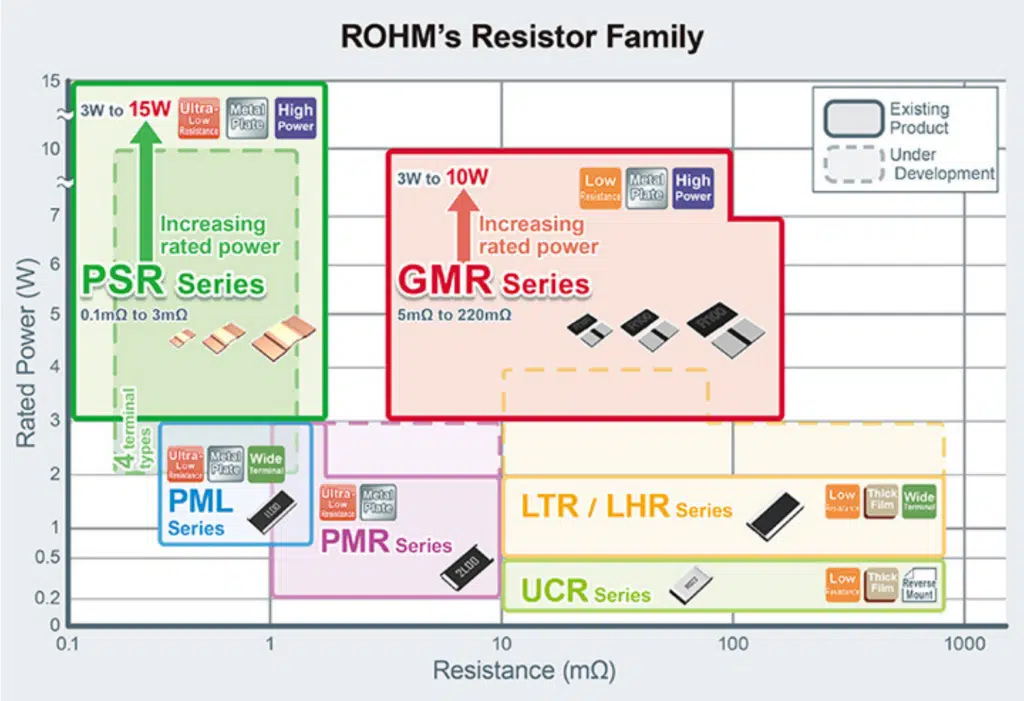 On the other hand, for the PSR series, which is widely used as high-power shunt resistors, the maximum rated power has been increased by up to 15W and the standard TCR value has been also improved by applying the terminal temperature derating method. Ultra-low resistances value from 0.1mΩ to 3.0mΩ can be offered, and higher rated power and high accuracy of current detection is provided in a compact package, contributing to greater miniaturization in automotive and industrial applications same as GMR series.
Furthermore, from October 2021, thermal simulation models for shunt resistors will be available on ROHM's website. This will make it possible to perform simulations before designing the actual products, even in high power applications where thermal design is particularly difficult, reducing design man-hours considerably.
ROHM is committed to continuing to expand its resistor lineup (a founding product) from low to high power and provide various tools and other technical support to contribute to the evolution of vehicles and industrial equipment by great energy savings and miniaturization.
Key Features
high-power low-ohmic shunt resistors
high power range up to 15W
AEC-Q200 automotive reliability standard
maximum operating temperature of 170°C
Advantages
GMR320 Series Advantages
High heat dissipation structure reduces surface temperature rise by 23% over standard products
Excellent temperature coefficient of resistance – even in the low resistance region
PSR Series Advantages
excellent TCR even in the ultra-low-ohmic range
dramatic increase of power ratings
Application Examples
GMR Series
Automotive (engine ECUs, headlamps)
Industrial equipment (factory automation equipment, motor peripheral circuits, power supplies)
Home appliances (air conditioners, washing machines, refrigerators, vacuum cleaners)
PSR Series
Automotive (electric power steering, electric compressors, DC/DC converters)
Industrial equipment (PV inverters, power tools)
Li-ion batteries