Source: Digitimes news
Taiwan-based Chilisin Electronics has developed itself into a leading provider for an array of passive components in recent years through intensified developments of core technologies in house, and has continued to build up its competitiveness via a series of merger and acquisition deals.
Chilisin posts record 2018 revenues
Passive component supplier Chilisin Electronics has reported December revenues fell 13.7% sequentially, but revenues for all of 2018 still hit a record high.
Chilisin has reported consolidated revenues of NT$1.21 billion (US$39.1 million) for December 2018, up 14.7% on year. Consolidated sales for all of the year totaled NT$17.55 billion, rising about 40% from 2017 levels.
Chilisin specializes in power inductors, but has enhanced its offerings through several acquisitions made since 2017. Chilisin's consolidated sales include revenues generated by power inductor companies Mag.Layers Scientific Technics and Magic Technology, and chip resistor maker Ralec and ferrite cores supplier Ferroxcube.
Chilisin disclosed its non-consolidated revenues fell 9.8% on month to NT$405 million in December. Subsidiaries all saw their December revenues register sequential drops.
Ralec generated revenues of NT$359 million in December, down 19% sequentially. Inventory adjustments at channel distributors in the Greater China region led to the on-month revenue decrease, said Chilisin, adding that revenues are expected to return to their growth track in the first quarter of 2019 as the clients are about to complete their inventory correction.
Ferroxcube's December revenues fell 44.3% sequentially to NT$113 million, due mainly to year-end inventory checks at clients as well as seasonality.
Digitimes had a talk with company president Jack Chung after the company wound up its first exhibition at Electronica 2018 recently. Chung revealed his insights about the trade fair, as well as the challenges the industry are facing and the company's strategy for the future.
Q: What are the emerging industrial trends that you have seen at Electronica?
A: There are three major trends. First is the proliferation of automotive applications, spurred by the momentum in the development of autonomous and electric vehicles. Previously, there were 1,000 chips in a car, and now the number has increased 10-fold to about 10,000 units. And there are so many electronic components being used in car production, resulting in tight supplies of passive components for the most part of 2018.
We also noticed the significant development of 5G and Internet of Things (IoT) products, which are also related to automobiles because the applications of IoV (Internet of Vehicles) need the support of 5G and IoT technologies. This part will be the crux of our future development.
The third major trend is the transformation of component suppliers. Whether it was at Electronica in Germany or CEATEC in Japan, we found that Japan's passive component makers are no longer talking about the development of individual components, but rather the development and marketing of module products. Murata, Samsung Electro-Mechanics (Semco), TDK, and Vishay are all transforming toward that direction.
And instead of touting the performance of the individual components, these suppliers aim at providing clients with solutions in the forms of sensor modules, battery modules, and power management modules. Fellow companies in Japan have already taken the lead, and Taiwan's passive components suppliers should follow the steps of Japan's makers on product integration. In fact, Chilisin is integrating its core products into modules for clients.
Q: Global semiconductor firms are bullish about the auto market due to the development of autonomous vehicles, and so expectations are high for passive components makers to enjoy high demand growth in the next few years. Do you think that such expectations are too optimistic?
A: Indeed, it is still a long way to reach an era full of self-driving and electric vehicles (EVs). However, in the process of technological evolution, mechanical engines are gradually being replaced by electronic motors. And Panasonic has even come out with sensor-based solutions that can deliver various driving data such as oil consumption, driving speeds, rotating speeds, prescribed speed limits, obstacles and movements of pedestrians to a head-up display mounted on windshield. There will be more of this kind of electronic applications in the future.
Meanwhile, the development of EVs will be faster than that for self-driving cars. At present, almost all automobile companies are developing EVs, and therefore, demand for electronic components from the automotive industry will always exists and continue growing.
Q: The traditional markets for computers, networking devices and consumer electronics products appear to be tumbling down. How do you respond to this trend?
A: Sectors such as computers, STBs, handsets and tablets had been our focus previously, but we have been shifting our focus to the automotive, telecommunications and other devices segments since 2018 as the growths in these new sectors are higher than the traditional consumer electronics markets.
As for module products, Chilisin has been moving in tandem with Japan's makers in terms of technology, but the proportion of module products is still not high initially. The module products contain IC parts, resistors, inductors and other components, and therefore have more added-value.
Chilisin is proficient in molding, wire winding, thin film and multi-layer manufacturing processes and we aim to serve as a solution provider instead of just a discrete component maker.
Q: Overall, is there a technology gap between Taiwan's and Japan's makers in respect to the passive component industry?
A: Taiwan's passive component makers lag their counterparts in Japan about six months or a year in the area of RF technology. Chilisin is developing a new process for the production RF products using cross-sector technology. Our technology may surpass that of Japan's if the development project goes smoothly. In the area of power inductors, I think we are on par with fellow companies in Japan. In addition to Chilisin, the leading players in this field also include Semco and Cyntec.
Q: Have your operations been affected by the US-China trade dispute?
A: Absolutely, the trade spat has deterred clients from placing orders, resulting in a reduction in orders in the latest two months. I believe that not only Chilisin has been affected but also other companies, though the degrees of the impact vary from company to company.
While the impact of the US-China trade war on sales for the first quarter of 2019 is still unknown, some clients are considering whether to transfer production bases because they expect the production costs to increase in China. During the process of production line relocation, clients' demand for passive components will definitely decrease. The longer the trade dispute continues, the more companies will remove their production facilities outside China, at least for the mitigation of business risks.
Q: Parent company Yageo has decided to increase its investment in Taiwan ever since the outburst of the trade war, and so are there any changes in the deployment of production capacity at Chilisin?
A: We did not adjust our deployment strategy until the outbreak of the damaging trade war. At present, the labor costs in Dongguan and Kunshan areas in China are getting higher and higher; some local governments do not welcome the establishment of factories in densely populated areas; tax incentives are also being abolished, and environmental awareness is rising.
For example, Ralec Electronic, a resistor arm of Chilisin, could not be exempted from the restriction on electricity use and discharge of wastewater even though its production facilities in China have reached the highest standards for environmental protection. This is not a friendly business environment for the industry. As a result, we are moving the production of Ralec, Mag.Layers Scientific Technics and Chilisin production equipment to Yuanling, Hunan, where the production cost is 20% less than that in China's southeast coastal areas.
For the deployments in other overseas markets, Chilisin has already set up a plant in Hai Phong, Vietnam, and Ralec has built production facilities in Malaysia. The production cost in Vietnam is about half of that in Yuanling and one-fourth of that in Taiwan. Meanwhile, the production cost of Ralec's plant in Malaysia is about 10pp lower than that in Kunshan. The local governments in Yuanling and Hai Phong also offer preferential tax incentives.
Our strategy is to keep our R&D and new product development efforts in Taiwan; the facilities in Kunshan and Dongguan will produce high value-added products for automotive and industrial applications though in small volumes; and large-quantity orders will be produced in Yuanling, China as well as in Vietnam and Malaysia.
The distribution of production capacity is based on concerns of gross margin. Roughly, the average gross margin of our production units reaches as high 37% in Vietnam, and scales down to 29.6% in Taiwan and to 23.8% in Dongguan. And the production of mini molding chokes, for instance, yields a gross margin of 54.2% in Vietnam and 37.2% in Dongguan. This clearly indicates where we should produce what kinds of products.
Q: Would Chilisin continue its acquisition spree in 2019 as it did in the past two years?
A: Yes, we will continue to expand as long as the target companies would be helpful to enrich our product portfolio, to make up for the insufficiency in the development of new technology, or to help reduce overall production costs of the group.
Taking our integration with Ralec as example, Chilisin is offering power chokes to clients, and the feedbacks we received were that power chokes can be bound with current sensing chip resistors to form a sort of total solutions.
Therefore, we designed and integrated Chilisin's power chokes and Ralec's current sensing chips into new products and shipped them to clients. The successful cooperation helped lead to a merger of the two companies later. At present, we are in talks with a number of companies for possible mergers, but none of them has been finalized.
Q: What are your goals for 2019?
A: Firstly, we will continue to focus on achieving continued growth, further reducing production costs and ramping up synergistic effects.
We also aim at expanding significantly the production lines of low temperature co-fired ceramic (LTCC) and ceramic antenna products at Mag.Layer Scientific. In the past, Mag.Layer did not put too many of its resources on the development of these two products. However, with new development efforts, I believe that these two product categories will be able to generate an additional revenues of NT$100 million a month after the second quarter of 2019.
Secondly, we are moving our production capacity to Yuanling, Malaysia and Vietnam. We will keep the capacity of our plant in Kunshan at 15 billion units in 2019, but plan to begin the second-phase expansion in Malaysia to ramp up its capacity to 25 billion units from the 10 billion units previously. And we also start the third-phase expansion project in Vietnam.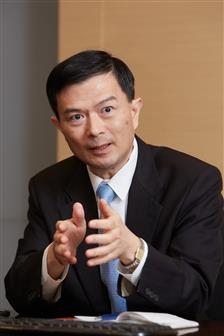 Chilisin president Jack Chung
Photo: Michael Lee, Digitimes, January 2019