Vishay Intertechnology announces that the company has enhanced its ACAS 0606 AT and ACAS 0612 AT precision Automotive Grade thin film chip resistor arrays with higher resistance ratios up to 1:100 and operating voltages up to 100 V.
Automotive grade ACAS AT precision thin film chip resistor arrays featuring enhanced higher resistance ratios and operating voltages for increased design flexibility in voltage divider and signal amplification applications
Provide designers with greater flexibility by allowing them to attain a broader range of output voltages for any input in voltage divider applications. It delivers a five-fold amplification factor increase compared to previous-generation devices.
Offering two and four integrated resistors on one substrate, respectively, the ACAS 0606 AT and ACAS 0612AT lower costs when compared to using multiple high-precision discrete resistors, while at the same time their stable divider ratio improves application stability.
Product Benefits:
Resistance ratios up to 1:100
Operating voltages up to 100 V
AEC-Q200 qualified
High temperature operation to +155 °C
Increased accuracy:

Absolute tolerance of ± 0.1 %
Relative tolerance of ± 0.05 %
Absolute TCR down to ± 10 ppm/K
Relative TCR down to ± 5 ppm/K

Resistance from 47 Ω to 150 kΩ, with equal or different resistor values
Extremely robust against harsh environmental conditions

Superior moisture resistivity of l∆R/Rl < 0.5 % at +85 °C and 85 % relative humidity for 1000 hours
Advanced sulfur resistance in accordance with ASTM B 809

1000 V ESD capability
Maximum rated dissipation to 0.125 W per element
Market Applications:
Precision analog circuits, voltage dividers, signal conditioning, opamp, and feedback circuit applications
Automotive electronics, such as engine control units, gear box controls, safety, power supply electronics, bodyelectronics, braking systems, climate control, steering technology, and lighting
Audio equipment and instrumentation
Industrial electronics, including battery measurement systems, sensors, scales, and precision amplifiers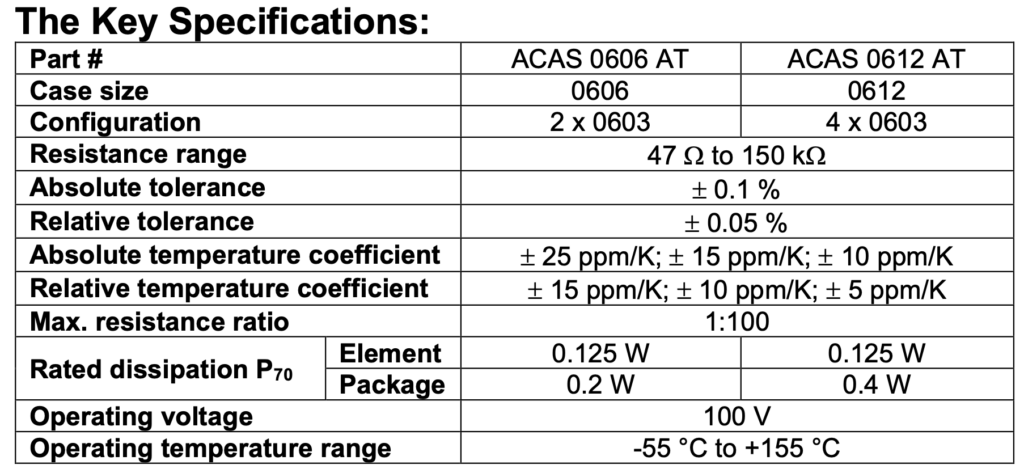 Availability:
Samples and production quantities of the enhanced resistors are available now, with lead times of eight weeks.