source: Vishay news
MALVERN, Pa. — Nov. 20, 2017 — Vishay Intertechnology, Inc. (NYSE: VSH) today announced that its T59 series of vPolyTan™ multi-anode polymer surface-mount chip capacitors was among the winners of the 2017 ECN IMPACT Awards.
The awards program, sponsored by ECN Magazine, recognizes the top products and services across 18 categories spanning the design and engineering landscape. In the category of "Passive Components & Discrete Semiconductors," Vishay's T59 series was selected as a winner for the increased volumetric efficiency it provides for computing, telecom, and industrial applications, which reduces component count, saves PCB space, and lowers overall solution costs.
T59 series capacitors deliver up to 25 % better volumetric efficiency than similar devices to provide the industry's highest capacitance density. For example, their capacitance of 150 µF at 30 V is three times higher in capacitance than the closest competing device. In addition, the capacitors' patented multi-array packaging (MAP) and dual anode construction ensure ultra-low ESR from 25 mΩ to 150 mΩ at +25 °C and 100 kHz.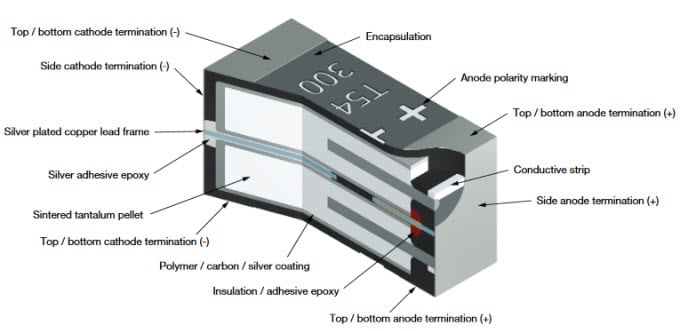 Available in the molded EE (7343-43) case code, the devices offer capacitance from 15 µF to 470 µF, with capacitance tolerance of ± 20 %, and voltage ratings up to 75 V. The T59 series features ripple current up to 3.1 A at 100 kHz and an operating temperature range of -55 °C to +105 °C. The capacitors are optimized for decoupling, smoothing, filtering, and energy storage applications in solid-state drives, networking equipment, power supplies, and motherboards.
ECN IMPACT Awards winners were announced at a gala held at the Loew's Chicago O'Hare Hotel in Chicago on Oct. 22.