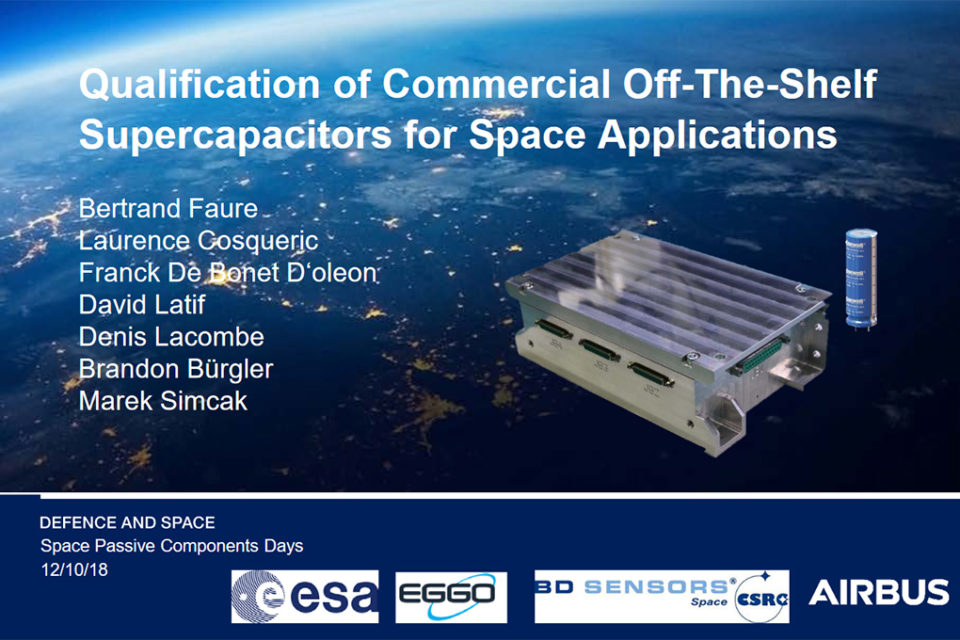 source: Airbus Defense and Space ; ESA SPCD 2018 Symposium
EPCI e-symposium library article
Supercapacitor is a product which fills the gap between batteries and capacitors, featuring very high power density (up to 100kW/kg) with lower stored energy than that of batteries (up to 7 Wh/kg). This technology is already widely used in various industrial, automotive and aeronautic applications.
Its fast charge and discharge time, its ability to withstand millions of charge / discharge cycles and its wide range of operational temperature (-40°C to +70°C) makes it a perfect candidate for several space applications (launchers and satellites) as demonstrated in ESA Study Contract No. 21814/08/NL/LvH entitled "High Power Battery Supercapacitor study" completed in 2010 by Airbus D&S.
From the most promising ones, it can be quoted: optimization of pyrotechnical activation system, high power mechanisms, electrical thrust vector control, high power radar supply or even hybridization of Supercapacitor banks with Li-Ion batteries. The number of known flight demonstration is very low. This is partially linked to the fact that there are currently no parts available at space grade.
This paper is focusing on small size supercapacitors enhancing power densities ≤ 15 kW/kg.
published by EPCI under approval of ESA SPCD 2018 organizing committee.
173 Views
0
---
---