Dennis Zogbi, Paumanok Inc. discusses passive components market and supply chain in his article published by TTI Market Eye.
The global value of passive electronic component shipments increased by more than 10 percent in the September 2020 quarter due to strong sales for multilayered ceramic chip capacitors (MLCC) consumed in 5G handsets and a revival in automobile production.
A combination of revised guidance from major passive component manufacturers, coupled with some early financial reporting by major MLCC manufacturers, has revealed a surge in component demand impacting the global supply chain on a quarter-to-quarter basis.
During the month of October, both Murata Manufacturing Company (the world's largest capacitor manufacturer) and Vishay Intertechnology (the world's largest resistor manufacturer) both made public announcements that increased their forecasts considerably compared to prior public statements. The updated guidance also shows how uncertain vendors were on how long the impact of the global pandemic would last.
Updated Reporting and Additional Guidance
Early reporting by key vendors and updated guidance suggests double-digit growth of at least 10.3 percent in the global passive components markets for the September 2020 quarter (on a quarter-to-quarter basis), led by MLCCs for applications in 5G handsets and a revival in the global auto industry. Many new vehicles are now 100 percent electric and, as a result, passive component intensive.
Samsung-EMCO reported a 16.9 percent increase in MLCC revenues on a quarter-to-quarter basis, citing strong MLCC sales for high-capacitance designs in 5G handsets and the revival of the automotive supply chain. Vishay raised guidance for their upcoming reporting to $640 million – a 10 percent increase quarter-to-quarter. Murata raised guidance, saying their revenues will now come in at a rate that is 10.3 percent higher than expected for the 2021 fiscal year.
New Forecasts for Consumption
Paumanok Publications, Inc. has revised its estimates upward for the September 2020 quarter by 10.3 percent in value on a quarter-to-quarter basis. This is based on revised guidance and actual sales data showing a sharp increase in sales for MLCCs consumed in 5G handsets and automobiles – especially for high-capacitance and high -voltage MLCCs, automotive-grade thick film chip resistors and tantalum chip capacitors for edge storage and some 5G handsets.
Sales of capacitors for renewable energy systems, especially wind and geothermal, are also up, as are capacitors for line voltage equipment, IoT, 5G infrastructure, personal computers and game consoles.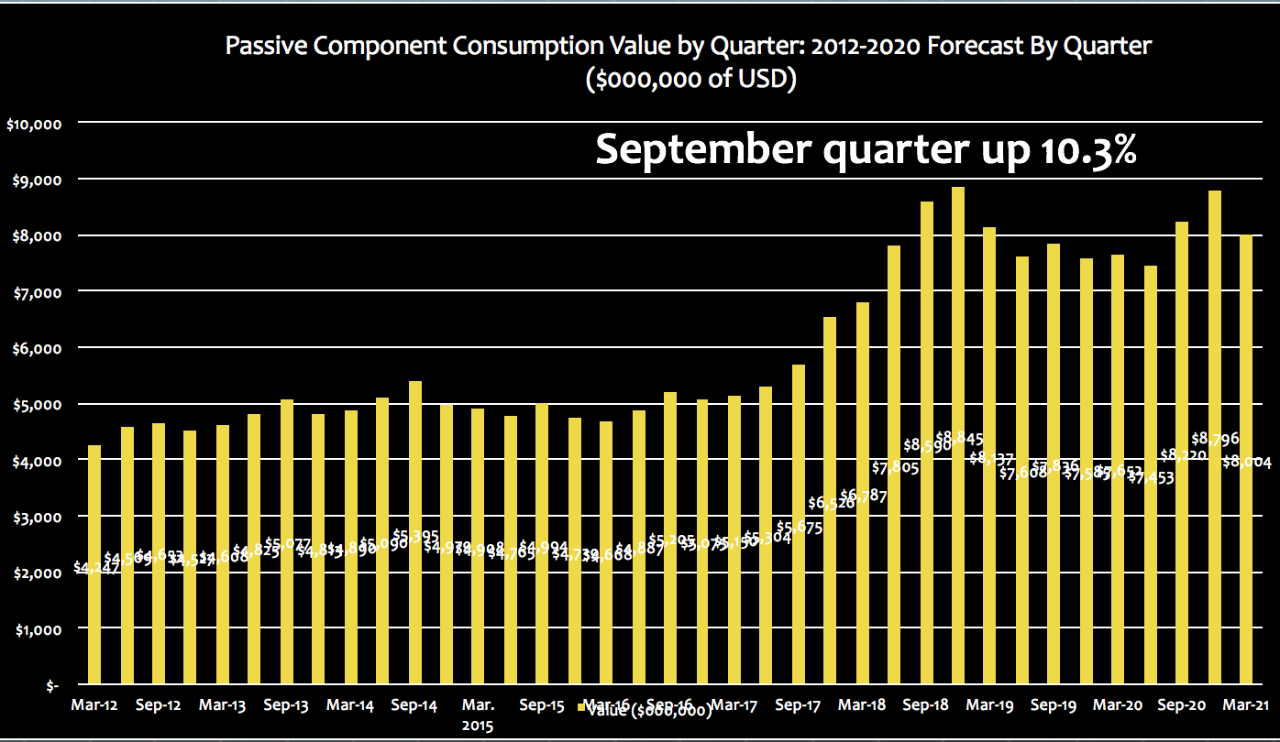 High Capacitance MLCC Drives Demand for Passives in The September 2020 Quarter
The MLCC markets have displayed significant volatility, which included shortages and higher prices for parts between 2017 and 2019. Capacity expansion and the pandemic caused the market to relax in 2020, as illustrated in Figure 2 below, but is now showing a revival driven by demand for 5G handsets in China and Korea, and a global revival in automotive production.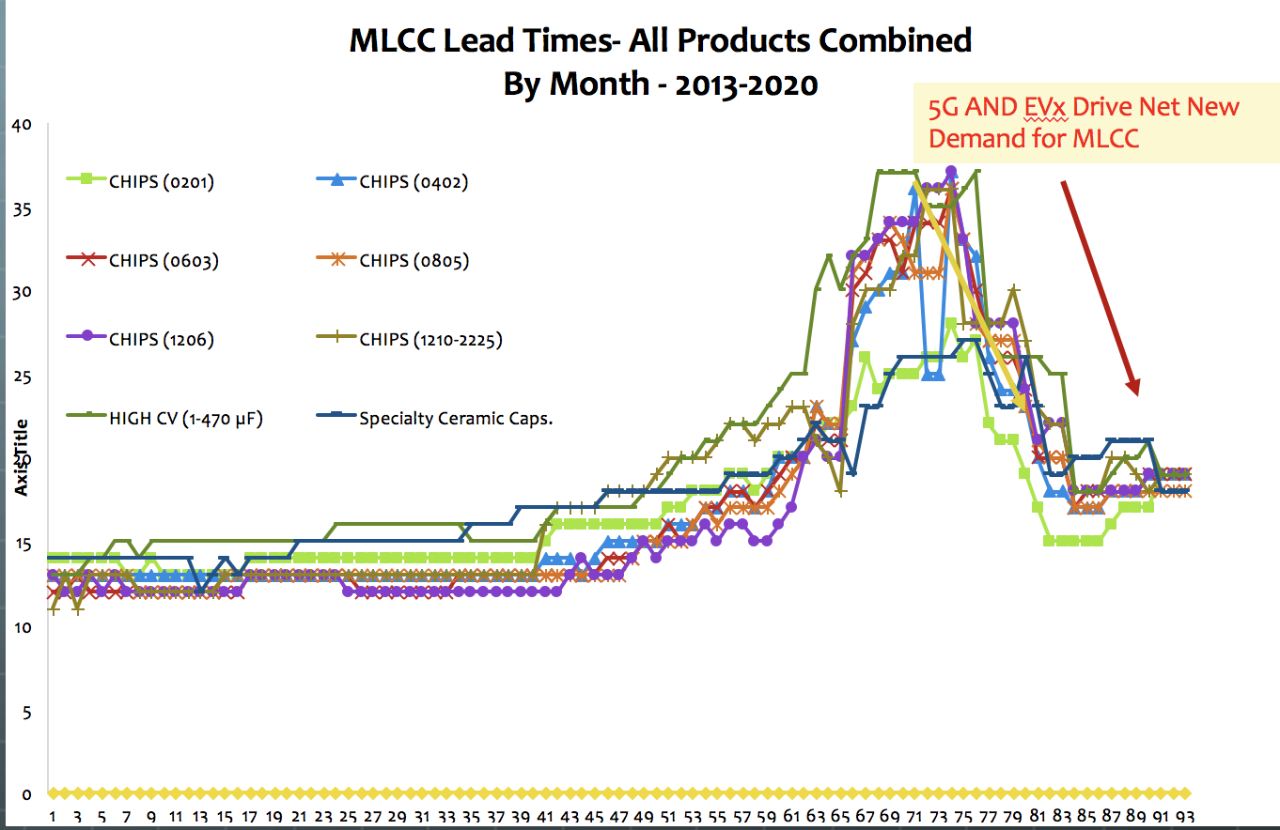 Tantalum Supply Chain Impacted by New 225 Directive
Tantalum capacitor lead times extended significantly during the month of September 2020, then relaxed slightly in October, especially for smaller case size chips. But the supply chain for tantalum is so sensitive that we estimate the new United States department of Defense 225.225-7052 Authorization Act is having an impact due to the re-evaluation of suppliers for capacitor-grade tantalum powder and flake.
Section 849 adds tantalum to the definition of covered materials in 10 U.S.C. 2533c. This regulation prohibits the acquisition of any covered material smelted or produced in any covered country (North Korea, China, Russia or Iran). Today, about 35 percent of the world's supply of capacitor-grade tantalum metal powder comes from three companies in China.
The reader should note that tantalum is an exceptionally sensitive supply chain and tends to react in a dramatic way when confronted with the delicate nature of its supply chain.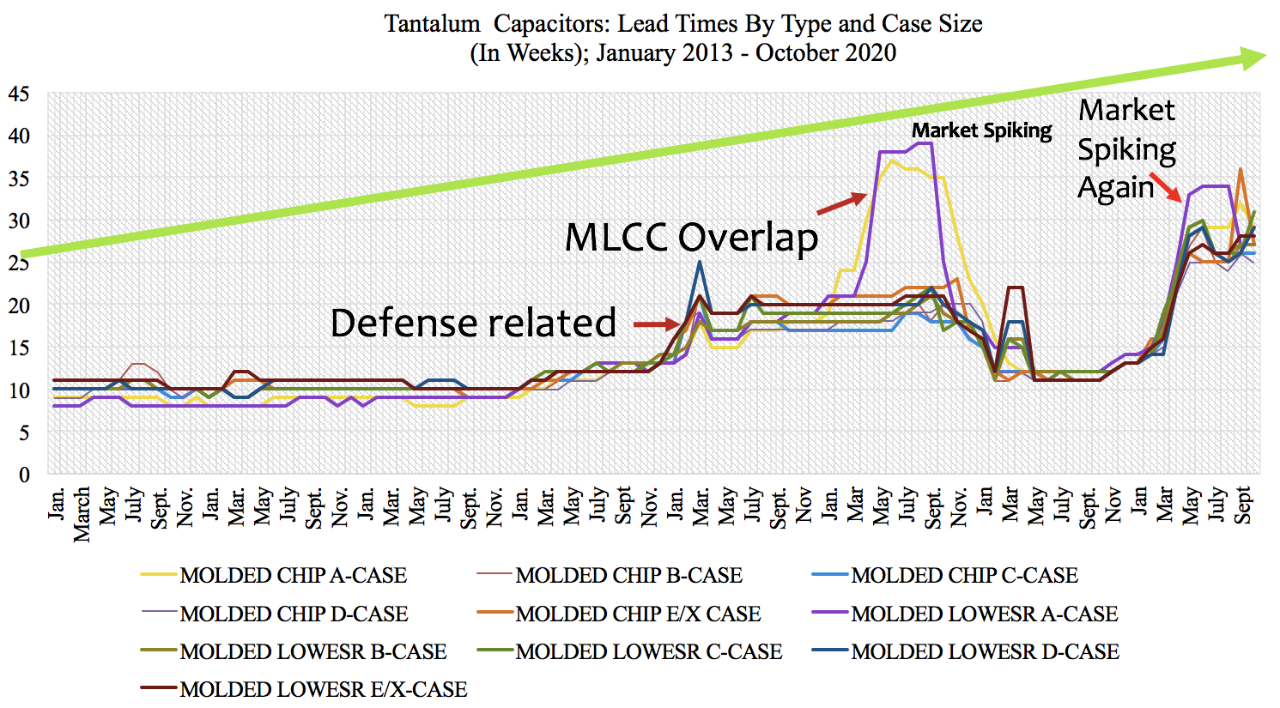 Thick Film Chip Resistors Also Impacted
Paumanok also noted in its October report that demand for thick film chip resistors is also increasing and lead times are extending. Chip resistors are also finding net new demand in 5G handset markets in China and Korea, while demand from the automotive sector is also increasing (see Figure 4 below). Thick film chip lead times are also responding to higher ruthenium prices, which are a key element in thick film production.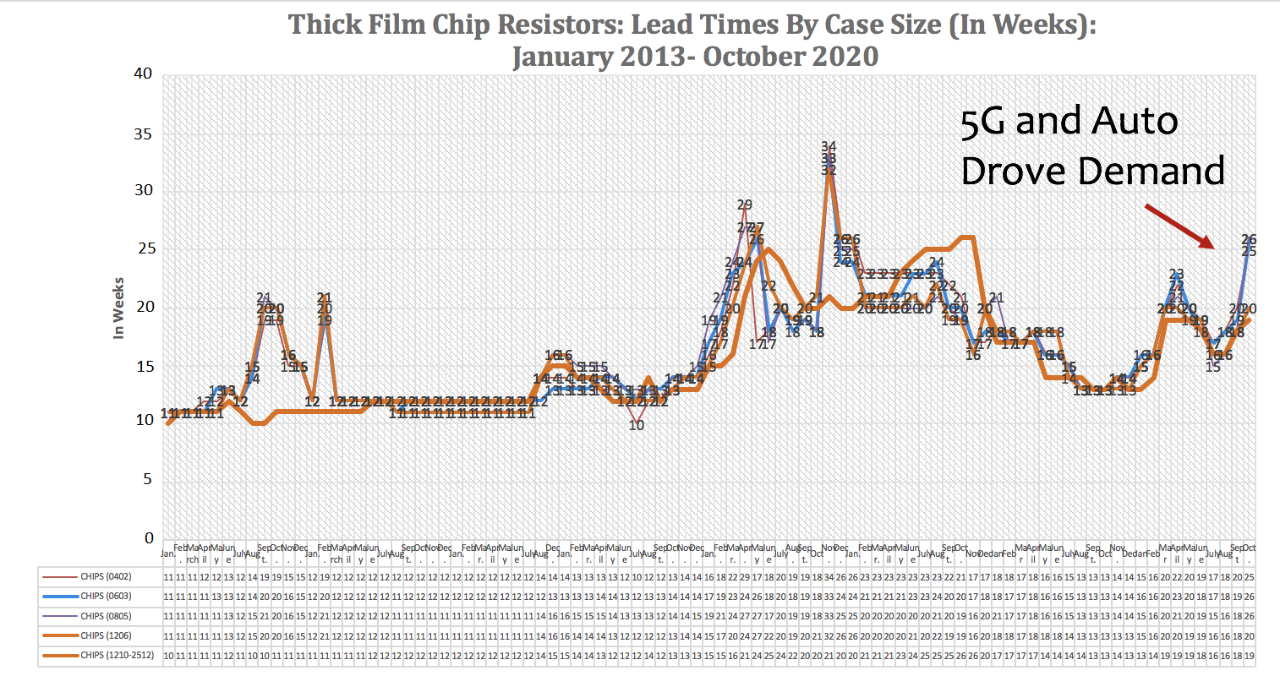 Summary and Conclusions
The passive electronic component markets experienced a double-digit growth spurt in the September 2020 quarter (on a quarter-to-quarter basis) that developed because of demand from the 5G handset markets and a revival in the automotive electronics sector.
Demand was most pronounced for high capacitance MLCCs, especially the high voltage versions consumed in electric vehicles. Other markets showing increased activity included tantalum, due to a new challenge in its materials supply chain. The market for chip resistors was also impacted, seeing a spike in demand for the September quarter, also influenced by demand from 5G handsets and automobiles.
Chip resistors also face unprecedented increases in raw material prices due to its reliance on ruthenium for its thick film design. Ruthenium, which is a by-product of platinum mining in South Africa, has experienced a substantial increase in price due to striking mine workers in the platinum mines of South Africa.
Materials like tantalum, ruthenium and palladium have demonstrated volatility in supply and demand over the past 40 years; they continue to do so in Q4 of 2020, and will do so for the foreseeable future.