Riverside, California – July 21, 2021 – Bourns is pleased to announce its new lineup of IsoMOV™ technology hybrid overvoltage surge protectors.
With their integrated gas discharge tube structure and extended temperature range, the IsoMOV™ hybrid protection components promise better reliability and longer life in certain harsh environments.
The hybrid protection components integrates the gas discharge tube (GDT) function directly into the metal oxide varistor (MOV) itself, providing an elevated level of surge protection in terms of performance, operational life and enhanced device reliability. The integrated, compact hybrid design features performance specifications usually found in larger traditional MOV devices, the Bourns IsoMOV protectors enable designers to better tailor the surge protection performance to stringent space requirements, and allow them to upgrade their MOV over-voltage protection to include the proven benefit of GDT isolation without a PCB redesign. The IsoMOV protectors' industry standard pin layouts offer a substantial performance and reliability upgrade to same-size standard MOVs in a pin-to-pin drop-in-replacement form factor.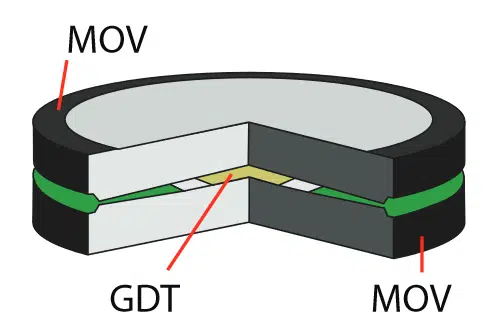 Using proprietary computer-aided design techniques to model performance, Bourns engineers have combined its revolutionary EdgMOV™ technology, which greatly reduces typical MOV edge failures, with a unique integrated structure to create a device with the equivalent function of a discrete MOV and GDT in series. The result is a familiar radial disk MOV package that is only slightly thicker and of substantially smaller diameter than similarly rated conventional devices.
Combining both devices into a single package allows the GDT to block leakage currents through the MOV that may lead to premature failure, making it inherently more robust without adding additional components into the circuit design. Rated at 125 degrees C, which is well above the industry standard 85 degrees C, the IsoMOV protector's temperature range and low leakage are suited to industrial, power line communications, high speed information and communication technology (ICT) equipment, as well as a range of harsh environment or remote, exposed applications where repairs can be both physically challenging and expensive to perform.
"In our interconnected world, devices need to maintain maximum uptime," explained Tomaž Bojko, product line manager for over-voltage protection at Bourns. "Because of this, many designers specify MOVs rated for much higher voltages and surge currents in order to ensure they are never stressed to their breaking point. Others have placed GDTs in series with MOVs to eliminate leakage currents and extend the life of the MOV," he continued. "The efficient design of the Bourns IsoMOV protector allows designers to do away with larger, generally lower-performing, and often more expensive design alternatives," he said.
Lee Bourns, marketing director for circuit protection, added: "For far too long, design engineers have been forced to select between marginally-performing, space-saving components and larger, over-specified devices in order to meet their protection needs. With IsoMOV protectors, designers can now get the right level of surge protection for their application without having to make any performance, size, cost or redesign compromises."
The Bourns IsoMOV protector series is UL 1449 Type 5-recognised and available now.
Features
AC voltage ratings 175 V – 555 V
Nominal surge ratings 3 kA – 5 kA – 8 kA
-40 °C to +125 °C operation
Low leakage current
Low capacitance and insertion loss
Stable performance throughout life
Design kit available for quick-turn prototype testing
UL Listed UL 1449 Type 4 CA
RoHS compliant*
Applications
Critical AC power applications
White goods
Motor drives
C inverters
LED lighting and signage
Surge Protective Devices (SPDs)