Source: TTI, Paumanok article
by Denis M.Zogbi, Paumanok Inc., published by TTI Market Eye.
The global capacitor industry – which for the purposes of this article includes ceramic, aluminum, tantalum and plastic film capacitors of all types and configurations – accounted for approximately $30 billion USD in global revenues for FY 2019 (ending March), with almost four trillion pieces shipped and two trillion pieces consumed.
This MarketEYE article summarizes the historical methods by which capacitor manufacturers have increased profitability in each capacitor dielectric over the past 30 years. The data is sourced from Paumanok Publications, Inc. archives of annual market research studies, market and technology presentations, monthly market reports and from the archives of Passive Component Industry Magazine LLC.
Fixed and Variable Costs to Produce Capacitors
In the worldwide capacitor industry, fixed costs represent about 20 percent of the costs of goods sold while variable costs represent a full 80 percent of CGS. To improve profitability, vendors focus primarily on variable costs, including raw materials, labor, variable overhead and variable manufacturing costs.
Raw material costs represent the largest single cost factor in the production of capacitors regardless of dielectric. The reader will notice that many historical methods for cost savings and increased profitability are related to management and manipulation of the costs associated with buying and processing raw materials, including feedstocks, engineered dielectrics, cathode materials, additives, electrodes, terminations and leads.
This article begins by looking at a combination of documented best practices for increasing profitability in the electrolytic capacitor markets (aluminum and tantalum) followed by best practices for increasing profitability in the electrostatic capacitor markets (film and ceramic).
Aluminum Electrolytic Capacitor Manufacturing
Aluminum electrolytic capacitors are among the most complex of all passive electronic components, requiring multiple technological capabilities under one roof to produce. This includes the knowledge of chemically etching and forming anode and cathode foils (a very specialized process); the application of electrolytes, including water, alcohol and polymer-based materials; and additional exotic materials requirements, such as knowledge of separator papers, rubber stoppers, aluminum cans, tabs and lead wires.
Highest Variable Cost is in Foils
In multiple studies by Paumanok Publications between 1988 and 2019 on the subject of aluminum capacitors and the costs associated with their production, the following cost-saving measures have proven to be most effective in increasing the profitability of aluminum electrolytic capacitor manufacturers. The largest cost factor associated with the production of aluminum electrolytic capacitors is the variable raw material cost, and the largest variable raw material cost is etched aluminum foils.
In-House Foil Forming and Etching
Many of the top vendors of aluminum capacitors etch their own anode and cathode foils as a way to cut costs. In-house etching of anode and cathode foils requires chemical expertise and low-cost energy as etching and formation are technically-demanding, electricity-intensive practices. There is movement in the industry toward etched and formed foil in nations with extremely low energy costs; this process is also designed to decrease costs because electricity consumption is a key cost factor in forming capacitor foil.
Low-Cost Regional Production
Another method of cost savings employed by global manufacturers of ceramic capacitors includes the intentional production of large volumes of ceramic chip capacitors in low-cost production regions of the world (Korea, Philippines, Thailand and China are good regional low-cost production bases for MLCCs). The high level of automation in the equipment used to produce MLCCs also makes a difference in the overhead, variable labor and subsequent electricity costs associated with production.
Massive Economies of Scale
Global aluminum electrolytic capacitor production is dominated by only four players and they are all Japanese producers. This has remained unchanged for at least 31 years. One method that they employ to achieve better costs with all raw material vendors is production in massive economies of scale. This gives each manufacturer massive buying power when it comes to feedstock materials such as bauxite, or high purity aluminum sheet; or chemical precursors for chemical electrolytes; rubber materials for stoppers, or specialty lids and sealers for aluminum cans.
Tantalum Capacitor Manufacturing
The other electrolytic capacitor design is the tantalum electrolytic capacitor. This capacitor is unlike other designs because it employs a porous anode of tantalum to achieve the maximum surface area needed for high capacitance in a small case size. Unlike its aluminum electrolytic capacitor counterpart, tantalum employs a dry type electrolyte in the form of either manganese (MN02) or a conductive polymer material (PeDOT, pyrole).
Vertical Integration of Tantalum Powder and Wire Production
It is difficult to find cost savings for the production of tantalum capacitors, because unlike the other capacitor dielectrics, it is extremely difficult to produce capacitor grade tantalum metal powder, requiring a level of expertise that is considered advanced among metallurgists. The chemistry and processing capabilities to create tantalum pentoxide—the active ingredient in tantalum capacitor anodes—are significantly advanced and require a level of expertise that is beyond the capabilities of many governments, much less trade vendors. Therefore, the number of active production facilities that can produce capacitor grade powder and wire is limited worldwide to Japan, Germany, China and the USA. However, the vertical integration of a smaller tantalum powder producer into the largest tantalum capacitor manufacturer has shown, through presentations and reports to the financial community, that such actions can produce significant cost savings over time by eliminating the premiums associated with the merchant market.
Tantalum wire production also has become more prevalent in the supply chain with more capacitor manufacturers bringing wire drawing capabilities in-house. This is prevalent in the tantalum supply chain because of the dwindling number of merchant vendors of tantalum wire. Tantalum wire is necessary in the production of both molded and coated chip capacitors because it acts as the lead wire from the anode to the lead frame.
Cathode Application – Gas Versus Dipping
A gas infusion process for the application of conductive polymers into the porous structure of tantalum anodes generates a higher margin than the alternative monomer and polymer "dipping" process due to the excessive waste stream associated with impregnating anodes by chemical bath. Manufacturing facilities that employ dipping processes to impregnate porous-structure anodes with conductive polymers have also taken steps to limit the number of dip cycles as a cost-savings method.
Plastic Film Capacitor Manufacturing
Plastic film capacitors are critical components used in power transmission and distribution grids; motors and drives; renewable energy systems, lighting ballasts, power supplies, microwave ovens, transportation, furnaces, welding machines, aircraft, medical defibrillators, logging tools, rail guns and high-reliability electronics.
Plastic film capacitors are produced in a variety of configurations including radial leaded, axial leaded, SMD film chip, small can and large can configurations. Plastic film capacitors are also the oldest dielectric used in capacitor construction, as plastic film capacitors were the primary power factor correction design for the original electrical grids and were in mass production as far back as 1901. Today, plastic film capacitors are largely defined as being either metallized polypropylene (PP) or metallized polyethylene terephthalate (PET).
In the fragmented, fast-growing AC film capacitor segment, the markets, technologies and opportunities of polypropylene dielectric plastic film capacitors have been well documented in studies by Paumanok IMR over the past 30 years, including both dry and liquid-filled designs for use in a variety of electrical systems.
Additionally, Paumanok market and technology research also focuses on DC film capacitors for printed circuit board applications in power supply, lighting ballast, consumer AV and specialty/defense applications, and includes value and volume of demand for 5 mm pitch PET film capacitors, AC and Pulse film capacitors, interference suppression film capacitors and PPS, PEN and PET film chip capacitors, as well as specialty PTFE and polyimide film capacitors for consumption in high-temperature electronics.
Because of extensive competition in the space due to ease of market entry, plastic film capacitor vendors are constantly attempting to decrease costs. Here is a summary of how some plastic film capacitor vendors cut costs and increase profitability.
In-House Film Metallization
Captive metallization of capacitor-grade dielectric plastic film is an excellent way to increase profit margins and lower costs for capacitor manufacturers over time. An increasing number of AC and DC film capacitor manufacturers metallize their own thin films in-house. In fact, the vertical integration of plastic film dielectric from the merchant market into the capacitor market occurred first in the capacitor industry, with other dielectrics justifying their own vertical integration of materials from the merchant market into the captive market by the fact that it was common practice in plastic dielectric films. This process saves the capacitor manufacturer the premiums associated with buying metallized dielectric film directly from the merchant market.
In-House Film Extrusion
Captive film extrusion has been noted in both AC and DC type plastic film capacitors, but Paumanok's primary research notes that the volume of captive extrusion of polypropylene exceeds that of all other plastic film dielectrics. Some of the major producers of large can power transmission and distribution capacitors can extrude thin dielectric polypropylene film as well as metalize it. This decreases plastic film capacitor costs substantially. For decades, one of the major producers of large can plastic film capacitors has employed the "Tenter-Film" process to extrude dielectric films. Again, this process removes the premium that the capacitor manufacturer would pay if buying extruded dielectric film directly from the merchant market.
Low-Cost Regional Production
Another cost-saving method employed by global manufacturers of plastic film capacitors includes the intentional production of large volumes of radial leaded plastic film capacitors in low-cost production regions of the world (in particular, China, India and Malaysia).
Massive Economies of Scale
Certain film capacitor manufacturers have large economies of scale within specific sub-categories of the plastic film capacitor industry. For example, many of the Asian vendors of plastic film capacitors have large economies of scale in the standard 5 mm metallized PET film capacitor segment because of their proximity to television set and audio equipment production in SE Asia. Meanwhile, in Europe for example, vendors have large economies of scale of more specialized types of plastic film capacitors, with emphasis upon interference suppression capacitors, safety capacitors and pulse discharge capacitors. On the polypropylene front, the market remains highly fragmented, with only a few European and Japanese vendors with large economies of scale in motor run and related power film capacitors.
Ceramic MLCC Manufacturing
Ceramic capacitors are electrostatic components, produced in multiple configurations including surface mount multilayered ceramic chip (MLCC) as well as axial and radial leaded designs. Ceramic capacitors, especially the ubiquitous MLCC, represent the most commonly consumed capacitor by type worldwide in FY 2019 in terms of both value and volume. All other capacitor markets are considered niche when compared to ceramic capacitors.
Here is a summary of methods by which ceramic capacitor manufacturers have reduced their respective cost structures and increased profitability over the years.
In-House Production of Ceramic Formulations
One proven method of achieving cost savings is for the manufacturer to produce composition type formulations in-house instead of sourcing them from the merchant market. Ceramic formulations include X7R, X5R, Y5V and COG type materials, as well as a variety of specialty formulations that can be manipulated for ceramic capacitors to be used in specialized applications, such as high-temperature, high-voltage and high-frequency circuits.
In-House Production of Advanced Barium Titanate
Another method, practiced in Japan, Korea and China for example, is to have the in-house capability to precipitate advanced forms of barium titanate, such as those created by the chemical oxalate or hydrothermal process. In this case profitability comes from eliminating the premiums paid to merchant market vendors of advanced barium titanate. This method also allows advances in "green-sheet" thickness and processing that would not be available by sourcing advanced barium titanate from the merchant market.
Precious Metals Displacing Base Metals in Electrodes and Terminations
Another traditional cost-saving method has been to use lower-cost nickel electrodes and copper termination powders instead of palladium electrodes and silver termination powders in any instance where there are a high number of internal layers to the multi-layered ceramic chip capacitor (i.e. in X5R, Y5V and high layer count X7R type ceramic capacitors).
This trend has been ongoing (on an industrial scale) since 1993, but more recently we have seen nickel electrodes displacing palladium-based electrodes in specialty markets such as automotive under-the-hood; defense (Mil-Spec), medical and oil & gas end-use segments, where previously customers had resisted such displacement because of the lack of lifetime performance data. However, base metal electrodes have been employed in real-world MLCC applications for more than two years now, and this is prompting customers to finally consider alternative base metals in the interest of cost savings.
Tunnel Kilns versus Batch Kilns
Another method of saving money is in the use of massive tunnel kilns to fire large volumes of ceramic capacitors all at once instead of using smaller batch kilns. Primary vendors note that this process is largely successful when firing "high runners" or those capacitors that are consumed in large volumes. However, smaller batch kilns are still used, especially when the application is a specialty sub-set end-market that requires only a small number of pieces.
Developing Massive Economies of Scale
Due to the high volume associated with ceramic MLCC capacitor production, massive economies of scale can lower raw material purchases from the merchant market because of the manufacturer's ability to buy in bulk.
A Balanced Price Portfolio
A well-balanced portfolio allows the manufacturer to enter value-added and application-specific ceramic capacitor markets where margins are high in order to balance out lower margins in the mass-commercial markets. This is another strategy employed by vendors to increase overall company profitability by limiting the rate of decline in average unit selling prices compared to the rest of the market.
Low Cost Regional Production
Another method of cost-savings employed by global manufacturers of ceramic capacitors includes the intentional production of large volumes of ceramic chip capacitors in low-cost production regions of the world (Korea, Philippines, Thailand and China are good regional low-cost production bases for MLCCs). The high level of automation in the equipment used to produce MLCCs also makes a difference in the overhead, variable labor and subsequent electricity costs associated with production.
Summary and Conclusions
This article illustrates the best practices for reducing costs in capacitor manufacturing in each dielectric as documented by market research reports produced by Paumanok Publications, Inc., over the past 31 years. The similarities among best practices by dielectric involve similar vertical integration of raw material engineering processes; massive economies of scale in production which, in turn, ensures the best possible pricing for variable raw material costs; and low-cost regional production.
Figure 1.0: Best Practices for Increasing Profitability in Capacitor Manufacturing by Dielectric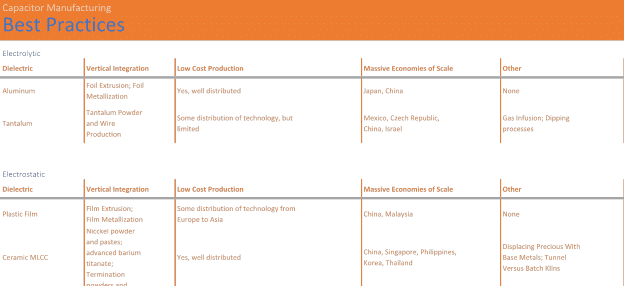 Source: Paumanok Publications, Inc.
References:
Capacitors: World Markets, Technologies & Opportunities: 2019-2024 ISBN # 0-929717-02-3 (2019)
Tantalum Capacitors: World Markets, Technologies & Opportunities: 2019-2023 ISBN # 1-893211-11-8 (2019)
Tantalum – State of the Industry: 2018: And World Market Outlook: 2018-2023 ISBN: 1-893211-75-4 (TA2018)
Paper & Plastic Film Capacitors: World Markets, Technologies & Opportunities: 2019-2023 ISBN# 0-929717-87-2 (2019)
Plastic Dielectric Films for The Capacitor Industry: World Markets, Technologies & Opportunities: 2013-2018. ISBN # 0-929717-87-2 (FILM2013)
Aluminum Electrolytic Capacitors: World Markets, Technologies & Forecasts: 2019-2023 ISBN # 1-893211-11-8 (2019)
Capacitor Foil: World Market Outlook: 2013-2018 ISBN# 1-893211-72-X (2013)
featured image source: Tecate