Source: Electronics Weekly news
Electronics Weekly just revealed the shortlists for this year's Elektra Awards, the industry's largest technology and business awards. Check who is nominated from passive components.
Now in their 17th year, the Elektra Awards recognise technical, personal and business achievements within electronics. The winners will be announced at a prestigious Gala Dinner at the Grosvenor House Hotel on London's Park Lane, on Wednesday December 4th.
Passive & Electromechanical Product of the Year Elektra Awards Nomination List
CUI Inc – AMT33 Commutation Encoder Series
HARTING Ltd – The HARTING T1 Industrial
Murata – HPHF series transformer
Peratech – Peratech QTC® based EDGE Solution
---
Passive Components:
1) Murata – HPHF series transformer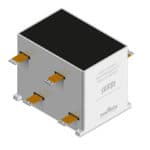 Murata has announced a new transformer technology for high power, high frequency applications that uses a novel winding technique to allow designers to efficiently reach power and frequency levels that were never possible with conventional winding methods.
Murata's innovative and patented pdqb winding technology makes it possible to construct high frequency transformers of up to and over 400 kW that can operate at frequencies as high as 50 kHz. The pdqb winding technique overcomes the skin and proximity effects as well as other high frequency losses associated with conventional construction methods, delivering an efficient (>99.5 %) solution in a compact footprint.
Electromechanical Components:
1) CUI Inc – AMT33 Commutation Encoder Series
CUI's AMT33 series is a rugged, high accuracy commutation encoder that generates standard U/V/W communication signals for commutating brushless dc motors. Thanks to its innovative capacitive platform, the series is not susceptible to contaminants such as dirt, dust, and oil that typically plague encoders in industrial environments. The AMT33's design also simplifies the assembly process, reducing the time-consuming tasks of mounting and alignment to mere seconds with the One Touch Zero™ feature. Combined with an operating temperature range of -40°C to +125°C, high accuracy, a compact package, and low current draw, the AMT33 provides a compelling solution for a range of industrial, automation, robotics, and renewable energy
2) HARTING Ltd – The HARTING T1 Industrial
Harting T1 Industrial brings data and power on one pair of wires to previously unattainable locations, thus challenging existing bus systems. HARTING relies on an alliance of research, industry and standardisation for single pair Ethernet. As part of this alliance, international standardisation committees have completed a multi-stage selection process in favour of the HARTING Technology Group's SPE mating face. This also ensures planning security for the designers of new devices or sensor/actuator technology, permitting them to actively commence the implementation of SPE in the respective device technology.
3) Peratech – Peratech QTC® based EDGE Solution
Peratech launched its QTC®-based EDGE force-sensing solution that delivers User Experience (UX) differentiation and functionality for smartphones, wearables, and tablets. Peratech's latest HMI solution uses the edges of a device to provide what Peratech believes is a fundamentally better user experience. Thin sensors with Peratech's patented QTC technology are mechanically integrated in key areas of the smartphone to capture a user's natural single-handed grip, ergonomic finger movements, intuitive presses and squeezes to control key functions. EDGE can be used to simplify mute, sleep, volume, zoom, scroll, and emergency-call functions while improving one-handed usability. This means fewer dropped phones, less distraction, and fewer false touches while typing. EDGE works even while the user has wet hands or is wearing gloves.