Source: EPCI news
Attendees of ESA SPCD 2018 Space Passive Component Days held on 9-12th October 2018 at ESA ESTEC, The Netherlands will have a chance to learn in-depth about resistor technologies during resistor seminar organized by EPCI on Tuesday 9th October 2018 from 13:00 to 16:00 hrs.

The ESA SPCD international Symposium is the premier technical conference dedicated to passive components for space applications. It is an exceptional venue to learn more about the latest advances in this field and meet recognized experts from industry, academia and agencies.
More details about the ESA SPCD can be found at the venue web page: https://www.spcd.space/
Resistor Seminar is organized by EPCI as part of the ESA SPCD Preconference Events. Participation is open for SPCD attendees without any fees or restrictions. Advance registration is mandatory, SPCD conference participants are invited to book for these sessions beforehand.
Resistor Seminar Overview
Objective of the seminar is to provide overview of available resistor technologies, explain the basic physical mechanisms and its impact to specific behavior – benefits and limitation of each of the resistor technologies. Attendees after the seminar shall better understand the resistor selection guide, risk of failures, and alternative resistor designs for certain design conditions.
Seminar Content:
physical basics
major characteristics and properties
important resistor types
reliability of resistors and solder joints
aging predictions
market research
lessons learnt
The three hours seminar will be lectured by resistor industry recognized expert: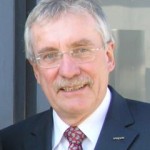 Dipl.-Ing. Reiner W. Kühl.
Dipl.-Ing. degree in Physics by University of Applied Science in Luebeck, Germany in 1973;
> 25 years product and process R&D, working for thin film resistor manufacturers;
15 years in position of Technology and Quality-Customer-Service Senior Management;
More than 20 technical papers and 1 European / international patent;
2 Outstanding Paper Awards at CARTS passive component conferences;
2000 Highly Commended Award from the LITERATI Club of MCB University Press;
2008 Dr. Felix Zandman Passive Electronic Components Industry Technology Award for Recognition of Acknowledged Industry Leadership & Perseverance of Vision;
Expertise in components' reliability & failure analysis, thin film resistors' technology (MELF, chip), barrel electroplating, electro-isolation lacquer, laser machining, etc
ESA SPCD 2018 PRE-CONFERENCE EVENT
RESISTOR SEMINAR
Tuesday 9th October 2018 from 13:00 to 16:00 hrs
ESA ESTEC, The Netherlands