Custom designed inductive components are widely used in the design of power conditioning equipment to individualize the conversion of energies for specific purposes. These components can be approved for application by individual qualification campaign either as a one off based on various international standards, as a qualified entry to the Qualified Parts List (QPL) or as a component designed, manufactured, and tested by a manufacturer registered on the Qualified Manufacturer List (QML) approved by Technology Flow Qualification (TFQ). Each solution is viable but presents different responsibilities and impacts on the manufacturer as well as on the buying entity.
The paper was presented by Lars A. Gregersen Flux A/S, Denmark at the 3rd PCNS 7-10th September 2021, Milano, Italy as paper No.1.1.
Background
Since introduction to the space industry in 1995, Flux (henceforth the manufacturer) has supplied custom designed inductive components based on a set of generic documentation tailored from MIL-STD-981 (design), MIL-PRF-27 (performance) and MIL-STD-202 (test). The setup entails periodic qualification campaigns in cooperation between manufacturer and buyers, batch verification tests and a time-consuming Parts Approval Document (PAD) review for end customer approval.
Technology Flow Qualification
The philosophy behind TFQ is to approve a manufacturer rather than approve an individual product or product series. The TFQ not only entails testing and approval of concept designs but can be seen as a super structure to an existing ISO9001 or AS9001 Quality Management System (QMS) establishing systematic routines involving operations such as sales, design, manufacturing, testing and every support function involved.
While preparing for QML status by TFQ, Flux and the ESCC developed the ESCC Detail Specification No. 3201/013 "Customized Magnetics (Inductors and Transformers) based on type FT. Based on 25 years heritage in space flight, the ESCC3201/013 documents the envelope of custom designing inductive components by function, materials, physical characteristics, maximum ratings, testing requirements and relations to ESCC Basic Specification 3201.
While the ESCC3201/013 documents the domain's envelope of custom designing, an individual ESCC Magnetic Sheet describes the details of each custom designed product. The products are overall documented by ESCC3201/013 and the ESCC Magnetic Sheet in conjunction.
All documents and procedures are developed in accordance with ESCC Basic Specification No. 25400 "Requirements for the Technology Flow Qualification of Electronic Components for Space Application" including the manufacturers responsibility to report any relevant non-conformance and involving the ESCC in the process of determining appropriate actions for recovery, improvement, and prevention of incidents. The manufacturer submits an annual report to the ESCC containing a summary of all QMS and TRB relevant information and performs a biannual ESCC Qualification campaign consisting of products representative of the agreed ESCC Domain. The ESCC performs regular onsite audits of the manufacturers qualified facilities.
Production of product
Whether a custom design is proposed by the engineers affiliated with the buying entity or the manufacturer is contracted to perform the design from performance requirements, an electronic modelling in a design program constructed to apply applicable rules of ESCC3201, utilizing approved materials from the manufacturers Declared Materials List (DML) and enabling manufacturing by processes of the Declared Process List (DPL) is performed. Review of the modelling ensure that required characteristics of the design are present and the design is producible.
After engineering each design is reviewed by the appointed ESCC Chief Inspector and finally approved for release by the established ESCC Technical Review Board (TRB) consisting of an Executive Manager, the ESCC Chief Inspector and two Deputy Chief Inspectors with authority within engineering, quality, and manufacturing processes. The TRB is granted unlimited internal and external resources to confirm correlation between product and the manufacturers Process Identification Document (PID) known as ESCC Domain, as well as investigate and establish actions related to any suspected deviation. A deviation could be a new material requiring specific tests performed for inclusion on the DML or a variation of a manufacturing process requiring demonstration, vehicle test and documentation for adoption in manufacturing instructions, part documentation or QMS procedures. Furthermore, the ESCC has a permanent seat on the TRB and can participate at any meeting by choice.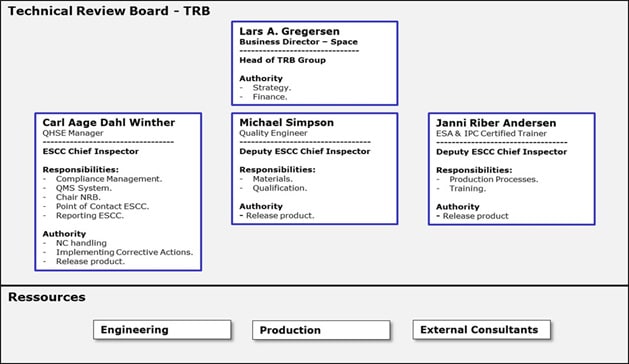 An ESCC Magnetic Sheet can be reviewed and approved for release on the baseline of two scenarios:
Prior manufacture and test of products with heritage
Manufacture and test of one or more Proto Flight Models (PFM), applicable for new design variations
The procedure shall enforce the guarantee of successful manufacturing, test, and delivery of the ESCC Qualified product supplied to the buying entity. The approval process has many relations and can be illustrated as below: