source: macrumours article
As the launch of Apple's iPhone X happened in November 17, eager users are set to enjoy battery life normally reserved for Apple's Plus-size form factors in a phone more closely resembling a non-Plus variant in its dimensions. The reason for this advancement is not an energy density development, but rather a smaller printed circuit board (PCB) inside the iPhone X, according to a February report from KGI Securities.
This smaller PCB is thanks to a technology referred to as substrate-like PCBs, or SLP. Depictions from the report show a PCB with more layers than a traditional iPhone PCB thanks to application processor and RF signal-chain dedicated PCBs married via an interposer, creating a layer stackup nearly twice that of a conventional iPhone PCB.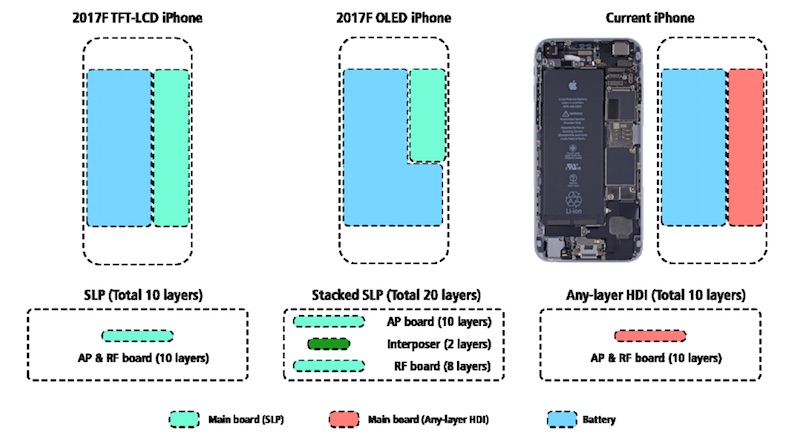 However, this doesn't come close to telling the whole story. While a new PCB stackup may offer some more flexibility in component placement, it's important to remember that the opposite side of the board from the A11 isn't empty in an iPhone 8. There are plenty of components there too — the NFC chip, display drivers, Wi-Fi combo chips, and power management ICs have all often found their homes directly opposite the workhorse application processor.
After all, 4.7-inch iPhones and their 5.5-inch "Plus" siblings have similarly sized PCBs, with battery capacity suffering as a direct result in the smaller phones. Herein lies the real problem in trying to improve battery life in these smaller form factors.
To truly make advances in the space needed to house all the components in the iPhone, the height of the PCBs must be leveraged as well. 3D and 2.5D IC techniques such as chip stacking, through-silicon vias, interposers and other techniques have gotten a lot of exposure in recent years for device packaging, but they can also apply to PCBs to some extent. PCB vendors have been embedding simple passive components such as resistors, capacitors, and inductors in PCBs for years.
These features were first intrinsic to the process, whether through resistor films, printed winding traces, or using the PCB dielectric as the foundation for a capacitor formed across layers. Embedded physical components are now rising in prominence, with vendors even planning for embedded active components in the not too distant future.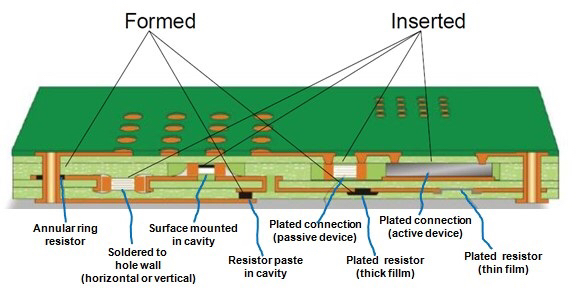 Embedded and formed wafer level components
Though it has gone somewhat unnoticed, Apple has already been employing this technique with its A-series application processors. Several years ago, leaked packaged parts began to show curious voids on the underside where the normal interconnect array would be expected. These voids are likely spaces for passive filtering components to nestle inside the package.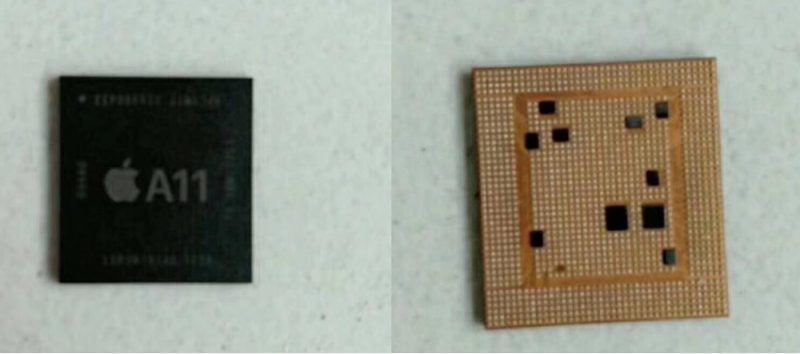 Apple A11 chip with embedded components
This achieves two things. First, it decreases the amount of board space needed to seat all components. Second, it often carries a performance advantage because proximity to the metal inside the device is one of the key performance drivers of active devices such as this.
The capacitors and inductors used to filter and bypass the power on the application processor serve to prevent voltage droop in changing current demand scenarios, as well as provide a bypass route to ground for high frequency noise. Placing it as close to the device as possible cuts down on unwanted parasitics which reduce these components' effectiveness.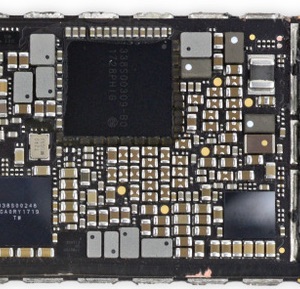 Passive filtering components for the A11 on an iPhone 8 Plus PCB
By extending this concept to PCBs, Apple can utilize any extra space within the PCB to house these components. Examination of the rear of an iPhone 8 Plus PCB shows there are numerous passive components sitting on the rear of the PCB behind the A11.
The more of these components that can be embedded within the board stackup, the more space efficiency the design can have. At an extreme, the PCB would have these components untouched, with an interposer (or perhaps multiple, interspersed with bonding material to match the boards) having a cutout in this area so that the digital and RF boards could be laminated together. This concept in itself presents technical challenges, and a gradual adoption rather than a momentous shift should be expected for embedded components.
What should be clear moving forward is that the internals of PCB stackups could prove to be just as interesting as their surfaces and the x-ray shots of component dies that we have come to expect. Perhaps we'll get a glimpse at some of these concepts once the teardowns start rolling in.