Increase of capacitors' energy density is of prime interest in number of today's applications. High energy density, high voltage capacitors are especially needed in fast-growing segments such as automotive, renewable energy generation and transmission, medical etc. Article written by EPCI and Brno University of Technology evaluates high energy density low Curie ceramic dielectric materials.
The paper was presented by Tomas Zednicek, EPCI, Czech Republic at the 3rd PCNS 7-10th September 2021, Milano, Italy as paper No.1.2.
EXPERIMENTAL
Development Task
BaTiO3 ceramic dielectric material are the most common, proved dielectric material used in mass production of ceramic capacitors today. Due to its structure, the maximum capacitance value is achieved nearby Curie temperature ~ 125°C. There are number of applications with limited requirements on operating temperature range that may not require such wide temperature range – such as wearable electronics. Thus, can we modify BaTiO3 structure to achieve even higher energy density even at limited temperature range?
Modify BaTiO3 ceramic dielectric material by doping and optimization of its processing/structure to lower Curie temperature closer to room temperature and obtain suitable ceramic dielectric with high energy density. See Figure 2.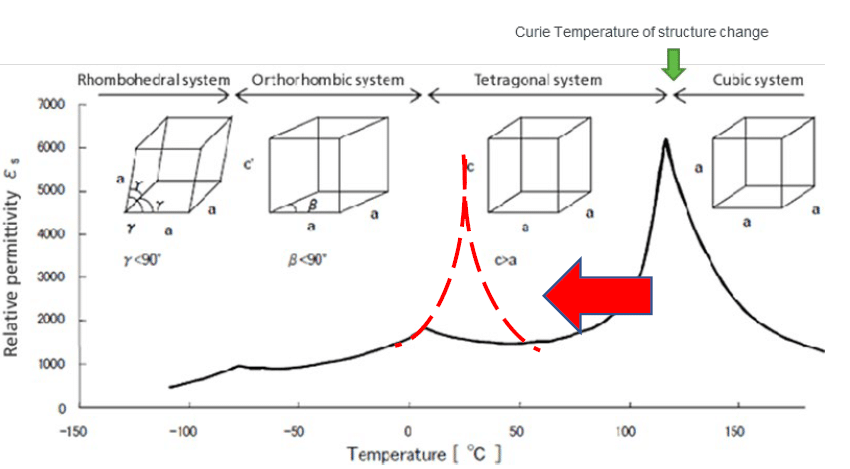 Combination of three key parameters of the dielectric will be monitored and targeted for best match: permittivity, electrical field strength and dielectric losses. The dielectrics will be benchmarked using P-E charts that is considered as best for energy storage capability assessment: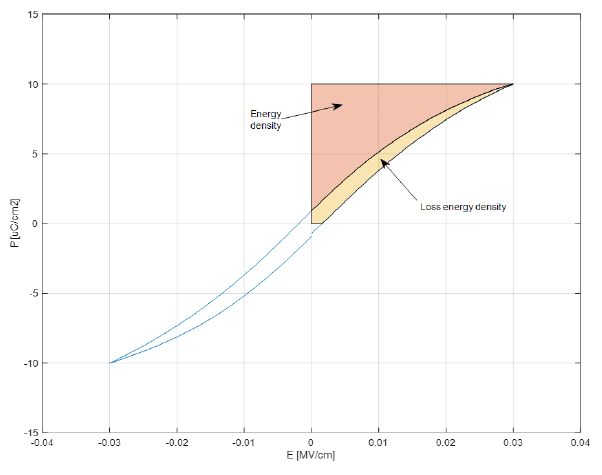 Selection of Suitable Ceramic Dielectrics Candidates
The approach to the development of high energy density take advantage of the unique properties of ceramic materials based on BaTiO3 (barium titanate – BT). These materials exhibit high dielectric as well as piezoelectric constants. Dielectric (and piezoelectric) properties are influenced by the technology of ceramic preparation process (e.g. particle size of starting ceramic powders, calcination and sintering temperature profile, ceramic density/porosity, or fired ceramic grains size), however crucial is also the impact of dopants added to the BaTiO3 ceramic (e.g. Ca, Sn, Nb, Co) and/or the composition of different barium and titanium based ceramic mixtures.
On the base of the literature search two ceramic materials were chosen for initial research:
Lead-free ceramic 0.55(Ba0.9Ca0.1)TiO3-0.45Ba(Sn0.2Ti0.8)O3 (further denoted as BSCT), where excellent piezoelectric properties in the temperature range about 40°C were expected [4 to 7]. Due to that coincidence of piezoelectric and dielectric properties are observed in most cases, this ceramic was included.
System BaTiO3-xBaSnO3 where the composition with x = 11 was chosen as the most promising one. (further denoted as BT-11BS) Here the relative permittivity maximum is observed for the Curie temperature close to 42°C. Reported dielectric constant peak value is about 70 000 at this temperature [8].
Sample Preparation Methods
Preparation of ceramic dielectric materials consist of two basic steps: (i) material synthesis and (ii) fabrication of the sample disc.
Features and electrical behaviour of ceramic materials are depending to number of structure parameters such as grain size, homogeneity, grain boundaries, material density, purity and other parameters.
Each synthesis and fabrication methods have its advantages and limitations. Selection of the method depends to requirements on dopant type, its quantity, duration of the test etc. and it may result in quite wide range of final parameters.
In our test preparation initial powder was mixed/milled, dried, sieved, calcinated, milled, dried, and sieved as the basic synthesis sequence resulting in a structure with mixed particle sizes. The synthesised material was then fabricated by three different processing methods referred further as: Process 1, Process 2. and Process 3.