Samsung Electro-Mechanics' component business sales that includes MLCC and inductors approach close to 50%… Positioning itself as a core business unit. As MLCC demand and prices rise due to the influence of COVID-19, performance is expected to be good this year.
According to Samsung Electro-Mechanics' business report on the 13th, component business sector sales accounted for 49.32% of the company's total sales last year. The component business division posted sales of 4.77 trillion won and an operating profit of 1.635 trillion won last year. Compared to the previous year, sales increased by 31% and operating profit by 91%.
This is due to the increasing demand for major components such as MLCC and inductors, as demand for information technology (IT) devices skyrocketed due to the influence of COVID-19.
Samsung Electro-Mechanics' 'breadwinning product' MLCC is at the forefront of the good performance. MLCC is an electronic component that acts as a dam to store electricity and send out a certain amount at a certain time. Almost all electronic products, including smartphones, PCs, tablets, game consoles, and electronic components, is equipped with MLCCs. An MLCC is a small, high value-added product that is half the size of a grain of rice.
On average, 800 to 1,000 MLCCs are installed in smartphones, 3,000 in general cars, and 15,000 in electric vehicles. 5G mobile communication (5G) smartphones, server data centers, and electric vehicles have also recently been equipped with high-spec MLCCs.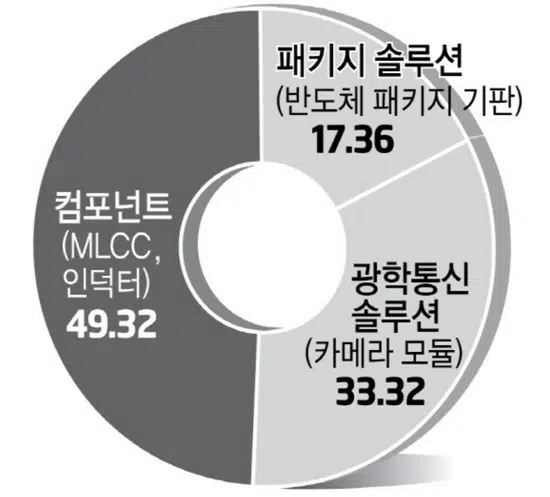 MLCCs need to stack as many thin layers as possible inside to accumulate a lot of electricity, so cutting-edge technology is very important. Smaller sized MLCCs are recognized to bemore competitiveness.
Samsung Electro-Mechanics has secured the leading MLCC competitiveness. Last year, Samsung Electro-Mechanics drew attention for developing an MLCC with the industry's best performance that surpasses Murata. They developed an MLCC product with a size of 0402 (0.4mm wide x 0.2mm long), capacity of 1 microfarad (uF), and rated voltage of 6.3 volts (V). Samsung Electro-Mechanics has created the largest capacity and maximum rated voltage in the industry among 0402 products.
MLCC sales prices also rose steadily, driving record-high earnings. The average sales price of MLCC rose 13.3% compared to the previous year, as supply chain risks arose and set companies moved to preemptively secure key electronic components.
The component business sector has established itself as a key business unit, driving overall profitability of the company. As of last year, the component division accounted for 71% of the company's total operating profit.
Samsung Electro-Mechanics has secured differentiated MLCC competitiveness in the global market. Samsung Electro-Mechanics announced its plan to double its total sales by 2026 and achieve the leading spot in the global MLCC market for IT. In the global MLCC market, Samsung Electro-Mechanics is known to be second after Murata of Japan.