Source: Seeking alpha article
MLCC prices up over 20% in 2017; MLCC price strength to continue into 2019. With automotive MCU's migration into the 28nm process, demand for high-capacitance, ultra-small MLCCs to pick up in earnest. Even with the increased capacity, supply to remain tight because of soaring demand from automotive electronics, smartphones, industrials, and cryptocurrency mining.

Major issues and conclusions
Top four MLCC makers' MLCC capacity to grow 13.1% YoY to 306.6bn units/month and 3.7tn units/year in 2018.
Industry and stock outlook
Murata's (OTCPK:MRAAY) sluggish stock performance has to do with a communication module margin squeeze; Top pick is Samsung Electro Mechanic (SEMCO) (OTC:SMSGF).
Auto MLCCs becoming smaller as MCU is pushed to 28nm process; top four's capacity to grow 13.1% YoY
As Japanese MLCC makers including Murata have begun to convert their capacity for general-type MLCCs to automotive MLCCs since 2017, the MLCC shortage (especially general-type MLCCs) is intensifying and the price is spiking as a result. Although PC and TV demand is sluggish, demand for game consoles and gaming PCs is intact and there is soaring demand for cryptocurrency miners too, all of which contribute to a surge of general purpose MLCC prices.
The price of MLCC used in niche products such as ESS has grown over six-fold especially, which signals the deepening of the structural supply shortage. Additionally, as the Apple (NASDAQ:AAPL) iPhone X with its biometric, dual camera uses 0603-mm 3μF/3.7μF and 1005-mm 17μF/20μF MLCCs, the value of MLCCs in premium smartphones is sharply rising.
In the case of automotive MLCCs, EV powertrains' ECU consumes the most MLCCs currently but going forward, we expect ADAS to be the major driver of automotive MLCC demand as ADAS makes further advancement for connected cars. For automotive MLCCs, the focus was mainly on high-capacitance and reliability but now there is growing demand for high-capacitance, high-reliability, and ultra-small MLCCs as well. As the number of MCUs per car increases, Renesas (OTCPK:RNECF)(OTCPK:RNECY), the world's largest maker of automotive micro control units (MCUs), is collaborating with TSMC (NYSE:TSM) to push embedded MCU flash to the 28nm process in 2018 from 2012's 40nm process. Smaller MCU chips means smaller electronic control units (ECUs), and this necessitates the use of ultra-small MLCCs. We believe a large number of ultra-small, high-capacitance MLCCs in automobiles will again shore up MLCC prices further. Murata's automotive MLCCs are manufactured in the Izumo plant in Shimane, which is currently expanding capacity on a massive scale. As of 2017, automotive MLCCs represented 25% of total MLCC sales at Murata and we forecast the percentage to rise to 30% this year. For SEMCO, automotive MLCCs' share of sales is expected to reach 7% in 2018 from 5% in 2017. The top four MLCC players' total annual capacity is estimated to grow 13.1% YoY to 3.7tn units.
Murata shares' rebound to trigger sentiment improvement over related sectors; our top pick is SEMCO
Taiwanese companies specializing in general-type MLCCs enjoyed a sharp rise in operating profit in 2017 along with their share prices. In contrast, shares of the biggest MLCC player Murata have stayed bearish despite the bullishness of the MLCC market because of the margin squeeze in smartphone communication modules. However, we now believe Murata shares will stage a rebound as its MLCC margin has reached 40% on the back of MLCC price strength, which will likely help buoy sentiment over related sectors. As for SEMCO, the stock has underperformed its Taiwanese peers due to lower-than-expected results from other divisions. However, given the favorable MLCC market fundamentals, we expect the stock to become more attractive going forward, and against this backdrop, we present SEMCO as our top pick in the passive components sector.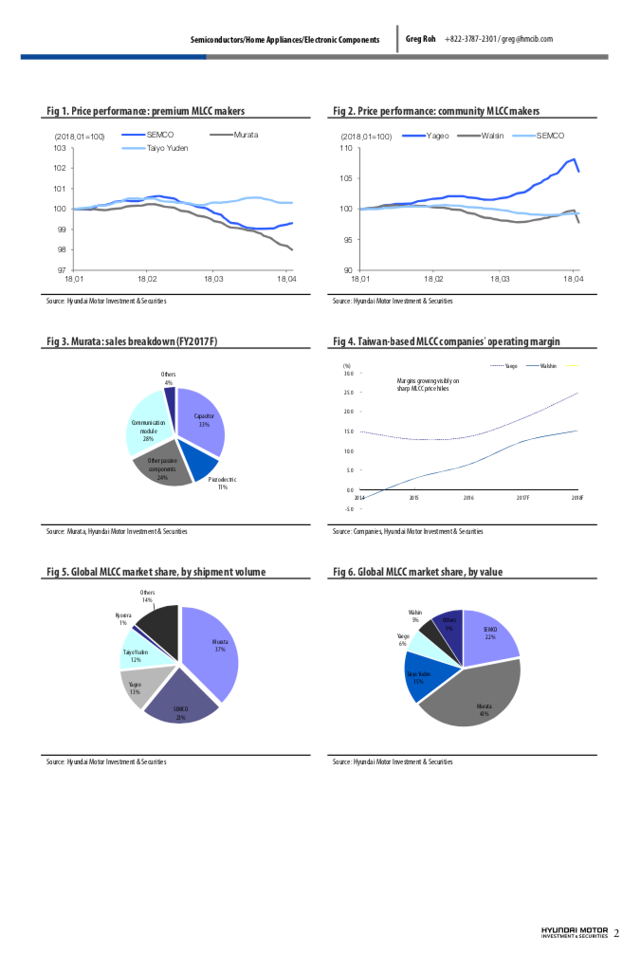 Disclosure:
I/we have no positions in any stocks mentioned, and no plans to initiate any positions within the next 72 hours.
I wrote this article myself, and it expresses my own opinions. I am not receiving compensation for it. I have no business relationship with any company whose stock is mentioned in this article.
Editor's Note: This article discusses one or more securities that do not trade on a major U.S. exchange. Please be aware of the risks associated with these stocks.