Source: EPCI news
2nd PCNS Passive Components Networking Symposium 10-13th September, Bucharest, Romania is pleased to announce Workshop focused on passive components mounting guidelines.
Mounting related induced failures are the number one reason (over 55%) for the field application capacitor failure causes according to a EPCI end customer survey – see figure below. The capacitor component failures itself represents "just" 33% of the root failure causes. Thus, a careful evaluation of mounting guidelines and follow up in real assembly processes per the component manufacturers' recommendations shall be considered as a critical characteristic.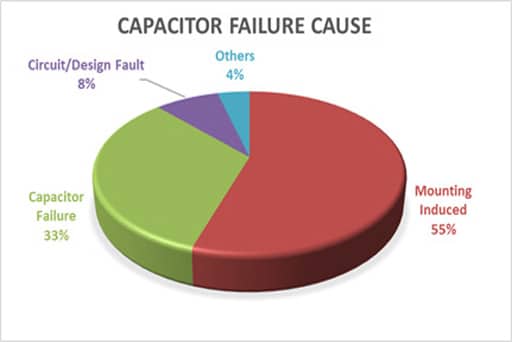 The first part of the workshop will focus on useful tips and tricks for passive component mounting issues, reliability of PCB assembly and finalization will be discussed during the second part of the workshop.
Attendees will receive printed manuscripts. Seating is limited and registration is mandatory using PCNS online form here. For rates and PCNS fee package information see the EPCI PCNSII Rates.
Passive Components Mounting Guidelines Workshop

Who should Attend
The Passive Components Mounting Guidelines Workshop is dedicated to anyone interested in passive component mounting issues and impact of board mounting process to reliability of the components.
Content
Part I. Capacitors and Resistors Mounting Guidelines. Lecturer: Ing.Tomas Zednicek Ph.D., EPCI
Mounting techniques overview
Common Soldering Process Issues
PCB board design and handling
Soldering, PCB handling and Rework
Part II. PCB assembly and finalization for high reliability, Lecturer: Ing. Vladimir Sitko, PBT Works s.r.o.
Threads for electronic assemblies reliability
Electrochemical migration conditions, consequences, electrochemical corrosion.
How to prevent electrochemical damage of assemblies. Cleaning and coating
How clean is cleaning enough, how can we measure that.
Recent changes in the cleaning process qualification and validation of changes
Biggest challenges of cleaning up to date electronic assemblies. PCB assemblies, DCB´s, components before encapsulation.
Current methods of cleaning process control. Options of process stability keeping and automation
Lecturers
Tomas Zednicek Ph.D.
Electrotechnology Degree by Technical University of Brno,Czech Republic in 1993
Ph.D. in Tantalum Capacitors in 2000
> 21 years working for tantalum capacitor manufacturer
> 15 years in position of Worldwide Technical Marketing Manager
more than 60 technical papers and 1 US/international patent
4 outstanding/best award technical papers at CARTS passive component conference
2005 Dr. Zandman award for a great contribution to passive component industry
Lecturer of capacitor technologies, presentation skills and inter-culture communication
July 2015 – Founder of the European Passive Components Institute
Vladimir Sitko
founder and managing director of PBT Works s.r.o, a recognized manufacturer of cleaning systems for electronic assemblies, stencil and microelectronic applications.
experience in the microelectronics industry as a developer of the mechanical and physical measuring instrument and production machines for prototyping for chip process, assembly, and encapsulation.
process project engineer for vacuum electronic component production.
In 90-ties, he founded an SMT process machines and materials supply and consulting service company PBT Roznov. He gained deep expertise in the soldering process, paste printing process and PCBA cleaning.
In the same time, he was starting the business with development, design and manufacturing machines for PCBA and maintenance cleaning.
participating in several research tasks for cleaning technology, especially cleaning machine and process optimization methods and measuring instruments for cleaning performance.
owner or co-owner of several patents