In the digital era, the world is increasingly dependent on advanced devices such as smartphones, laptops, and connected technology, all of which depend on one essential component; electricity. Power transformers are among the impactful components of a grid.
From facilitating lighting in residential applications to ensuring the function of devices and appliances in commercial settings, a constant and secure flow of electricity is a must. In 2019, electricity consumption was approximately 3.9 trillion kWh (kilowatt-hours) in the United States alone, according to the EIA.
Power transformers are large energy components required to transmit power from channelised sources to varying distribution channels. Electrical transformers take many different forms, in terms of type and size, based on the specific needs of output or various electronic devices.
These devices are considered crucial elements of an electric supply distribution system and are used at different points to facilitate an uninterrupted and secure flow of power from the grid to the end-users.
According to a study by Global Market Insights, Inc. the global power transformers market size is set to reach beyond $24.5 billion in valuation through 2027.
In 2020 alone, some 6,000 power transformers were installed globally.
Auto power transformers to emerge as a preferred solution for voltage regulation
In recent years, auto power transformers have begun to emerge as a front runner in voltage regulation solutions and are gaining massive traction. These devices are considered one of the most important parts of the modern power supply chain and are used to address the fluctuation of voltages in power lines meant for household electricity supply.
Auto power transformers are also used to convert voltages for use on different devices. Their ability to make devices built for particular voltages function even in case of fluctuations, along with their role as common linkage points between voltages in household grids have made them an indispensable component in an electric supply distribution system across developing nations.
To that end, in November 2020, Indian state-owned engineering company BHEL set a new record by completing the manufacture and testing of the highest-rated Auto Transformer at the Bina, Madhya Pradesh-based NHPTL (National High Power Test Laboratory). The transformer, with a 500 MVA 400/220/33 kV, was designed and produced at the Bhopal plant of BHEL for the UP Power Transmission Corporation Ltd.
Auto transformers have contributed significantly to the power transformer industry in the region, given that they play a key role in bulk power transmission to larger cities and load centers.
Retrofitting of existing electricity grids will underpin power transformer significance in utility applications
In the utility sector, one of the most prominent factors driving power transformer demand is the burgeoning focus on the retrofitting of existing grid infrastructure.
Electric utilities are making investments by the millions each year, in order to replace and refurbish aging grid systems. For instance, according to IEEFA (Institute of Energy Economics and Financial Analysis) estimates, in April 2019 India planned to invest over $250 billion towards grid modernisation and expansion, in order to facilitate easier green energy capacity uptake.
There are several reasons for this intensifying focus on grid restructuring, the most notable being that many of these grids are well past their service life. In this case, power transformers play a key role as critical assets for T&D network improvement, by addressing the rising need for more resilient and reliable power transmissions systems and ensuring flexible performance and high system efficiency in complex grid environments.
Another major growth driver for the power transformers market in the utility sector is the rising focus on deployment of energy-efficiency grid equipment, and the rapid advancement of renewable power sources across developed and developing economies.
In February 2021, Hitachi ABB Power Grids Ltd. was granted an order worth $20 million from Turkey-based TSO (transmission system operator) TEİAŞ, for the supply of several 62.5-MVA and 100-MVA, 154-kV power transformers for a grid expansion project aimed at delivering affordable power supply to remote locations nationwide. A key objective of the project was to decrease dependence on polluting and unreliable energy sources locally available, such as diesel generators, and to ensure uninterrupted and quality flow of electricity.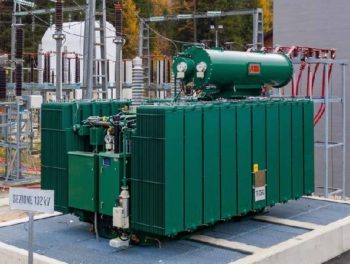 Major players in the power transformers business are also placing more focus on the integration of smart technologies and digital solutions in power transformer technologies, to create more energy-efficient solutions. As more and more companies ink strategic technical collaborations to develop novel power transformer solutions, product demand is expected to witness a sizeable increase in the years ahead.
To illustrate, in February 2021, the Enel Infrastructure and Networks division decided to deploy the TXpert Ecosystem to digitalize the transformers from the Hitachi ABB Power Grids. Touted as the first digital power transformers to be equipped with data-driven functionalities, these devices will be able to track the transformer aging performance, and access real-time analytics on transformer health.
The integration of the TXpert Ecosystem will also allow for virtual site management and contribute to higher grid reliability and service quality.