This paper elaborates on problematic of ceramic capacitors MLCC capacitors cracks – literature survey and practical experiments to develop methodology to induce electrode-to-electrode cracks without deterioration of the capacitor's immediate electrical parameters. In the next step these capacitors are subjected to thermal vacuum and high temperature life test to evaluate its impact to space flight operating conditions. 
The paper was presented by Tomas Zednicek, EPCI European Passive Components Institute, Lanskroun, Czech Republic at the 3rd PCNS 7-10th September 2021, Milano, Italy as paper No.2.2.
NON-DESTRUCTIVE ANALYSIS
Non-destructive methods with proof of MLCC crack identification were reviewed with aspects to be suitable for higher sample quantity to pick parts with crack for environmental test.
SAM Scanning Acoustic Microscopy
Scanning Acoustic Microscopy (SAM) has proved to be the most effective tool for the non-destructive detection of very thin (even below 200 nm of thickness) internal anomalies (delamination, voids, cracks, and foreign material) within ceramic capacitors.
Its disadvantage in our test is its limitation for volume testing and associated cost for hundreds of parts.
3D inline X Ray or X-Ray tomography
3D Xray and X-Ray tomography has also a suitable range of resolution to reveal very thin cracks inside of MLCC capacitor body. Nevertheless, the three-dimensional X-ray is time-consuming for a large number of samples and even more expensive than SAM.
2D X Ray
2D X-ray may be suitable for screening of higher volume of samples at affordable cost, thus it was selected to as the non-destructive method to investigate. Downside of the 2D Xray is its limitation to see fine cracks against the projection of the MLCC body.
The 2D Xray images unfortunately could not reveal internal structure of 1812 MLCC capacitors and it may not be suitable for cracks identification.
CROSS-SECTIONING DPA
Cross-sectioning DPA was performed on parts in addition to check effectiveness of the crack-induced methods.
Cracks Induced by Thermo-Mechanical Stress
Ten parts subjected to thermo-mechanical stress test, sectioned and inspected under optical microscope – low and high magnification (x500). Thermal stress induced cross sectioning observations:
No cracks neither delamination were detected under the optical microscope examination of all ten samples.
The MLCC test parts showed very high robustness to thermal shock stress – with delta temperature that reach even 440°C. This method may not be suitable to generate cracks in mass scale. ¨
Cracks Induced by Mechanical Pin Stress
Another ten MLCC capacitors of the same PN were subjected to mechanical pin stress exposure and cross-section DPA to study its internal structure.
The repeated test confirmed previous findings that sharp pin force is causing a surface damage with visible microcracks on the MLCC capacitor surface body and third harmonic increases during the force applies. There was no visible surface cracking, neither third harmonic voltage increase during the stress applied in the case of blunt pin type was used. All parts were cross sectioned to see impact of the mechanical pin stress to its internal layers and inner construction. Visual inspection of cross-sectioned parts under optical microscope confirmed delamination and cracks of dielectric layers in almost all cases. (note: the capacitors were electrically measured and confirmed within its specification).
Figure 2. and 3. illustrate view of the typical representative sample No.14 cross section images from low to higher magnification.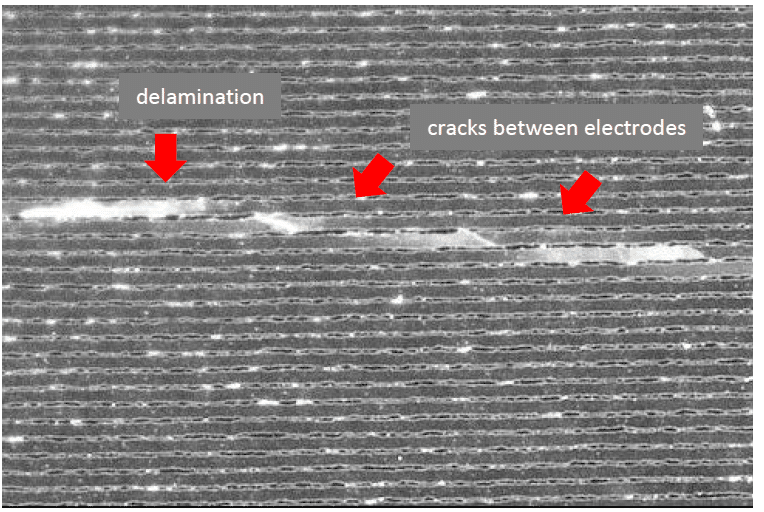 Mechanical stress induced cross sectioning observation.
The cross-sectioning structure analysis confirms presence of major delamination and cracks inside of the MLCC capacitors subjected to mechanical pin force.
The delamination present alongside the capacitor body in multiple layers with different length from tenth of millimeters to millimeter range (in some cases up to half size of the MLCC active capacitor zone.
There is no major difference in inner delamination/crack visual or occurrence frequency between sharp or blunt pin types. The major difference is only level of its surface damage.
The observed cracks can clearly cross whole dielectric layer thickness – from one to the other electrode as shown in Fig.16.