This paper elaborates on problematic of ceramic capacitors MLCC capacitors cracks – literature survey and practical experiments to develop methodology to induce electrode-to-electrode cracks without deterioration of the capacitor's immediate electrical parameters. In the next step these capacitors are subjected to thermal vacuum and high temperature life test to evaluate its impact to space flight operating conditions. 
The paper was presented by Tomas Zednicek, EPCI European Passive Components Institute, Lanskroun, Czech Republic at the 3rd PCNS 7-10th September 2021, Milano, Italy as paper No.2.2.
DRY HEAT & THERMAL VACUUM LOAD TEST
Experimental testing was performed on the 1812 case size X7R MLCC relatively high CV, medium voltage parts 22uF 25V parts from leading manufacturer. The parts are readily on stock for purchase from a standard authorized distributor. The test flow diagram used 350 parts of the MLCC 1812 samples split into five groups – see Figure 4.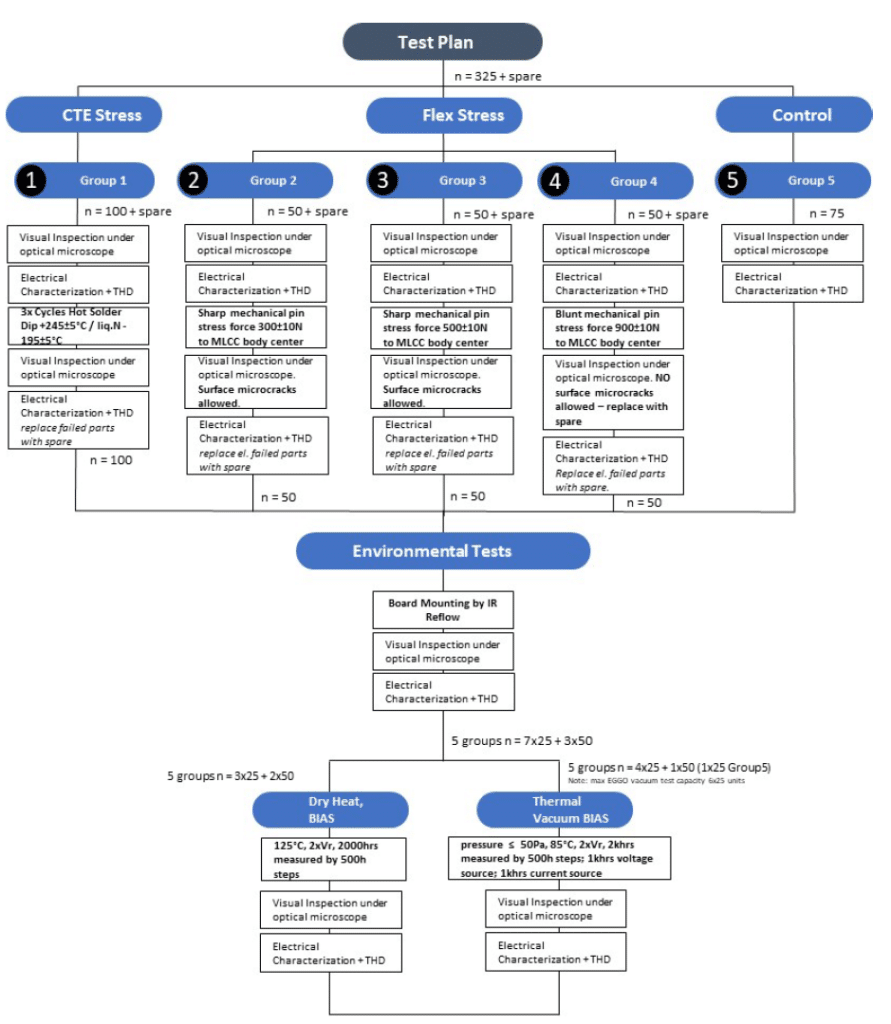 Test Groups Definition
Group 1 target acceleration by thermal shock to initiate CTE overstress by high delta thermal shock over 440°C by three cycles of dips into hot +245°C solder followed by immersion into a liquid nitrogen at -195°C.
Groups 2-4 simulate mechanical overstress such as flex and PCB vibration by mechanical pin force exposure to the MLCC body center. Two pin types are used – low radius, sharp pin that intentionally create microcracks on the surface body, and high radius, blunt pin type that is applying extra force but no surface cracks are allowed.

Group 2 – low radius sharp pin stress with 300±10 N force, surface microcracks are allowed.
Group 3 – low radius sharp pin stress with 500±10 N force, surface microcracks are allowed.

Group 4 – high radius blunt pin stress with 900±10 N force, parts with surface microcracks during optical microscope check to be replaced with new sample.
Group 5 is a control group without any stress applied.
All parts were visually checked under an optical microscope for presence of micro-cracks and measured electrically before and after the mechanical stress to make sure they are electrically compliant to their specified limit. Measurement of third harmonic distortion THD, in addition was proposed as the most sensitive method to identify any non-linearity defects. Parts that electrically fails specification limits were replaced with new ones so test boards for the tests can be fully occupied.
Dry Heat & Thermal Vacuum Tests
Purpose of the selected tests was to simulate space environmental load to MLCC capacitors with cross electrode cracks by exposure to dry heat and thermal vacuum conditions. All test parts were board mounted prior the tests with visual and electrical parameters check before and after the board mounting. Electrical Characterization was performed according to ESCC 3009 general specification and ESCC 3009/09 detail specification.
Dry Heat Exposure
The test parts were subjected to 125°C dry heat load at 2xVr 2000hrs test measured by 500h steps. The test follow ESCC 3009 general specification and ESCC 3009/09 detail specification.
Thermal Vacuum
The test parts were exposed to thermal vacuum pressure ≤ 50Pa at 85°C, 2000hrs test measured by 500h steps. The first 1k hours power source is set to operate as voltage source at 2xVr constant voltage; the next 1khrs the power source operated as a current source with voltage limitation to 2xVr. Level of constant current was decided based on the first 1k hours data record. Thermal vacuum exposure follow ESCC 2263000 test conditions without polarity change and weight measurement, that was not applicable.
TEST RESULTS
Dry Heat Test Results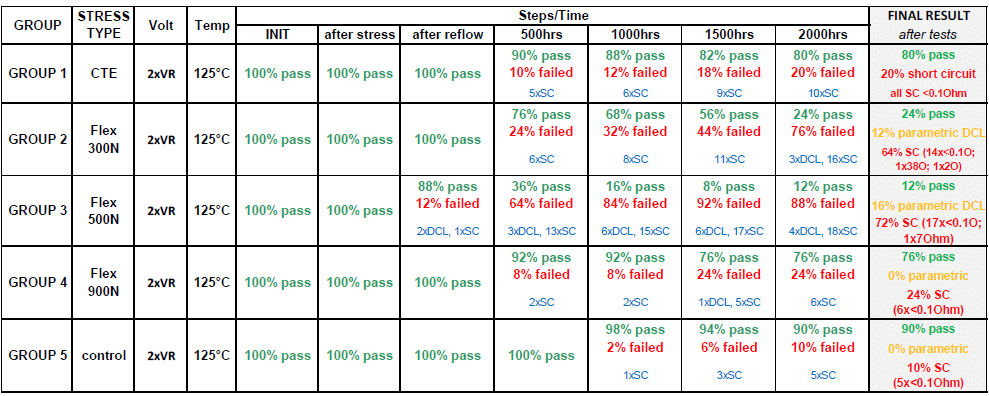 Despite the tested MLCC capacitors show no deviation in electrical parameters after the applied stress, there is a certain percentage of components that begin to fail catastrophically at dry heat test even after 500h in all stressed groups (apart of control group 5).
The test is running at accelerated conditions of 125°C and twice rated voltage. 10% of short circuits were observed after 2000hrs even at control group. CTE stress load test group 1 showed twice higher 20% of short circuits after 2000hours. Short circuits of all test groups were remeasured by Ohmmeter to confirm short circuit failure mode and level of its resistance. Most of the short circuit parts were failing with resistance lower than 0.1 Ohm (lowest resolution of Ohmmeter used), only few were in range of units and tenth of Ohms.
High percentage of Flex stress parts failed short during the test. Group 2 and 3 of parts stressed by sharp pin failed at 80-90% at the end of 2000 hour test, blunt pin stressed parts at 24%.
Thermal Vacuum Test Results

Thermal vacuum test presents a lower stress level compared to the dry heat load as also temperature acceleration factor is lower (85°C vs 125°C). Some DCL parametric and short circuit failures can be seen in the Flex stress sharp pin groups 2 and 3 already after the reflow board mounting with further move of parametric DCL failures into short circuits catastrophic failures during the thermal life test. Overall short circuit failure rate of the flex stress parts was from 4 to 16% after 2000hrs.
Few DCL parametric failures (just slightly above the DCL specification limit) occurred in the CTE stressed group 1 but it did not continue into failures, stabilized instead and there were no failures at final 1500 and 2000hrs measurement. Controlled group did not show any failures during the test.The following charts in figure 11 are showing shift of electrical parameters during the test.