source: digitimes news
Julian Ho, Taipei; Jessie Shen, DIGITIMES [Tuesday 6 June 2017]. Passive component maker Yageo has reported consolidated revenues of NT$2.7 billion (US$89.8 million) for May 2017, up 6.9% on year and 3.7% sequentially.
Yageo indicated May sales to the Greater China, Asia Pacific and NAFTA regions increased on month, while demand slowed in Europe. In terms of applications, May sales generated from the industrial product, distributor, EMS and consumer electronics segments increased while demand from the telecom and computer segments decreased compared to the previous month.
Yageo's cumulative 2017 revenues through May came to NT$12.65 billion, rising 2.4% on year.
In other news, Yageo will reportedly adjust upward its MLCC (multi-layer ceramic capacitor) prices to reflect its tight supply, according to industry sources. Fellow company Walsin Technology is also expected to follow suit.
The supply of MLCCs has been tight since major player Japan-based TDK decided to withdraw from the general-type market segment. Meanwhile, MLCC demand remains robust, the sources noted. TDK in mid-2016 announced it will gradually phase out from the general-type MLCC segment and put increased focus on specific high-margin sectors.
Holy Stone Enterprise, another Taiwan-based MLCC supplier, has put more focus on automotive electronics applications, the sources said. Holy Stone is reportedly shipping its automotive MLCC and system modules for ADAS (advanced driving assistance systems) and BMS (battery-management systems) to supply chains in China, Europe and the US.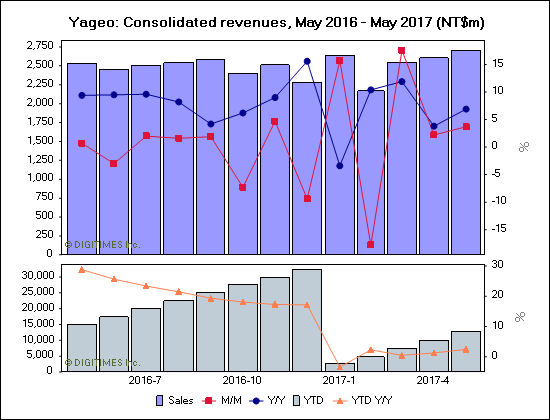 Yageo: Consolidated revenues, May 2016 – May 2017 (NT$m)

Month

Sales

M/M

Y/Y

YTD

Y/Y

May-17

2,701

3.7%

6.9%

12,651

2.5%

Apr-17

2,604

2.2%

3.8%

9,950

1.3%

Mar-17

2,547

17.6%

11.9%

7,347

0.5%

Feb-17

2,166

(17.8%)

10.4%

4,800

2.3%

Jan-17

2,634

15.7%

(3.4%)

2,634

(3.4%)

Dec-16

2,277

(9.4%)

15.6%

32,239

17.2%

Nov-16

2,512

4.7%

9%

29,962

17.3%

Oct-16

2,400

(7.3%)

6.2%

27,450

18.1%

Sep-16

2,588

1.9%

4.2%

25,050

19.4%

Aug-16

2,540

1.6%

8.2%

22,462

21.5%

Jul-16

2,500

2%

9.6%

19,922

23.4%

Jun-16

2,452

(3%)

9.5%

17,423

25.7%

May-16

2,527

0.7%

9.4%

14,971

28.8%
*Figures are consolidated
Source: TSE, compiled by Digitimes, June 2017