Electronic component miniaturization and operation in harsh environmental conditions are growing trends in applications, such as on-board chargers, energy meters, capacitive power supplies, including connection in series with the mains, motor drives, wind and solar inverters. Current EMI (Electromagnetic Interference) X2 class suppression and DC-link power box film capacitors need capability improvement to meet these requirements.
Very high capacitance and dissipation factor stability are required during operational life in severe ambient conditions such as high temperature and relative humidity, while still meeting European and other Electrical Norms (ENEC and CQC), the criteria in the standard for automotive application (AEC-Q200) and the international safety requirement (UL). The moisture absorbed into the capacitor leads to corrosion of the electrode and accelerated degradation of the capacitor by increasing of capacitance loss. Temperature-Humidity-Bias (THB) is a standard test for accelerated stress testing of corrosion and other moisture-driven mechanisms for degradation. In this paper, we have studied the characteristics and performance under high temperature and humidity conditions of new capacitor designs in a miniaturized version of first to the market metallized EMI X2 class suppression and DC-link power box film capacitors. Three advanced KEMET series of metallized film capacitors have been stressed under an applied rated AC or DC voltage at 85°C and 85 %R.H. and the drop of capacitance and change of the dissipation factor have been monitored with the time for 500 and 1000 hours, respectively.
The paper was presented by Hristina Kostadinova Boshkova, KEMET Electronics Macedonia, North Macedonia at the 3rd PCNS 7-10th September 2021, Milano, Italy as paper No.5.1.
EXPERIMENTATION AND TEST RESULTS
R52 and R53 new miniaturized X2 suppression capacitors' design
KEMET's R&D team has studied and experimented with unique solutions to address the challenges of designing EMI suppression capacitors that meet THB test requirements without sacrificing miniaturization and reliability. The first KEMET's harsh environment solution was the F863, X2 series providing a compact and cost-driven solution for a consumer-oriented market. A few years later, followed the F862-V054, X2 series based on an enhanced metallized film technology that met the AEC-Q200 qualification for automotive applications.
The latest EMI suppression solutions, presented in this paper, are the newest R52 and R53 designs (figure 7 and 8) with harsh environment capabilities, exceeding the performance of previous solutions and passing the latest IEC-60384-14 humidity robustness test with a Class IIB and Class IIIB classification, respectively. Those miniaturized designs are AEC-Q200 qualified and both are First to Market X2 technologies in terms of combined THB Grade IIB and IIIB level, miniaturized dimensions and the highest capacitance value.


KEMET's R52 and R53 series space-saving X2 class capacitors are offered with capacitance values from 47 nF to 22 μF with lead spacing from 10 mm to 37.5 mm for R52 design and from 0.1 μF to 22 μF and lead spacing from 15 mm to 37.5 mm for R53 design, respectively. They offer the highest capacitance density for small footprint capacitors, enabling a smaller PCB area, reduced weight, lower costs, and improved reliability.
The capacitors are rated for 310Vac at 50 or 60 Hz and are intended for use in Class X2 line-to-line applications or in series with the AC mains (see figure 9). They are well-suited for applications that require high capacitance stability and current capabilities, e.g., power line communication (PLC) systems on smart-utility meters and consumer devices, making them ideal for converters in on-board and off-board chargers for electromotive vehicles (xEVs), smart grid hardware, solar inverters, EMI filtering in variable frequency motor drives (VFD) and LED drives, and in high energy density applications such as capacitive power supplies.

The R52 and R53 series features a metallized polypropylene film encapsulated in a self-extinguishing resin and a shell that meets UL 94 V-0 requirements. The metallized polypropylene film combined with an internal parallel construction provides self-healing properties to prevent catastrophic failure and extend service life. The capacitors are AEC-Q200 qualified and designed for harsh environments.
The R52 design has high capacitance stability after 1000 hours on the THB test at 85°C and 85% relative humidity environment at 240Vac, as it is shown on figure 10 and it also meets THB Grade IIB accelerated life testing requirements, with testing for 500 hours at rated voltage 310Vac in an 85°C and 85% relative humidity environment, with the capacitance drift presented on figure 11.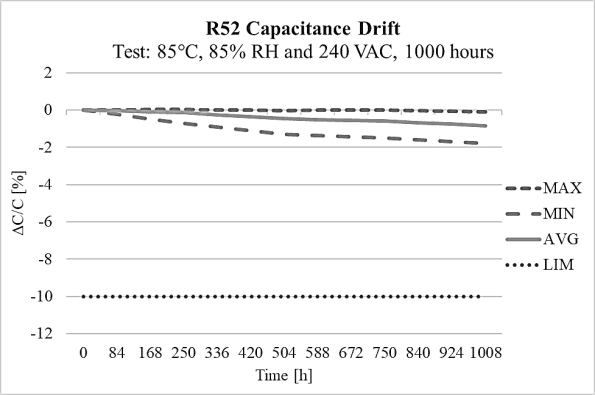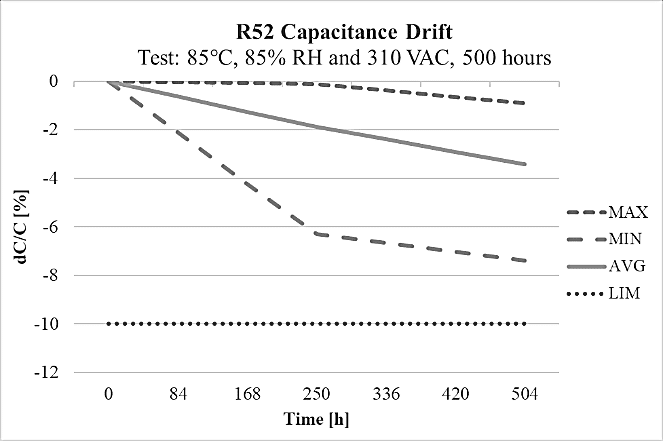 On the other side, the R53 design meets THB Grade IIIB accelerated life testing requirements, with testing for 1000 hours at rated voltage 310Vac and 560Vdc in an 85°C and 85% relative humidity environment, with the capacitance drift shown on Figure 12 and Figure 13 at 310Vac and 560Vdc respectively. Both designs R52 and R53 are rated for operation from -40°C to +110°C. They are also 100% factory screened at 1,900Vdc, with all electrical characteristics verified aftertesting. The R52 and R53 series successfully pass stringent tests while also providing a solution for space-constrainedapplications like automotive, 5G communications, servers and more.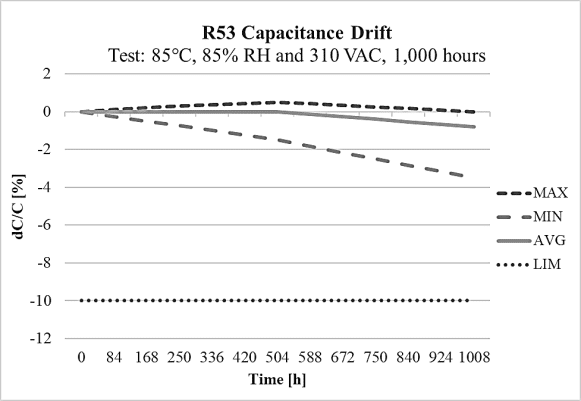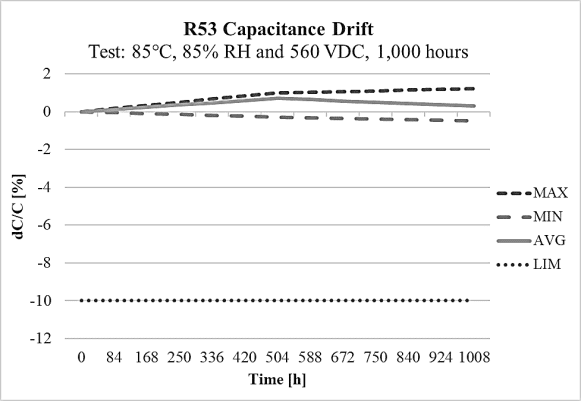 On the figure 14 and 15 is present a comparison of KEMET's R52 and R53 design respectively, with the one of the competitors' EMI solutions using a particular capacitance of 1.5 μF and lead spacing of 22.5 mm. On average, the R52 and R53 physical volume is 60% smaller than any other X2 solution with the same range of capacitance values present in the market.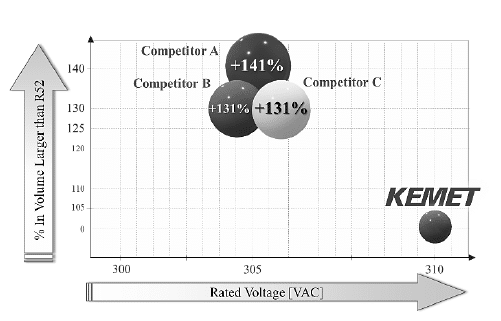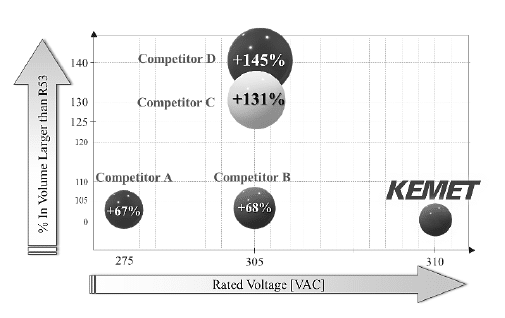 The R52 and R53 technology reaches capacitance levels of 10μF, 15μF, and 22 μF. The high capacitance and current capabilities of KEMET's R52 and R53 allow it to function as an excellent EMI suppression solution both across and in series with the mains on high energy density designs requiring a high level of filtering capability on a broad spectrum of frequencies. A good example is in variable frequency drives and EV fast-charging systems where designers prefer to utilize high-capacitance, certified EMI suppression capacitors together with AC and DC filtering solutions to mitigate harmonic content on the output of the drives and converters. The R52 and R53 are also suited for use in capacitive power supplies and power line communication systems.
The C4AU new DC-link power box film capacitor's design
The DC-link power box capacitor is an important part of any power conversion module. Its input is usually the output of a rectifier stage or a DC-DC stage. Its output is either an AC or pulse width modulation (PWM) signal for drive systems or could even be the input for buck-boost convertors (see Figure 16).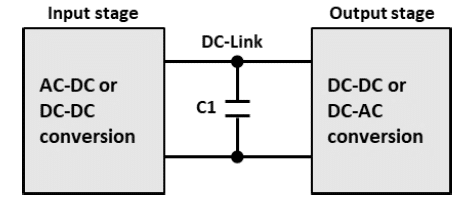 The DC-link power box capacitor is used for that intermediate point between the two conversion stages. The main purpose for the DC-link power box is to provide a low impedance path for high frequency switching currents which translates to ripple current which is a very common associated with the DC-link power box capacitors and of course to store the supplied energy when needed. DC-link capacitors need to be stable over temperature, frequency, and time. They have high capacitance density, low leakage current, low losses (dissipation factor), excellent self-healing capability, long operational lifetimes and they are able to withstand high power, high ripple current, high rated voltages up to 1200 Vdc, a large amount of charge/discharge cycles and for some specific applications they must operate reliably and safely in harsh environments.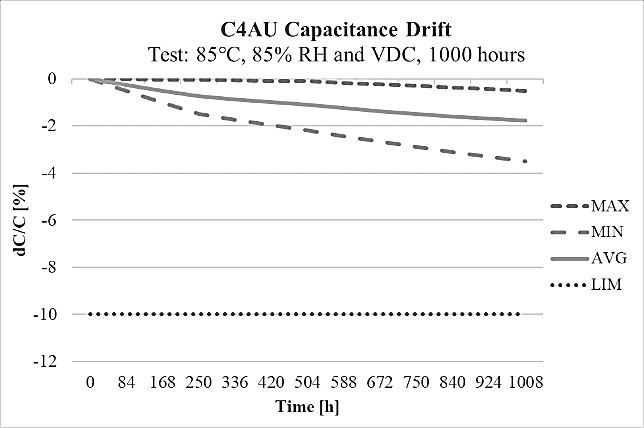 The C4AU DC-link power box capacitor with a miniaturized size is a polypropylene metallized film capacitor with a rectangular, plastic box-type design filled with resin and uses 2 or 4 tinned copper wires. Automotive grade devices meet the demanding Automotive Electronics Council's AEC-Q200 qualification requirements. Typical applications include DC filtering, DC-link, power electronics, IGBT snubbers, energy storage, renewable energy grid interface, motor drives, and automotive applications.
The most significant benefits of C4AU are the following properties: high capacitance density of 200 V/μm at 85°C, good self-healing, low loss, high ripple current, high contact reliability suitable harsh environmental conditions for high frequency applications and automotive grades (AEC-Q200). The C4AU technology reaches capacitance levels of 200 μF designed for DC rated voltage range 500÷1200V at maximum operating temperature of 105°C, with short lifetime of 200 h at 125°C and covering the pitch range starting from 27.5mm up to 52.5mm. This series is designed to withstand harsh environmental conditions at 85°C and 85%R.H. for 1000 h at rated DC voltage, showing the highest humidity robustness performance THB Grade IIIB with the capacitance drift shown on the Figure 17. The miniaturized size is providing an advantage of 28% reduction in dimension volume values compared with the actual C4AQ DC-link power box series, present in the KEMET portfolio that means 15% improvement on the PCB space reduction. Moreover, this new advanced technology design of C4AU with miniaturized dimensions has 320% increase in dV/dt.
CONCLUSION
KEMET's new space-saving film capacitor's designs, the C4AU DC-link power box and the R52 and R53 EMI X2 suppression capacitors are first-to-market solutions that meet the needs of today's most challenging applications. Extensively tested for high reliability in harsh environments, the new KEMET's miniaturized products offer an ultra-high capacitance in a compact package for more board savings and lower application costs for engineers. The entire package of C4AU, R52 and R53 new KEMET film capacitors provide the full capacitance solution with an optimal balance of miniaturization and reliability in automotive, industrial, consumer, and energy applications in any harsh environment.
REFERENCES
[1]J.H. Tortai, A. Denat, N. Bonifaci, "Self-healing of capacitors with metallized film technology: experimentalobservations and theoretical model", J. Electrost., vol.53, pp.159–169, August 2001
[2]H. Li, P. Lewin, J. C. Fothergill. "Aging mechanisms of X2 metallized film capacitors in a high temperature andhumidity environment." IEEE International Conference on Dielectrics, pp.804-807, July 2016
[3]M Michelazzi et al., "RFI X2 capacitors for high humidity environment", CARTS International, 2014
[4]P.L Lewin,. J.C. Fothergill, S.J. Dodd. "Electro-chemical degradation of thin film X2 safety capacitors." ElectricalInsulation Conference (EIC) IEEE, June, 2015.
[5]R.J. Van Brunt., "Physics and chemistry of partial discharge and corona. Recent advances and future challenges",Dielectrics and Electrical Insulation, IEEE Transactions on, 1(5): 761-784, 1994
[6]X. Zhang "Corrosion and Electrochemistry of Zinc." BeiJing: Metalworking Industry Press, 2008.
[7]Q. Chen et al., "Moisture Ingress of Metallized Film Capacitor under High Temperature and Different HumidityCondition", IEEE Conference on Electrical Insulation and Dielectric Phenomena – Cancun – Mexico, pp.422-425,2018
[8]O. Hölck, "Transport of moisture at epoxy–SiO2 interfaces investigated by molecular modeling." MicroelectronicsReliability vol. 53(8), pp.1111-1116, Aug., 2013