Surface mount technology feedthrough ceramic capacitors are gaining popularity in Hi-Rel systems due to small size and great filtering characteristics. In this work, BME feedthrough capacitors compliant with AEC-Q200 requirements have been evaluated, screened and qualified for a space project. Evaluation included analysis of the effect of post-soldering thermal shocks, temperature dependencies of leakage currents, distribution of breakdown voltages, assessments of high-current capability, and thermal resistance of the parts. The parts have been screened and qualified at conditions close to the military requirements for ceramic capacitors. No failures were detected during screening including burning-in, but two samples failed during monitored 2000 hour life testing at 125C and two times rated voltage. Failure analysis revealed manufacturing defects that required additional analysis of screening and qualification test conditions. Highly accelerated life testing (HALT) has been carried out to assess reliability acceleration factors and the probability of failure at the use conditions. An approach to selection of adequate burning-in and life test conditions is discussed.
The paper was presented by Alexander Teverovsky, Jacobs Engineering, Inc./NASA GSFC, USA at the 3rd PCNS 7-10th September 2021, Milano, Italy as paper No.3.2.
Screening and Qualification
Three hundred samples were subjected to screening tests including visual examinations and measurements of all electrical characteristics including the through resistances that have been measured using a dynamic power SMU (Keysight N7973A) at high currents (1A). Visual inspections for workmanship defects and possible physical damages did not reveal any anomalies. All parts had electrical characteristics within the specified limits and analysis of distributions showed no out-of-family samples. Distributions of insulation resistances (IR) measured at room temperature and 125 °C are shown in Fig. 5a. Note that due to exponential increase of leakage currents, IR values are decreasing at higher voltages. Nevertheless, all samples exceeded substantially the specified limit of 1 Gohm not only at room temperature, but also at high temperatures and voltages exceeding the rated. Input-output DC resistances were within the specified requirements, R < 150 mΩ (see Fig. 5b).

Burning-in was carried out for 300 samples at military conditions: 160hr at 125 °C and 2×VR. The leakage currents were monitored through the testing using 100kΩ current sense resistors. Typical results of BI testing are shown in Fig. 6a. No failures or anomalous behavior of currents was observed. The currents remained in the nanoampere range and the level of the current increase with time that is typical for BME capacitors was not significant.

One hundred forty of the screened samples were soldered onto test PWBs and used for qualification tests per the test flow shown in Fig.7. The tests were carried out using two subgroup of capacitors. The first one (80 samples) was used for temperature cycling (TC) followed by humidity testing. These tests did not result in any failures, and no excessive leakage currents that could have indicated the presence of cracks were detected during monitoring of currents in the humidity chamber at 10 V, 85% RH, and 85 °C (see Fig. 7b). Measurements of IR after humidity testing confirmed that insulation resistances of all parts were below the specified limit.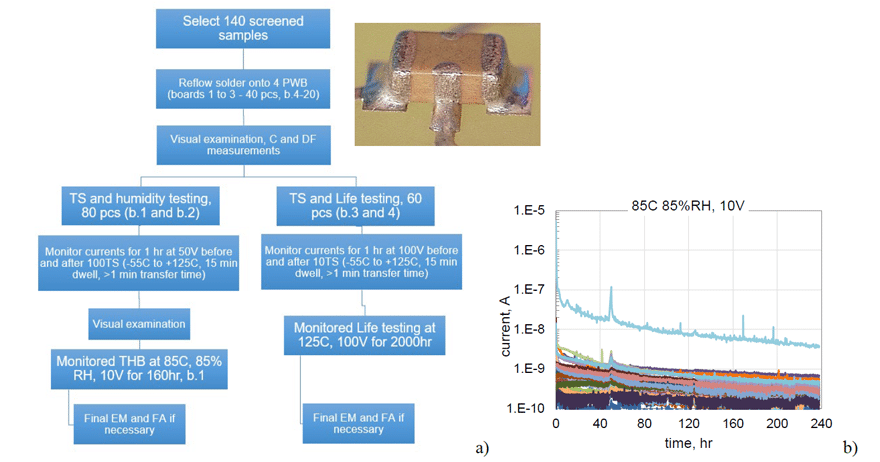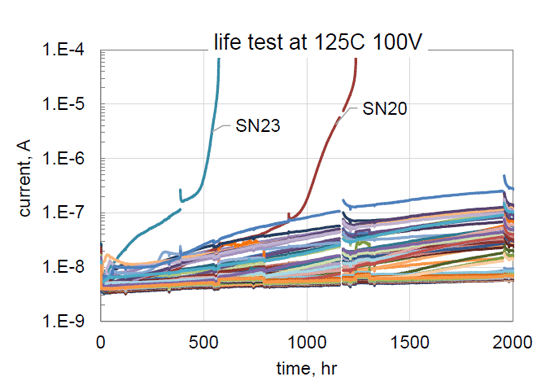 The second subgroup, 60 soldered samples, after 10 TC was used for monitored life testing that was also carried out at military conditions: 125 °C, 100V for 2000 hr. Variations of leakage currents with time of life testing are shown in Fig.8. For most samples, the current gradually increased with time from ~3 nA initially up to ~200 nA after 2000 hours. This behavior is typically attributed to the presence of oxygen vacancies that migrate under electric field in the bulk of capacitors and modulate the Schottky electron emission at the electrodes. Due to a relatively high activation energy of the process and the trend of leakage current to stabilize with time, this degradation does not pose a reliability risk.
Two samples, SN 23 and SN20 had substantially more significant increase in leakage currents and failed eventually after 570 hours and 1240 hours respectively. The failed samples were disconnected, so only 58 capacitors finished 2000-hour testing. IR values in parts that pass life testing were above 5E10 ohm at 50V and above 1E10 at 100V, which complies with the MIL-PRF-32535 requirements. The failed samples had shorts with resistances of 28k for SN20 and 2k for SN20. However, no defects were found during visual examinations. Both samples have been submitted for failure analysis.
Failure Analysis
Acoustic microscopy and cross-sectioning were successfully used to locate and reveal damage in the failed samples. In both cases, the damage was due to a local breakdown that resulted in shorting electrodes by molted nickel (see Fig. 9). Both failure sites were associated with areas of thinning of the dielectric from 13 μm in normal areas down to 5-7 μm at the failed sites. Apparently, this thinning of the dielectric is a manufacturing defect that supposed to be screened out during burning-in of the parts. To get a better understanding of why these parts passed screening and what is the significance of these defects for application conditions, different groups of parts were tested at highly accelerated life test (HALT) conditions.