This article written by Dennis M. Zogbi, Paumanok Inc., published by TTI MarketEYE, discusses aluminum electrolytic capacitor supply chain and lead time considerations in June 2022.
Aluminum electrolytic type capacitors are at the core of electrolytical capacitor market and technology research, which includes aluminum, tantalum, carbon and niobium dielectrics, and is the most economical technology solution when a design engineer needs a combination of high capacitance and high voltage with design constraints that are not inhibited by case size or mission-critical environment.
Key end-markets and products that require high voltage and high capacitance include computers, television sets, stereos and amplifiers; automotive interior electronics, EVx propulsion and EVx charging stations as well as industrial motor and drive assemblies and automation equipment. Key circuits associated with aluminum electrolytic capacitors almost exclusively include the output filters on power supplies, motor start and pulse discharge circuits.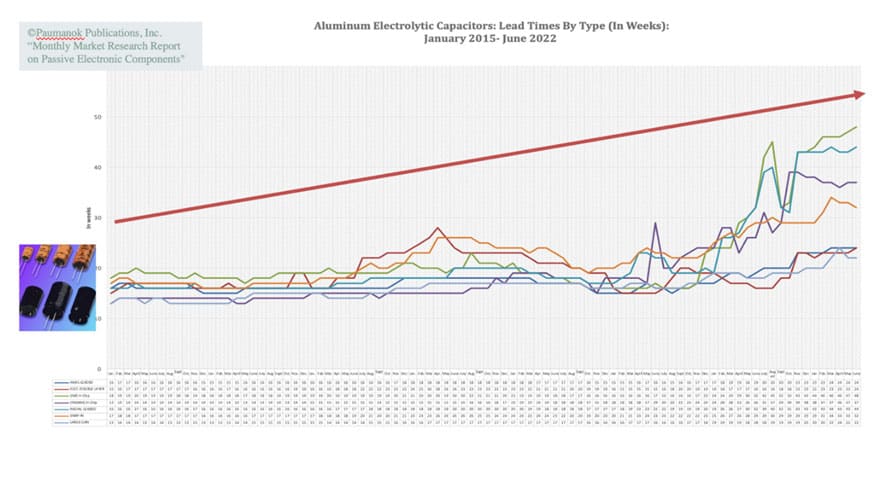 Aluminum Electrolytic Capacitors: Current Market and Future Outlook
The market for aluminum electrolytic capacitors remained challenging throughout 2021 and 2022 as is shown in the Paumanok lead-time table above (Figure 1.0), which illustrates all major aluminum type capacitors by configuration. Data from Figure 1.0 above shows the impact of multiple events on the supply chain for one dielectric, including supply chain disruptions due to the pandemic and impacts of the EU conflict on choke point metals (bauxite/alumina processing). The processing of etching and forming anode and cathode foils, a precise electrolytic bath system requiring continuous electrical energy, was impacted by the recent earthquake in Japan and rolling blackouts in China. The large-scale usage of aluminum capacitors and their disrupted supply chain should be of keen note for manufacturers of computers, home theatre electronics and automobiles.
There are seven primary configurations (or form factors) that aluminum electrolytic capacitors come in:
Radial Leaded Aluminum Capacitors
Radial leaded aluminum electrolytic capacitors continue to represent the largest segment of global consumption in terms of dollar value for all aluminum electrolytic capacitors by type in 2022. Radial leaded aluminum capacitors are used in consumer electronics and professional electronics in large volumes. The global market environment for radial leaded aluminum electrolytic capacitors can be described as a mature market with slow volume growth over time, intense competition between Japanese and Chinese vendors and aggressive price erosion.
Vertical Chip Capacitors (V-Chip)
Vertical chip aluminum capacitors represent a rapid growth portion of the aluminum capacitor industry in 2022 and has shown the largest amount of growth over the past five years in terms of both value and volume of consumption. This has been caused by demand from the flat panel display TV set market and from various portions of the computer industry. Vertical chip aluminum capacitors continue to fill slots previously held by radial leaded aluminum capacitors designs. The need for a more volumetrically efficient aluminum electrolytic capacitor solution to satisfy the growing need of the flat panel TV market, the notebook computer market and various consumer audio and video imaging device markets – such as game console, DVR and cable set-top box – have increased demand for these devices. The V-chip market is highly competitive between Japanese and Chinese vendors, including aggressive price competition, but is still a growth market over time.
Horizontal Chip Capacitors (H-Chip)
The horizontal aluminum electrolytic capacitor (also known as the solid polymer aluminum capacitor) market represents a molded chip technology with aluminum anode that matches molded tantalum chip capacitor case sizes. Market growth has been prohibited due to high pricing (twice that of a V-chip aluminum design) and a limited number of vendors. Intended markets match that of tantalum capacitors; therefore, these devices can be found in computers, automotive electronics, game consoles and related markets. This is where the majority of new polymer cathode aluminum designs can be found. And it is expected that solid polymer aluminum H-chips will be a larger portion of the total aluminum electrolytic capacitor market over the next five years.
Axial Leaded Aluminum Capacitors
Axial leaded aluminum capacitors are considered a legacy item in the global components market and the number of vendors has declined steadily over the years; however, the product line remains quite lucrative as a result of its legacy status. The product is primarily consumed in the automotive industry and the lighting ballast industry.
Screw Terminal (Large Can)
These large cans are also used in industrial and utility-grade power inverters. They had been growing rapidly in worldwide consumption because of their use in renewable energy systems for inverter filtering, especially in wind turbine, solar and wave generation renewable energy systems. The capacitors are also used in many other types of power conditioning equipment, although inverter applications represent the large opportunities and the focal point of rapid growth in recent years. The European market had been the largest region of screw terminal capacitor consumption, especially for solar and wind operations in Germany and Italy; however, the new feed-in tariffs for 2022 in those two countries due to regional economic austerity has idled the market.
Snap-In/Snap-Mount Aluminum Capacitors
These designs are physically large and have large amounts of capacitance and high voltages. They are used in the output filters of power supplies. The snap-in models are easy to mount and are replacing older, screw terminal products. This sector faces some encroachment by SMT designs, but their large size and application-specific nature makes them somewhat immune to encroachment. Thus, these markets will continue to play an important role going forward.
Specialty Aluminum Capacitors
These includes the flash and pulse type aluminum electrolytic capacitors for use in medical devices as well as parts that comply with specific military specifications or offer high temperature or high vibration frequency resistance.
Technical Maxims for Aluminum Capacitors
There are two primary technical factors that impact the economics of all capacitors: 1) capacitance is required for almost all electronic circuits and 2) capacitance is equivalent to the physical size or available surface area of the finished component, which makes raw materials used in the production of capacitors key to cost, price and technical advancement.
In aluminum capacitors, the key elements impacting the variable cost to produce are etched anode and cathode foils; capacitor can, tab and packaging; and electrolyte. The other key elements are rubber stoppers and end-seals, capacitor separator papers and lead wires.
Economic Maxims for Aluminum Capacitors
Aluminum capacitors have a competitive cost structure when compared to other capacitor dielectrics due to the (1) low price per pound for thin aluminum foil (which is made from bauxite) and (2) the high level of automation involved in the production of aluminum capacitors. Aluminum capacitors differ from other capacitors with respect to cost structure as a result of the number of raw material types consumed per capacitor, i.e., foil and paper, liquid or solid electrolyte, tab, can, leads, stoppers and end seals.
None of the other dielectrics, other than perhaps OPP film capacitors, have so many different raw materials and required disciplines to produce the finished capacitor. In terms of raw material feedstocks, aluminum is more cost-effective when compared to tantalum and plastic film but not as cost-effective as ceramics, which have lower-cost feedstocks in barium carbonate and titanium dioxide. Still, at higher voltages and in higher capacitance values, aluminum electrolytic capacitors are the most economical choice for any design engineer working in the high technology economy today.
Market Outlook and Beyond
In 2023, automotive electronics remains a bright spot for sales of aluminum capacitors, and this has emerged as an important piece of the overall demand chart for aluminum capacitors by end-use market segment for tactical and strategic investing. Polymer versions of aluminum capacitor designs are most favored for applications in EVx propulsion in charger, inverter, converter and battery management systems because of the penchant for solid-state solutions in battery and component platforms for EVx rails. Large can and snap mount aluminum capacitors are also key components for DC link conversions.
Aluminum capacitors are considered to be one of the key "rendered' economies in the high-tech supply chain. Aluminum electrolytic capacitors are ubiquitous in key platforms, especially in the output filters for power supplies, which are ubiquitous for all AC line voltage equipment (TV sets, stereos, computers, home appliances and chargers). The construction of these capacitors is complex, with many individual parts requiring multiple scientific disciplines, such as electrochemistry for combined anode, cathode, paper and electrolyte as well as tooling and machining to produce aluminum cans in ultra-small sizes with thick walls.
The other rendering factor is the massive economies of scale, which are above 100 billion pieces each year required to satisfy basic demand. The industry is ripe for consolidation, especially among the large four Japanese producers of aluminum capacitors, and this will have a positive impact on the numerous growing aluminum capacitor houses in China and Korea for 2023 and beyond.