VenusTX named technology of aluminum flat pack capacitors that reached record high energy density of 5J/cc (400V/85°C) is now available for acquisition.
VenusTX has developed a unique technology for capacitors with high gravimetric energy density and a variable form factor used in high-quality, high-reliability markets.
The technology has been applied for implantable cardioverter defibrillators ("ICD"), a multibillion-dollar market, i.e. high reliable medical devices. Advanced Tech Demonstrator has been developed applicable for other industries such as defense and industrial applications.
Thousands of capacitors have been made and implanted since 2017 without a single recall. The technology is validated and can be scaled. It is approved by regulatory authorities for medical use. So far, the CE-approved product of VenusTX has been exclusively produced for its affiliated defibrillator business. Now the Advanced Tech Demonstrator is applicable to other solutions requiring high gravimetric energy density, e.g. external medical devices, aerospace or defense.
The technology has been further enhanced to reach 5,0 J/cm3, which is more than 4x higher than the second-best performing aluminum capacitor on the market, and temperature range to at least 85°C. Thanks to this extreme breakthrough in energy density, this capacitor technology can be applied to a wide range of performance applications.
Features
Energy density: 5.0 J/cm3
Spec. energy density: 0.639 Wh/kg
Capacitance: 260 μF
ESR: 0.37 Ω
Voltage: Up to 400V
Temperature range: Up to 85°C*
* alternative electrolyte would allow up to 125°C
Applications
Industrials (e.g. airborne vehicles, aviation electronics)
Defense (e.g. drones, missiles, radar systems)
MedTech (other medical technology areas other than implantable devices, e.g. external AED defibrillators
The Technology Key Application Areas
The expertise VenusTX has on offer fits with the strategy of most high-quality capacitor manufacturers looking to stacking as the next emerging technology to set new levels of energy density and power density. It will be of particular interest to organizations that have or wish to develop a broad coverage of the high-quality ultra high performance capacitor landscape.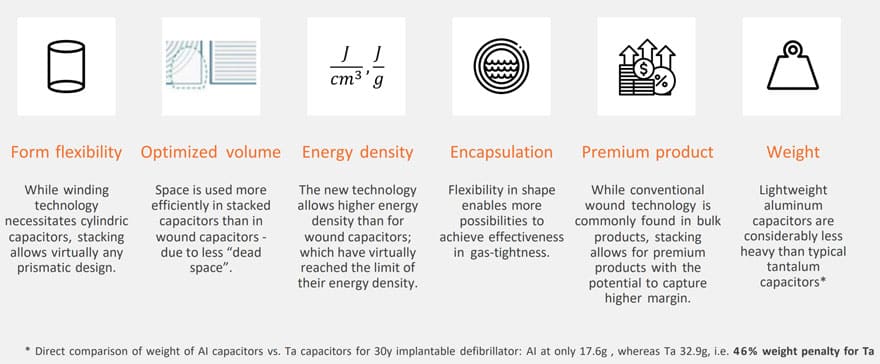 The technology brings the performance of tantalum at factor ten lower material costs. The IP gives a solid foothold in the increasingly important segment of stacked capacitors and a platform to broaden and deepen the market through continuation of VenusTX's R&D efforts. Additionally, certain parts of the IP offer unique reliability and longevity benefits to state- of-the-art battery manufacturing, conductor boards, electronics and fuel-cell technology.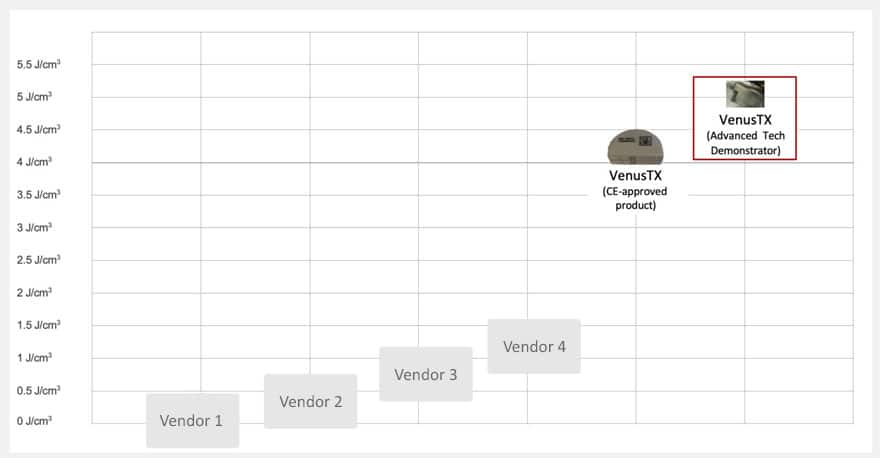 Unique Feedthrough and Soldering IP Applicable Also Beyond Capacitors
VenusTX's feedthrough technology can be used broadly, not just in aluminum capacitors. It can be used for any kind of electric devices which have an electric feedthrough, especially with those which utilize electrolytes:
Any type of electrolytic capacitors
Both primary and secondary batteries
A Rare Opportunity to Acquire a Unique Company
We offer the company, its technology with all the assets to produce the capacitors; including IP, production process knowledge, and manufacturing equipment with its associated IT
Specialist for high voltage capacitors (200V up to 400V*) with high energy and power density
World leading lightweight Al2O3 technology
Unique design and process technologies to achieve the best-in-class energy density
CE-approved product developed and certified for implantable medical systems (hermetic housing, high reliability)
Substantially widened application scope for usage outside the human body (medical, aerospace, defense, industrial lifts); ideal for energy storage of high current (>10 Amps) and high voltage (400V*) systems
Second generation Tech Demonstrator of up to 500V is currently in development
BACKGROUND & NEXT STEPS:
This unique capacitor is the result of an extreme breakthrough challenge aiming to double the energy density of aluminum capacitors. Reaching above four times higher energy density made it clear that the capacitor would have applications far beyond human implants. The Client of that challenge and Seller of VenusTX is not intending to pursue vertical integration into capacitor manufacturing, but prefers to find a company with a value-chain position that is more closely related to ultra high performance energy storage solutions.
To remain anonymous, the Seller of VenusTX has asked iKNOW-WHO network to approach possible buyers in relevant energy storage areas. Interested buyers will be introduced to the Investment Bank that will support the remaining steps of the deal.
pdf Presentation with more details is available to download online upon registration: