July 2023 deal structure update of VenusTX that has been available for acquisition since January 2023, but only as a company sale with transfer of all shares and all liabilities.
In July 2023, the VenusTX deal structure was changed to a pure asset deal – for interested buyers to acquire the IP and the advanced laser equipment at a fraction of the book value without taking over any liabilities. This is the result of long negotiations with an American-Asian buyer who will come to Berlin for final negotiations and closure now on Friday July 7th.
Competitive bids can be submitted until:
Friday July 7th 12:00 CET
March 2023 Q&A update of VenusTX named technology of aluminum flat pack capacitors that reached record high energy density of 5J/cc (400V/85°C) is now available for acquisition.
In press release published on January 27, 2023 VenusTX announced a unique technology for capacitors with high gravimetric energy density and a variable form factor used in high-quality, high-reliability markets.
Based on readers questions Q&A section has been add to this announcement:
Q&A about VenusTX High Energy Density Aluminum Capacitors
Q1: Is the capacitor bi-directional, or does it have positive and negative terminals for DC applications only?
A: This capacitor was designed for DC application. For bipolar application there is a symmetric interior –negative and positive sides of the capacitor use anode foil, this is associated with a high drop in specific capacitance and hence energy density.
Q2: What is the minimum temperature that it can handle (some applications go down to -50° Celcius)
A: As the capacitor is designed for medical application, it was originally trimmed to operate best at body temperature. But that is a question of design and material, a working temperature of -55° C to +125° C is possible and established for aluminum electrolytic capacitors.
Q3: If it can handle a span from say -45C to +105C, how often can it handle cycles from lowest to highest temperatures?
A: There is no data for temperature cycling for the current design. But this is a question of specification limits mainly: mechanical and/or electrical requirements of being in spec. limits after temperature cycles. As the housing of the capacitor is complete out of aluminum and closed by welding, the mechanical design is rather robust against temperature cycling. The developed feedthrough was tested from <-50° C to about 200° C (shock test; liquid-liquid) for more than 150 cycles without failure. It is known that the electrical parameters shift during cycles: mostly the leakage current increases, the ESR decreases with temperature, there is a small decrease in capacitance. So being in spec. after cycling is a question of the specification limits…
Q4: Lifetime of up to 25-30 years. Is that possible?
A: The lifetime of electrolytic capacitors is mostly limited by:
• leakage of electrolyte
• increase of pressure because of the gas evolution associated with the electrochemical reaction of the electrolyte with the leakage current.
While the hermetically sealed design of this capacitor minimizes the electrolytic leakage, it is prone to overpressure due to gas evolution. This has to be addressed in a tradeoff during a new design. But there is lifetime data for commercially available electrolytic capacitors, and they show lifetimes of more than 250.000 hours, most of then are of course based on ageing models and theory. There is no reason, why this should be not archivable with a new design, it is more a question how to generate a precise aging model with high confidence in short time. The use of state-of-the-art materials which are available can minimize the efforts to build such a model.
Q5: This capacitor gets high energy density through high voltage. We need 28 and 48 Volts. Can the capacitor handle that?
A: Mainly, this capacitor gets its high energy density by two reasons:
This capacitor is a stacked type capacitor: ultra high energy anode foil is very brittle and can not be wound, the normal design of a winding construction is impossible.
The stacked processing avoids free internal volume, there is no free core like in winding constructions. In the application with more than one capacitor, the compact
rectangular design is of big advantage for volume efficiency, too. It allows compact stacking of capacitors. If the construction is adjusted to low voltage of 28 V or 48 V, even if reason 1 does not hold totally any more, there is an increase in the efficiency due to reason 2 expected. It is possible to adjust the design to low voltage application under keeping advantages.
Q6: What is Pulse Stability for Charging Cycles and Ageing ?
A: Based on test results:
No Decrease in Energy within 1500 Charge-Discharge Cycles
No Decrease in Energy after 256 Days Storage at 85° C
Discharge Energy stays Stable at 21 J (5.0 J/ccm Energy Density)
---
Press Release January 27, 2023:
The technology has been applied for implantable cardioverter defibrillators ("ICD"), a multibillion-dollar market, i.e. high reliable medical devices. Advanced Tech Demonstrator has been developed applicable for other industries such as defense and industrial applications.
Thousands of capacitors have been made and implanted since 2017 without a single recall. The technology is validated and can be scaled. It is approved by regulatory authorities for medical use. So far, the CE-approved product of VenusTX has been exclusively produced for its affiliated defibrillator business. Now the Advanced Tech Demonstrator is applicable to other solutions requiring high gravimetric energy density, e.g. external medical devices, aerospace or defense.
The technology has been further enhanced to reach 5,0 J/cm3, which is more than 4x higher than the second-best performing aluminum capacitor on the market, and temperature range to at least 85°C. Thanks to this extreme breakthrough in energy density, this capacitor technology can be applied to a wide range of performance applications.
Features
Energy density: 5.0 J/cm3
Spec. energy density: 0.639 Wh/kg
Capacitance: 260 μF
ESR: 0.37 Ω
Voltage: Up to 400V
Temperature range: Up to 85°C*
* alternative electrolyte would allow up to 125°C
Applications
Industrials (e.g. airborne vehicles, aviation electronics)
Defense (e.g. drones, missiles, radar systems)
MedTech (other medical technology areas other than implantable devices, e.g. external AED defibrillators
The Technology Key Application Areas
The expertise VenusTX has on offer fits with the strategy of most high-quality capacitor manufacturers looking to stacking as the next emerging technology to set new levels of energy density and power density. It will be of particular interest to organizations that have or wish to develop a broad coverage of the high-quality ultra high performance capacitor landscape.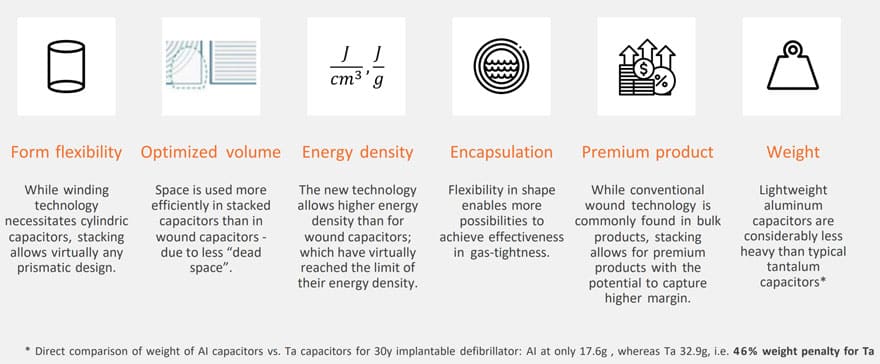 The technology brings the performance of tantalum at factor ten lower material costs. The IP gives a solid foothold in the increasingly important segment of stacked capacitors and a platform to broaden and deepen the market through continuation of VenusTX's R&D efforts. Additionally, certain parts of the IP offer unique reliability and longevity benefits to state- of-the-art battery manufacturing, conductor boards, electronics and fuel-cell technology.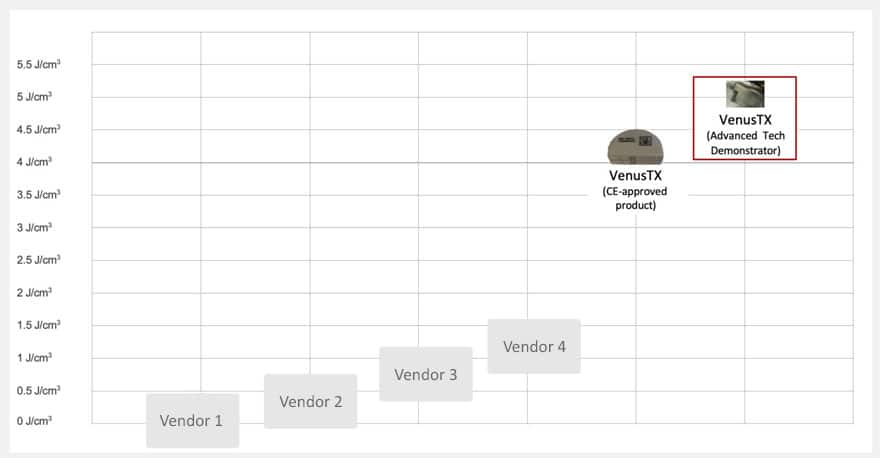 Unique Feedthrough and Soldering IP Applicable Also Beyond Capacitors
VenusTX's feedthrough technology can be used broadly, not just in aluminum capacitors. It can be used for any kind of electric devices which have an electric feedthrough, especially with those which utilize electrolytes:
Any type of electrolytic capacitors
Both primary and secondary batteries
A Rare Opportunity to Acquire a Unique Company
We offer the company, its technology with all the assets to produce the capacitors; including IP, production process knowledge, and manufacturing equipment with its associated IT
Specialist for high voltage capacitors (200V up to 400V*) with high energy and power density
World leading lightweight Al2O3 technology
Unique design and process technologies to achieve the best-in-class energy density
CE-approved product developed and certified for implantable medical systems (hermetic housing, high reliability)
Substantially widened application scope for usage outside the human body (medical, aerospace, defense, industrial lifts); ideal for energy storage of high current (>10 Amps) and high voltage (400V*) systems
Second generation Tech Demonstrator of up to 500V is currently in development
BACKGROUND & NEXT STEPS:
This unique capacitor is the result of an extreme breakthrough challenge aiming to double the energy density of aluminum capacitors. Reaching above four times higher energy density made it clear that the capacitor would have applications far beyond human implants. The Client of that challenge and Seller of VenusTX is not intending to pursue vertical integration into capacitor manufacturing, but prefers to find a company with a value-chain position that is more closely related to ultra high performance energy storage solutions.
To remain anonymous, the Seller of VenusTX has asked iKNOW-WHO network to approach possible buyers in relevant energy storage areas. Interested buyers will be introduced to the Investment Bank that will support the remaining steps of the deal.
pdf Presentation with more details is available to download online upon registration: