This article explains capacitor losses (ESR, Impedance IMP, Dissipation Factor DF/ tanδ, Quality FactorQ) as the other basic key parameter of capacitors apart of capacitance, insulation resistance and DCL leakage current.
There are two types of losses:
Resistive real losses – these are real losses caused by resistance of leads, electrodes, connections etc. During current flow these losses are dissipated by Joule heat. Usually (unless it is intended by designed) the effort is to minimize these losses for maximum efficiency and high power load ratings.
Reactance imagine losses – these are losses caused by capacitive reactance and inductive reactance "stored" in the component that can be reverted back
The losses in Figure 6. are concentrated to the ESR which consequently becomes significant when we leave the low frequency range. For HF chips and high loss components as for example electrolytics often the ESR is stated in the data sheets. If the ESR information is missing you always find, for all component types, a specified dissipation factor (DF), the tanδ (Figure 6).
Hence at higher frequencies the series circuit according to Figure 3 applies. There is

Tanδ usually is expressed in %.
If the frequency declines to zero the circuit becomes resistive, without any capacitance, and the losses are limited to the IR. Also at very low frequencies the IR is predominant but here it should be completed with dawning AC dependent losses to an equivalent loss resistance Rp. The diagram in Figure 2. now can be simplified to a parallel circuit with the capacitance Cp (Figure 7.).
If we describe the impedance in a parallel circuit according to Figure 7. it's easy to show that its dissipation factor – which applies at low frequencies – can be written as

The difference between Cs and Cp usually is negligible depending to the impedance value – see note below. We shall return to the connections in some formulas. If we equate the formula [2] with [3] we obtain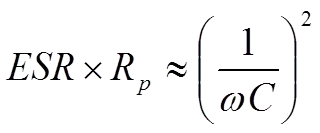 ……………………[6]
Let us terminate the discussion about the capacitor losses by distinguishing the different types of losses as in following Figure 8.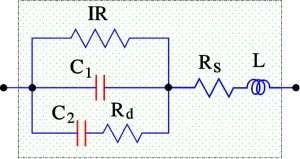 Rd = dielectric losses
Rs = losses in leading-in wires, joints and electrode metallizations
ESR = Rs + Rd
C = C1 + C2.
Q value Dielectric Quality Factor
Sometimes we encounter the expression Q or Q value, especially in high frequency applications. Instead of describing the capacitor losses as DF (Tanδ) we rather specify its freedom from losses, its figure of merit, the Q value. It is defined as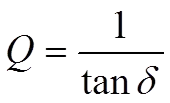 Typical Q values for ceramic Class 1 dielectrics range from 200 to 2000 at 100 MHz and will vary strongly with frequency.
We shall use the Q value to describe the connection between the quantities in the series and parallel circuits in Figure C1-18 and -20. By depicting the expressions for the impedance and Q values of these circuits and equate the real and imaginary parts of the impedance we can show that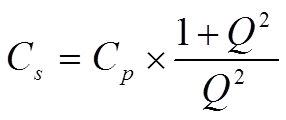 ………………………………[8]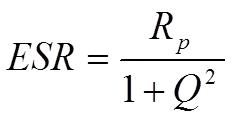 …………………………………….[10]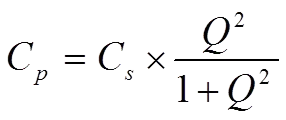 …………………………[9]

……………………………[11]