European Passive Components Institute EPCI is pleased to announced upgrade of its website dedicated to passive components support.
EPCI, Lanskroun, Czech Republic, 5th March 2018. EPCI is enhancing its webpage service to passive component professionals, enthusiasts and wide public interest in passive components. The new website upgrade introduce a modern graphics, easy to use on the go and high level of customization.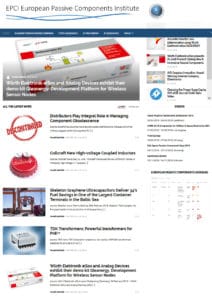 What benefits / What is new ?
overview of latest and popular passive components news in a featuring blog
customization option to sort news by application or component types
new responsive layout friendly to mobile platforms and tablets
EPCI European Passive Industry Database consolidated to one table with manufacturers, universities and testhouses side folders
e-PassiveBook and e-Symposium tools' style upgrade
capacitors and resistors mounting guidelines add to e-Passive Book
easy sharing and forwarding of posts by social media and email
more options for sponsored articles
fix iOS scrolling issues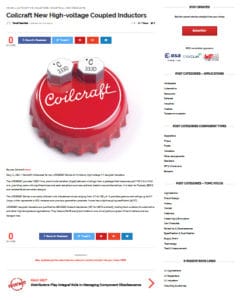 "We are pleased by industry feedback and support to our activities. The number of active website users and newsletter subscribers tripled in past six month that is a high motivation for our continuous improvement. The EPCI original website had its limitations, thus we started from scratch on a new server ensuring fast access, advanced security and new features to the website. We wish the new EPCI website to continue its growth and become even more useful to its users." said Tomas Zednicek, EPCI president and founder
Capacitors and Resistors Mounting Guide
One of the new chapters included in the live e-Passive Book is capacitor and resistor mounting guide survey.
"Sometimes board mounting recommendations by various manufacturers may vary or even be contradictory in certain cases causing confusion to the end users. Using advantage of our independence, we studied capacitors and resistors board mounting recommendations from leading manufacturers and presenting the common "best practise" in a combined survey posts" said Zednicek

"The survey, as well as the entire e-PassiveBook, is a live document and we will continue to build it and update it with new information and components." add Zednicek
Security notice

Using a secured connection https: has become a standard requirements for modern website. Moving from http to https may cause in some cases issues with back compatibility such as some links from older newsletters may not work properly. Please accept our apologize for any inconvenience caused, we are trying to address it continuously. Thank you for your understanding to this necessary evolution step forward in security and our services.
Your EPCI team