Murata Manufacturing Co., Ltd. ("Murata") released the Advanced Noise Filter Design Support Tool (the "Design Tool"), which features a sophisticated software tool function that supports the selection of a noise filter.
This Design Tool enables users to freely set the target noise frequency and other conditions in detail. The enhanced automatic component selection function contributes to saving the user's design resources. This tool is available for free on the Murata website.
When designing noise suppression, designers first measure the frequency that needs to be resolved by using actual equipment and set a target noise reduction level based on the standards at the location where the final products are going to be shipped to. When formulating a noise suppression policy, it is very useful to be able to verify the noise suppression effect while selecting components and noise filter configuration in terms of verifying how close the test models are to the target noise suppression level. Murata offers the Noise Filter Design Support Tool to answer the needs of our customers.
However, the conventional Noise Filter Design Support Tool is only capable of automatic optimal component selection for filter configuration upon initial setup. Therefore, Murata developed this new Design Tool with an additional function that automatically selects the optimal components for any filter configuration selected any time after the initial setup. This function also allows for the selection of a frequency range for considering insertion loss properties as well as taking into account the footprint of components when reviewing the filter configuration.
Murata will continue developing tools that respond to a wide variety of applications and enable the selection of optimal items from numerous noise filters, thereby saving the design resources of noise suppression designers.
Features of the Design Tool
Automatically calculates and displays the component combination that provides the highest noise suppression effect, with the user simply setting the conditions (Fig. 1).
Filter configuration can be flexibly selected while comparing several simulation patterns.
Any frequency range can be selected when considering insertion loss properties.
Multiple filter configurations can be compared using the reference display for the component implementation footprint.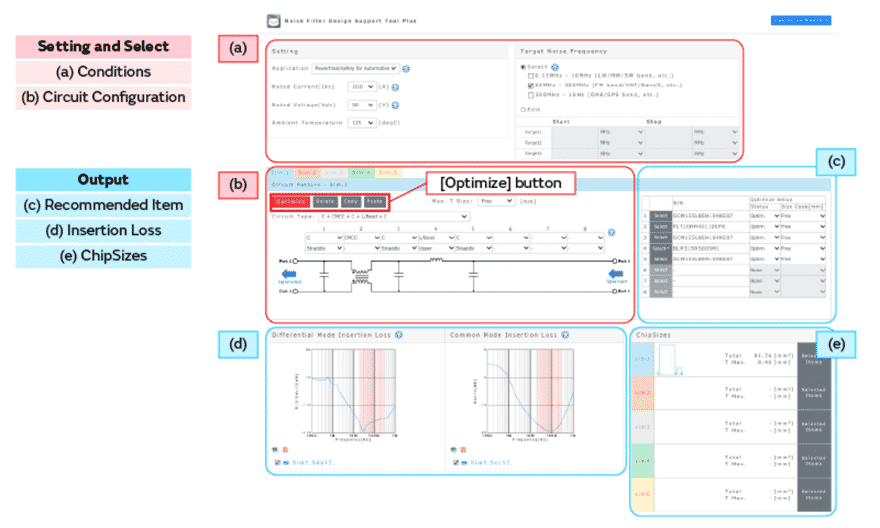 For this tool, visit the "Advanced Noise Filter Design Tool " for more information.