Skeleton Technologies, a global technology leader in high power, fast charging energy storage for transportation, grid, automotive, and industrial applications, is equipping new Honda CR-V Hybrid Racer with its supercapacitors.
This vehicle has debuted at the INDYCAR season-opening Firestone Grand Prix of St. Petersburg in March and will be on display at multiple INDYCAR events this year. It spotlights the innovation and capabilities of Honda Performance Development, and features 2024 Honda INDYCAR hybrid power unit technology.
Conceived and designed by the engineers at Honda Performance Development (HPD) in California and designers from the North America Auto Design Division (NAAD) of American Honda; then built at Honda Automotive Development Center (ADC) in Ohio by the Honda of America Racing Team (HART), the CR-V Hybrid Racer features Skeleton's supercapacitors, together with Empel MGU hybrid motor technology, and runs on Shell's renewable race fuel that enables at least 60% greenhouse gas emissions reduction compared to fossil-based gasoline. Skeleton's supercapacitors deliver the high-power performance required by this project vehicle, nicknamed 'The HPD Beast'.
Supercapacitors are the best technology to provide braking energy recovery and boost acceleration. The low internal resistance of Skeleton's supercapacitors, their high cyclability, and good resistance against aging make them the best choice for hybrid racing car drivetrains.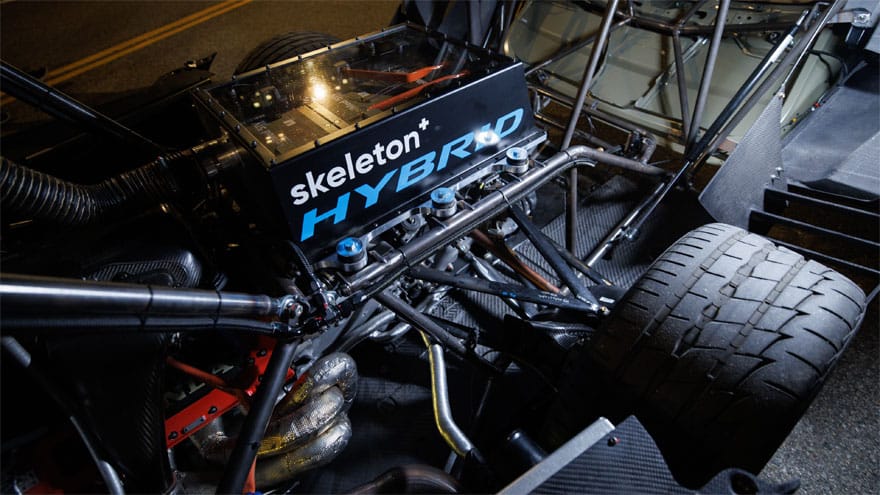 "We are very excited to collaborate with Skeleton Technologies on our Honda Performance Development CR-V Hybrid Racer project. Their Supercapacitor modules provide an optimum cutting-edge solution for a high deployment power and high regen power hybrid system on our demonstrator hybrid racing car. The collaboration so far has been extremely fruitful, and we are working on an advanced Supercapacitor Energy Storage for the INDYCAR Hybrid system. We look forward to furthering our partnership and helping develop further technology steps and try them out in a high-paced and aggressive pinnacle racing environment,"
states Dr. David Salters, President of Honda Performance Development.
Skeleton's expertise across the value chain – from cell, module, and electronics design up to manufacturing of energy storage systems – offers unique weight and space optimization, which is crucial in racing cars. As a result, propulsion systems are smaller and lighter while being more powerful and environmentally friendly.
"Our collaboration with Honda Performance Development is not only interesting from an application perspective, but also because HPD's fast paced and result driven way of work fits Skeleton's culture perfectly. Integrating our high-power supercapacitor technology into the HPD CR-V Hybrid Racer clearly shows what supercapacitors can do in terms of high-power performance, and the joint work on the INDYCAR Hybrid system additionally underlines that. We look forward to continuing and expanding our work with HPD as a highly respected player in the motorsports industry",
said Dr. Sebastian Pohlmann, Skeleton's Vice President of Business Development.
The Honda CR-V Hybrid Racer made its public debut March 3-5 at the NTT INDYCAR SERIES season-opening Firestone Grand Prix of St. Petersburg, Florida. The demonstration vehicle will be on display at multiple INDYCAR events, including the Acura Grand Prix of Long Beach (April 14-16) and the season-concluding Firestone Grand Prix of Monterey (September 8-10). The Honda CR-V Hybrid Racer is a 'rolling electrified laboratory', showcasing the teams' expertise and potential in electrification, hybrid technology and renewable fuels. It will create additional awareness around the new Honda INDYCAR hybrid powertrain coming in 2024.