GaN based RF devices offer significant advantages in a wide spectrum of applications ranging from commercial to high reliability / flight use equipment. This paper looks at the ability of Tantalum Polymer capacitors to be used on the voltage supply lines of GaN based Power Amplifiers. The fundamentals of Tantalum Polymers are presented along with recent products intended for flight systems.
A comparison of Tantalum Polymers to Aluminum Electrolytics & MLCCs in both electrical and environmental performance is provided. An example of a high power GaN RF transistor will be shown along side with performance features of each technology.
The paper was presented by Ron Demcko, AVX USA and Slavomir Pala, AVX Czech Republic at the 3rd PCNS 7-10th September 2021, Milano, Italy as paper No.4.3.
GaN Transistor Example
A 125watt 50v DC-3.2GHz GaN transistor (Qorvo QPD1008) was chosen to use as an example where the use of tantalum polymer capacitors can reduce the size of existing 10uf tantalum capacitors used on the gate bias capacitor bank.
This design chosen is representative of a wide range of bias circuits but care should be taken to comply with IC house design recommendations since no blanket bias network can be used across all GaN transistors.
In this example the recommended gate voltage was -2.8v and the gate bias could range as low as -7v. The existing design called out a MnO2 based C case 10uf 16v rated capacitor (TPSC106K016R0500).
Changing to the tantalum polymer device reduces the case size from C case to A case. The area of a C case package outline is 19.2 mm2 vs. 5.1mm2. This change roughly yields a 73% reduction in board area. The A case capacitor (TCJA106M016#0200E) is also 1 mm thinner than the C case device.
From an electrical point of view the A case tantalum polymers smaller case size  has 1.8nh of ESL vs. the C case having 2.2nh. This particular tantalum polymer reduces ESR by a factor of ~ 2 relative to the Tantalum device and its current capability is >2x that of the Tantalum capacitor. 
Both ESR and RMS current comparisons between the existing tantalum capacitor used in bias designs compared to the smaller, lower ESR, higher current capable polymer are shown in figure 7. Comparisons such a these are accomplished through manufacturer simulation tools [5]. Lower ESR, smaller inductance and reduced case size make Tantalum Polymers a practical option for use in Vgs bias capacitor banks.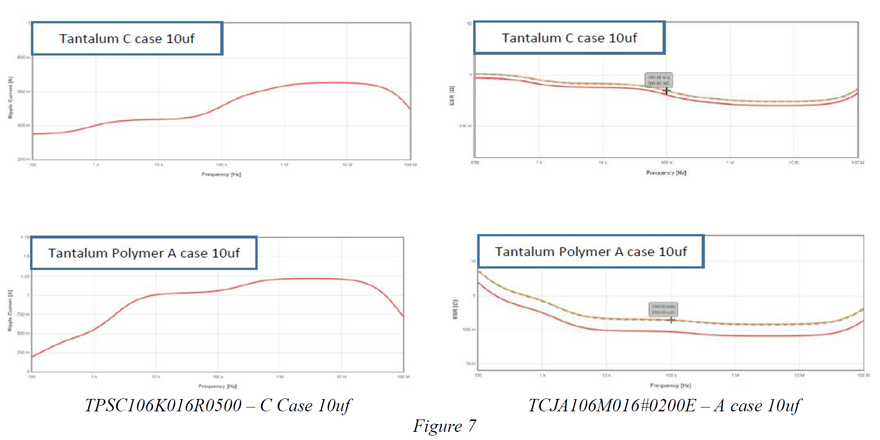 SUMMARY AND CONCLUSIONS
The use of GaN technology in RF PAs is virtually unstoppable due to significant advantages over Si technology.
Capacitor filter bank have a need for electrically stable low ESR/ESL bulk filter capacitors to insure reliable & high performance GaN device operation. Conductive Polymer capacitors are a possible alternate to existing solutions of Tantalum capacitors and Aluminium electrolytics. Most flight applications are concentrating on investigation and use of Tantalum Polymer capacitors on a minimum of gate bias line due to high energy density/small size. Consumer to commercial applications are also trending in this direction due to size and cost considerations.
REFERENCES
[1] Passive Components for GaN Based Devices; AVX Technical Notes 2021; https://www.avx.com/news/passive-components-for-gan-based-devices/
[2] GaN Bias Circuit Design Guidelines; Qorvo Technical Notes October 2019; www.qorvo.com
[3] Conductive Polymer Capacitor Basic Guidelines, AVX Technical Notes; www.avx.com
[4] ESA ESCCON 2013, GaN component technology development in Europe; www.esa.int/
[5] AVX SPITAN simultion software, https://www.avx.com/design-tools/tantalum-capacitor-models/