Competition for tantalum metal by industry can be intense because of its narrow supply chain. Of the 5.5 million pounds consumed in 2021, about 70 percent of demand has been dictated by the electronics industry – primarily as anodes for capacitors, as semiconductor targets and as sintering liners for anodes. Denis M. Zogbi talk about tantalum supply chain in his article published by TTI Market EYE.
The remaining 30 percent of tantalum demand comes from industries that are niche and fragmented, but collectively quite significant. These include alloy additives, industrial processing, cemented carbides, fine chemicals and some additional specialty product lines.
In 2021, Paumanok estimate that approximately 5.5 million pounds of tantalum ores and concentrates were consumed in the global market in the form of engineered powder, wire, rods, ingots and sheets.
Tantalum in Electronics
A more granular look at tantalum consumption in electronics reveals that capacitors and semiconductors are the most important market drivers; but additional minor markets, such as surface acoustical wave filters and thin film resistors, also consume tantalum raw materials.
It is also important to note that demand from the electronics industry has averaged from 50 percent to 70 percent of total tantalum demand over the past 30 years. In September 2021 (i.e. the 2022 fiscal year), demand for tantalum capacitors and materials is at a ten-year global market high point.
Other Industrial Markets for Tantalum
Tantalum is also consumed in other industrial environments related to metallurgy and the creation of alloys, carbides and chemical compounds. The largest other business outside of electronics is the cemented carbide business, where tantalum is used as a grain inhibitor in professional cutting tools.
The Challenging Supply Chain for Tantalum Ore, Powder and Wire
Over the past decade (2011-2021), key hard and soft rock mining operations for tantalite have been either idled or permanently closed in Australia, Canada, and Mozambique. This has left the majority of demand to be satisfied by mines and artisanal sources in central Africa, Ethiopia and Brazil.
More recently, there have been further supply constraints out of Africa for tantalum materials creating supply chain delays and logistical challenges. Tantalum ores from hard rock feedstocks must be separated and processed using cutting edge nanotechnology methods in order to develop metal materials with unique microstructures and qualities. The processing of tantalum into anode materials, especially high capacitance value per gram dielectrics, is a technology that is largely focused in Japan, Germany, the U.S. and the republic of Kazakhstan.
Tantalum has been the subject of international scrutiny for decades following the United Nations designation of the metal as a "conflict mineral." This has created added layers of cost associated with regulatory compliance and internal audits, alongside freight and logistics challenges that other dielectrics and electronic components do not have to address.
This has created a unique market environment where the management of tantalum-related business ventures must face the real threat of market encroachment from multiple alternative technologies. Regardless, the reader must remember that tantalum remains a viable electronic supply chain because of its long term use and known reliability in circuits. This is a valuable attribute in a blossoming high-tech economy. Moreover, in the very sweet spot profit center where molded tantalum capacitors thrive – where volumetric efficiency, high capacitance, high voltage and high temperature tolerance are required – demand is strong and the outlook to 2026 quite robust.
Competing Technologies: Alternatives to Tantalum in Electronics
In each industry where tantalum competes, there are alternatives to the metal. However, the primary reason why industries use tantalum is because of its known reliability. The metal has been in continuous use for decades in multiple industries, especially defense and space electronics, and its performance and behavior are well-documented.
Alternative Capacitor Technologies
In electronics, tantalum capacitor substitutes include the ubiquitous and mass-produced high capacitance multilayered ceramic chip capacitor (MLCC); the conductive polymer, molded chip aluminum electrolytic capacitor (solid polymer aluminum); and the niobium oxide molded chip capacitor (NbO capacitor). Makers of all three of these alternative capacitor products have targeted tantalum capacitor displacement as a primary go-to-market strategy.
In capacitors, tantalum offers the electronic design engineer the highest capacitance in the smallest form factor. If you want high capacitance from 100 to 1,000 microfarad and volumetric efficiency is of paramount concern, you will generally choose the tantalum capacitor. This becomes more so if the application is professional or mission-critical, where component longevity and known reliability are important factors. The disadvantage of using tantalum is its challenging supply chain and the "black art" nature of its production.
To date, the primary alternative product to tantalum capacitors is the high capacitance MLCC. This is a real threat to tantalum and has displaced its use in large quantities over time, especially in handset markets. In fact, developments in the high capacitance MLCC market continue to astound and amaze; it has become the dielectric of choice for competing against tantalum chips, especially for applications between 1 and 1,000 microfarad. MLCCs also have an extremely low cost structure and a very stable supply chain.
The solid polymer aluminum chip capacitor is also a threat to the larger case size tantalum chips. These alternative capacitors offer the design engineer high capacitance in a small form factor (just like tantalum) and offer the customer a product with an abundant and stable supply chain (bauxite or aluminum). However, the disadvantage is that the product line is limited, as is the capacity to produce these products. The exact same advantages and disadvantages of solid polymer aluminum are evident in the NbO capacitors as well.
Alternative Thin Film Technologies
In targets, tantalum is used as a thin film diffusion layer during the semiconductor manufacturing process. There are alternative materials that can be used here, such as tungsten, molybdenum and titanium, with the only disadvantage for tantalum being its challenging supply chain. However, its advantage, according to primary sources in the semiconductor industry, is its known reliability, which is a critical factor in such an advanced process.
Tantalum also offers high thermal and electrical stability with copper, good adhesion to silicon, few grain boundaries, high bonding strength and uniform grain thickness – which, in summary, means the engineer knows how the material will apply itself when it is sputtered.
Also, tantalum nitride is a thin film material consumed in thin film chip resistors – a market that has seen significant growth as customers seek alternatives to thick film chips which have been undergoing price increases due to high ruthenium prices (ruthenium is the active metal in resistive paste).
Why Tantalum Capacitors are the Choice for Specific Applications
Aerospace, Defense and Medical Applications
Capacitors are used for bypass, decoupling and filtering in all electronic circuits. Some circuits are demanding with respect to environment, and in harsh environments where high temperature accompanies small form factor, tantalum is preferred. In the case of mission-critical electronic systems for spacecraft and aircraft, capacitors that meet military specifications are preferred, especially when higher voltage circuits are involved (i.e. 25 and 35 volts). The military specifications for tantalum have been in place for decades, and their performance is well-known and well-documented.
In medical designs, tantalum capacitors have been successfully employed in medical implants as the primary capacitor discharge component because of its relative inert nature in the human body, and its ability to hold large capacitance in a non-invasive, ultra-small case size.
Why EVs Use Tantalum Capacitors
Tantalum capacitors are also an important electronic components for bypass, decoupling and filtering in the battery management systems for electric vehicles. In this application, solid-state conductive polymer tantalum capacitors are employed because of their small form factor, high temperature reliability and anti-smoke, anti-fire, low ESR polymer cathode.
Tantalum Capacitors in Portable Computers
Portable computers are the largest end market for tantalum capacitors in September 2021 due to the increase in demand for computers to satisfy demand stemming from the global "work-at-home" trend.
Factors Impacting Tantalum Capacitor Lead Times, September 2021
Tantalum capacitor lead times continue to be among our primary concerns in September 2021 as those lead times have continued to extend for multiple product lines. The price of tantalum ore remains elevated due to pandemic-related issues impacting the supply chain from central Africa (where the majority of the world's ore is sourced due to Dodd-Frank legislation and "closed loop" supply chains for conflict minerals).

In August 2021, the lead times for both conductive polymer type and manganese type tantalum capacitors increased again, with all case sizes and styles reaching 40-week lead times. We estimate that the ROI for tantalum anode is substantial in September 2021.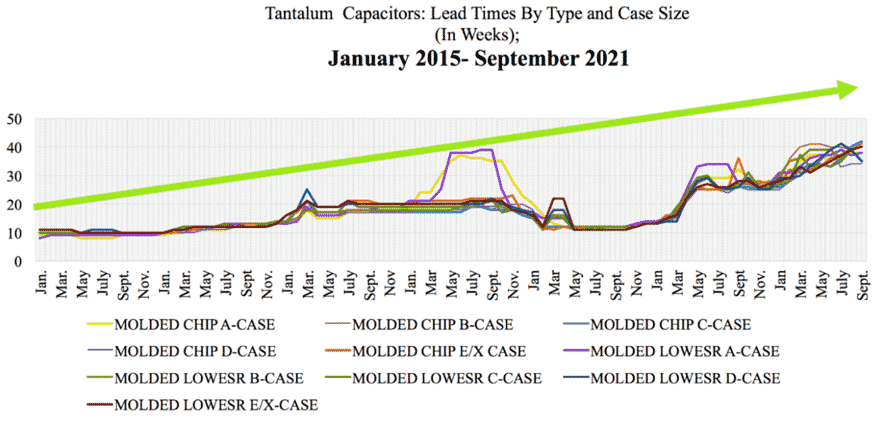 The Energy Shortage in China
In September 2021, rolling power outages were reported in China caused by high imported coal prices – the primary feedstock used for generation in global electric power grids. Due to China's large percentage of the global passive electronic component production, rolling blackouts in China can have a major impact on an already stretched supply chain.
Two major factories focusing on conductive polymer tantalum capacitors are located in China, as well as one of the three major tantalum powder producers for anode consumption. Therefore, further disruptions are expected in October 2021.
However, other products (such as aluminum electrolytic capacitors) will have a more challenging time because the voltage forming of capacitor foils requires steady-state electricity. The metallization of plastic film dielectric films will also be affected by rolling blackouts. Primary sources in China suggest these rolling blackouts are dependent upon the stabilization of coal prices.
Tantalum Ore Pricing
The following chart shows the average tantalum ore pricing trend by month from April 2012 to September 2021. The reader will note that tantalum ore pricing has remained relatively stable and between USD$55 per pound and USD$150 per pound during this extended time period. In recent months, the price of tantalum ore increased from about USD$50 to USD$92. This in turn has impacted the engineered tantalum powder price and the finished capacitor price. The tantalum ore price reached its recent apex in price in August 2021 (See Figure 2).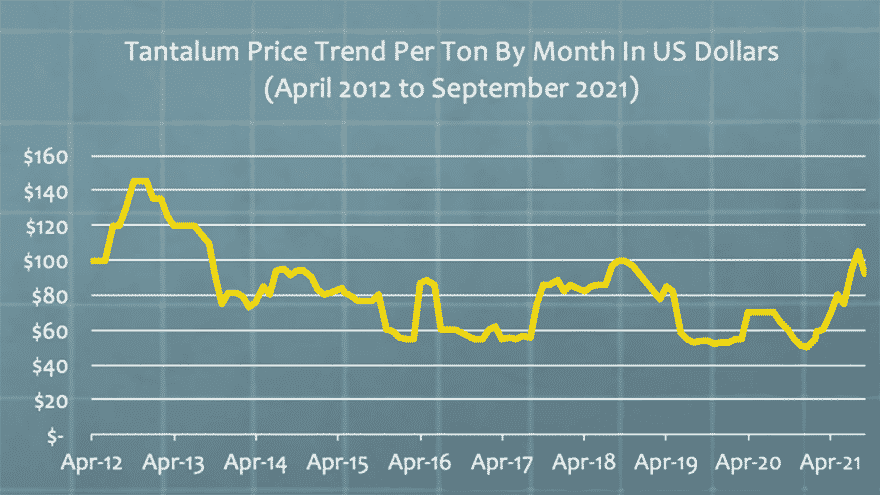 Conclusions and Outlook
Electronics are the primary market driver for tantalum, and we expect its continued use as a capacitor anode, as a diffusion layer in semiconductor manufacturing and as a thin film chip alternative to thick film resistor technology. Tantalum capacitors, the major driver for tantalum materials, will continue to be needed in the high-tech economy especially in mission critical and high temperature circuits where its known reliability and volumetric efficiency are key criteria in component selection.
The market for tantalum capacitors in both manganese and conductive polymer designs are experiencing substantial demand in dollars and units in September 2021. Moreover, rolling blackouts in China may further impact the tantalum supply chain in October 2021, with the majority of impact being in the conductive polymer type capacitors and the low capacitance-value-per-gram tantalum metal powders.
The outlook for tantalum continues to remain robust, regardless of its international supply chain scrutiny. Its characteristics will continue to make it a growth market over the next five years. The application of tantalum for space electronics, aircraft, medical, oil & gas and especially for thermal battery system management in electric vehicles assures its continued global consumption.