Vishay today introduced three new commercial IHLP® low profile, high current inductors with high operating temperatures up to +155 °C in the 3.3 mm by 3.3 mm 1212 case size — the company's smallest to date. Designed to save space in computer and telecom applications, the Vishay Dale inductors offer extremely low profiles down to 1.0 mm.
The devices released today are optimized for energy storage in DC/DC converters up to 5 MHz, and provide excellent attenuation of noise in high current filtering applications up to the SRF of the inductor. Applications for the inductors include notebooks, desktops, and servers; low profile, high current power supplies; and distributed power systems and FPGAs.
Packaged in a 100% lead (Pb)-free shielded, composite construction that reduces buzz to ultra low levels, the IHLP-1212AZ-51, IHLP-1212AB-51, and IHLP-1212BZ-51 offer high resistance to thermal shock, moisture, and mechanical shock, and handle high transient current spikes without saturation. The devices are RoHS-compliant, halogen-free, and Vishay Green.
Device Specification Table: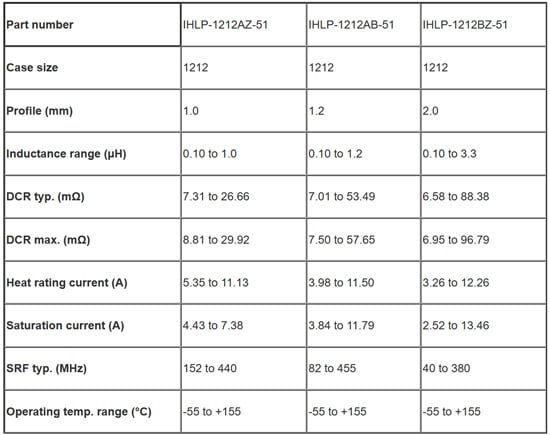 Samples and production quantities of the new inductors are available now, with lead times of eight weeks for large orders.