Würth Elektronik is a partner of UnternehmerTUM MakerSpace GmbH, supporter of the largest start-up and innovation center in Europe.
Würth Elektronik has joined the circle of organizations supporting the new MakerSpace of Susanne Klatten's non-profit, UnternehmerTUM GmbH. The high-tech prototype workshop MakerSpace offers ambitious start-ups, innovation teams from companies, and do-it-yourselfers a place to produce ideas and innovations in the form of prototypes and small series. Würth Elektronik contributes with Expert Talks on EMC and electronics, support in designing and setting up a Tech Library, and expert consultation hours. In addition, MakerSpace users will receive technical support in the form of prototypes by Field Application Engineers, as well as a quota of EMC pre-compliance tests.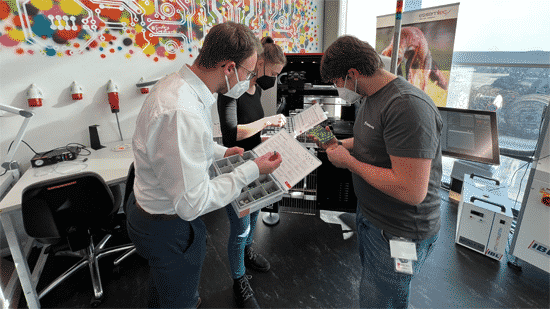 "We are pleased to participate in the MakerSpace. It aligns with our self-image as a technology enabler. We enable students, startups and employees, as well as private makers, to bring their ideas to life. We shorten time-to-market, increase scalability and improve manufacturability," explains Alexander Gerfer, CTO of the Würth Elektronik eiSos Group.
Cooperation for Innovation
In the circle of cooperative partners of the start-up center for smart city solutions Munich Urban Colab in Munich, where MakerSpace is located, joint project ideas are generated; for example for IoT solutions of the future. The focus of the joint projects is the collaboration of new and established companies in pre-competitive research and development. Recognized industry standards that lead to order and interoperability of existing and new IoT architectures will be applied and further developed.
The MakerSpace, opening in Munich Urban Colab at the end of 2021 in which Würth Elektronik is now participating, is impressive; with 1,200 square meters on two floors, 43 high-tech machines, special software, and courses. Together with the existing facility in Garching, MakerSpace now offers 2,700 square meters of publicly accessible high-tech workshops.
"We are proud and grateful to have Würth Elektronik eiSos as a competent partner at our side who shares our entrepreneurial values. Together, we are fostering the next generation of inventors at the MakerSpace in Munich so that visions can be turned into real products. Thanks to the strong partnership with Würth Elektronik eiSos, start-ups can be professionally accompanied from the first product idea to the product series," says Florian Küster, Managing Director at UnternehmerTUM MakerSpace. Küster directly addresses the users of the MakerSpace, "We accelerate your prototyping by offering pre-sorted design kits. These design kits contain electronic and electromechanical components, as well as elements for assembling printed circuit boards to make your project a success. Start-ups are also supported directly in finding solutions by Würth Elektronik experts and MakerSpace employees who mediate between the worlds. Together, we put ourselves at the service of your start-up so that your project becomes successful."