Source: Würth Elektronik news
Waldenburg (Germany), 25 September 2019 – Alexander Gerfer, CTO of the Würth Elektronik eiSos Group, at one of the most important digital future conferences worldwide, the DLD Tel Aviv, emphasized in his opening speech "when technology meets customer" design support of hardware and the availability of components can decide on the failure or success of innovation.
In his speech, Gerfer stressed the importance of an innovative hardware partner for the success of digital companies:
"Würth Elektronik is not just a hardware supplier, we rather see ourselves as our customers' real partner."
We know them and their needs thoroughly and focus our product development on them. 'Can't' is not part of our vocabulary. If there is still no solution to a particular challenge, then we'll invent one. This is the reason why Würth Elektronik, as an innovative technology company, is behind many successes, albeit invisibly … the 'secret ingredient of industry' as it were. There are plenty of examples of customer-driven innovations from Würth Elektronik, including REDEXPERT, an online platform developed in-house that has become known worldwide as the most precise option for AC loss calculation in switch mode power supplies.
Another area to improve the CO2 footprint is 'Horticulture Farming'. Through its cooperation with the Technical University of Munich, Würth Elektronik supports users with practice-relevant data for the selection of the best Horticulture LEDs, adapted to the respective plant species. But that's not all: There's another promising project already in the pipeline from the company. "We can't say too much here yet," says Gerfer, "only that it's about the development of very specific components for intelligent clothing of the future."
Panel discussion with participants from renowned companies
Following his opening speech, Alexander Gerfer participated in the panel discussion moderated by Raz Bachar, Managing Director of Microsoft For Startups. Leaders of prestigious companies, such as Deutsche Telekom, Sage and Panorama Software, discussed the question of how companies can ensure they develop the right technologies for the future. Here, Gerfer convincingly explained why software and digital companies need strong partners to provide them with hardware solutions completely tailored to their needs: "Many start-up companies have the right ideas, but cannot realize them because the hardware needed for prototypes, for example, is not available in small quantities. This is where Würth Elektronik comes into play as a technology enabler. Not only do we supply young companies and developers with the required components, but we also support them with our comprehensive expertise."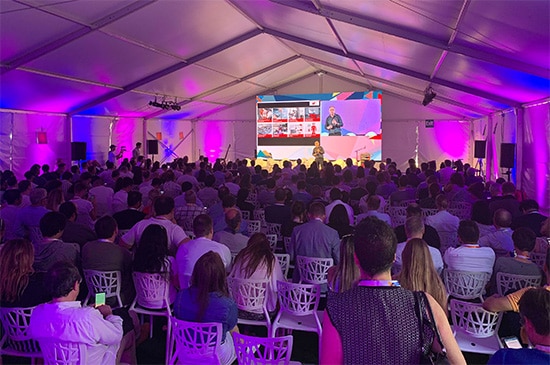 About DLD as a worldwide network for digitization
DLD's aim is to create a global conference network on digitization covering the fields of business, society, education and culture. Today it is one of the most important innovation conferences in the world. Since its inception in 2005, outstanding speakers such as Mark Zuckerberg, Eric Schmidt and Paolo Coelho have spoken at the conferences in Munich, New York, Beijing, London, Moscow, Hong Kong, Tel Aviv and Singapore.
featured image source: Würth Elektronik