Following EPCI initiative on MLCC DC BIAS issues investigation that is discussed during the PCNS 2019 symposium here,  EPCI is pleased to get author's permission to publish a paper written by Istvan Novak and col. about a real measurement on MLCC DC BIAS effect. Istvan Novak and his team in this paper measured characteristics on several different MLCC ceramic capacitors and compared their performance, including the effect of temperature. It will also be shown how the same nominal part from different vendors may behave very differently and also how some X7R capacitors may behave the same or even worse than X5R parts. The impact of measurement conditions, for instance preconditioning and/or dwell time, will be considered as well.
Original paper published at DesignCon East 2011 conference can be downloaded in pdf from Electrical Integrity web page here.
Abstract
The capacitance of certain capacitors depends not only on the chosen dielectric material, geometry and temperature, but also on the DC and AC bias applied to the part. Some ceramic capacitors with high volumetric density today exhibit a strong dependence on the DC and AC bias. To achieve high capacitance values, the initial dielectric constant of the ceramic material is raised to the highest practical values and at the same time the thickness of individual dielectric layers is minimized. The dielectric constant and the capacitance change as the operating point moves around the hysteretic curve due to the AC and DC bias. Recent advances reduced the layer thickness to the single-digit micrometer level and it pushes the problem into material categories, such as X5R and X7R, which previously showed much less bias dependence. This paper will show measured characteristics on several different MLCC devices and compare their performance in this respect, including the effect of temperature. It will also be shown how the same nominal part from different vendors may behave very differently and also how some X7R capacitors may behave the same or even worse than X5R parts. The impact of measurement conditions, for instance preconditioning and/or dwell time, will be considered as well.
It has been long known in the industry that the capacitance of multi-layer ceramic capacitors with ferroelectric dielectric materials depends on DC and AC bias. Years ago parts with Class II ceramics (with an allowed +-15% or less capacitance variation in the specified temperature range) exhibited a modest 20 to 40% maximum capacitance degradation over the full DC working range, and only Class III ceramics (with an allowed capacitance variation of +-22% or more in the specified temperature range) came with a maximum capacitance loss of 60% or higher. Figure 1 shows such an illustration from a vendor catalog.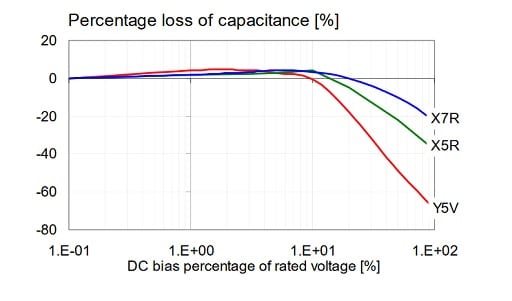 Figure 1: Typical DC bias dependence from the past for three different MLCC types. Data from Figure 8 of [1].
Today, however, actual vendor data often shows a much more dramatic loss of capacitance even for Class II parts. To increase the capacitance of an MLCCs in a given case size (with fixed L, W and H), capacitor vendors have two basic options: improve the material to achieve higher εr, or increase the number of dielectric layers (N) by making the dielectric layers (th) and/or the conductive layers thinner. Ferroelectric materials, such as ceramics, have high εr, but as εr increases, they come with a price of increased sensitivity to temperature and bias. At the same time, if we increase the number of layers by reducing th, a given voltage across the capacitor terminals will create a higher field strength (bias) across the dielectric layers.

Figure 2: MLCC construction and the approximate calculation of capacitance. N is the number of dielectric layers in the capacitor. V is the voltage applied across the capacitor, E is the field strength across each dielectric layer.
Dielectric materials for MLCCs come in three categories. Class I materials (for COG and NPO parts) are very stable, but can achieve only low εr. Class II materials have been the sweet spot for a long time, offering a compromise between moderately high dielectric constant and reasonable stability. Class III materials have very high dielectric constant, but also exhibit high instability. The most typical Class II categories are X5R and X7R. Both have a maximum of +-15% allowed change of capacitance with temperature in the temperature range of -55 to +85 and +125 degC, respectively, for X5R and X7R. Ferroelectric materials, similar to ferromagnetic materials, exhibit a hysteretic response to excitation. The classic and detailed theory can be found for instance in [2]; a more contemporary summary can be found in [3].
II. Scope of work
From each vendor, multilayer ceramic capacitors come in many different capacitance values, tolerances, rated voltages, case sizes, package styles and temperature characteristics. The number of available different models is so huge that it made no sense to attempt a systematic study on the entire offering. To limit the permutations, a few characteristics have been identified and sampled across some of the major vendors. It is still the common understanding that Class I ceramics have very little or no DC and AC bias dependence and therefore they were not included in the study.
Similarly, Class III (and Class IV, which are now considered obsolete) capacitors, known to have very poor stability and large DC and AC bias sensitivity, were also excluded from the study. From Class II ceramics two temperature characteristics, X5R and X7R were selected, primarily because earlier these capacitors showed relatively modest bias dependence, and also it was a common assumption that X7R capacitors had less bias dependence than their X5R counterparts (assuming everything else being the same).
Altogether more than two dozen different capacitor models were tested from six different MLCC vendors. For reference purposes, one electrolytic and one polymer tantalum capacitor model was also tested, all others were MLCCs. The six vendors are identified by letters A through F. To further limit the number of parts, MLCC bodies were limited to 0402, 0603, 0805, 1206 and 1210 sizes and the rated voltage of parts was limited to the 4 to 16V range.
To get a feel about vendor dependence of bias sensitivity, some capacitors having the same nominal specifications were obtained from multiple vendors. Some other capacitors were compared from the same vendor with X5R versus X7R temperature characteristics, with capacitances, case sizes and voltage ratings being the same.
III. Instrumentation setup
The instrumentation is shown in Figure 3 [4]. Scripts were developed to control the instrument and to step through pre-defined ranges of DC bias voltages, while the AC bias was kept constant as described in [4]. At any given AC bias level the DC bias wasstepped in increments of 1% of the rated voltage, and the impedance profile was measured at 201 frequency points in the 100 Hz to 10 MHz frequency range. The scripts allowed for different ways of stepping through the DC bias voltages: sequential monotonic, return to zero and also alternating positive and negative values starting with maximum, approaching zero. Separate parameters of the scripts took data points at user-defined times after changing bias conditions. Most parts were measured multiple times for at least 100 seconds after each change in the bias setting, resulting in a six-to-ten hours of total measurement time at each AC bias level.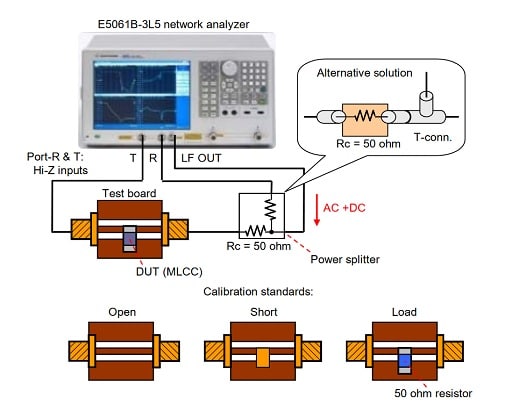 Figure 3: Instrumentation setup for measuring DC and AC bias sensitivity of MLCCs.
Most measurements in this study were carried out at room temperature only; temperature dependencies are shown at the end of Section IV. During the measurements data was recorded on the built-in hard disk of the instrument and separate scripts were used to read the files and put together the data pieces in various forms, for instance showing the capacitance on 3D plots as a function of DC bias voltage and frequency.