Tantalum, MLCC, and super capacitor technologies are ideal for many energy storage applications because of their high capacitance capability. These capacitors have drastically different electrical and environmental responses that are sometimes not explicit on datasheets or requires additional knowledge of the properties of materials used, to select the best solution for a given design.
This paper compares the performance of these technologies over energy density, frequency response, ESR, leakage, size, reliability, efficiency, and ease of implementation for energy harvesting/scavenging/hold-up applications. A brief, material properties benefits and considerations of X5R, Tantalum,
Tantalum polymer, and electrochemical double-layer capacitors is provided. An example of an energy storage circuit problem is provided that has a capacitance and voltage requirement that is not achieved with a single, maximum CV capacitor for any of the relevant technologies. Capacitor banks are built with each technology that are viable solutions.
Design considerations are discussed for optimization of each capacitor bank and analyzed. Results of the analysis will show where each technology excels. This paper should be of interest to component engineers, program managers, and power electronics engineers working on energy harvesting, scavenging, and hold-up applications, due to its impact on system design and performance.
The paper was presented by Daniel West, AVX USA at the 3rd PCNS 7-10th September 2021, Milano, Italy as paper No.4.4.
Energy Storage Application Test & Results
A simple energy storage capacitor test was set up to showcase the performance of ceramic, Tantalum, TaPoly, and supercapacitor banks. The capacitor banks were to be charged to 5V, and sizes to be kept modest. Capacitor banks were tested for charge retention, and discharge duration of a pulsed load to mimic a high power remote IoT system.
Table 5 displays specifications of the discrete capacitors that were selected for the energy storage capacitor banks. For ceramic technology, an X5R, EIA 1206, 100μF, 6.3V rated MLCC was selected because of its size and high capacitance value. A Tantalum (MnO2) was selected with identical capacitance and voltage ratings, in a similar sized package to get a good comparison of these two technologies. A very large 1500μF TaPoly was selected at the same 6.3V rating, making for a slightly larger capacitor bank, but reviewing the performance of a conductive polymer device at the highest available capacitance at a 6.3V rating is worthwhile. For supercapacitors, the acetonitrile electrolyte system was selected for its low ESR, easy implementation, low cost, and because it is the most common and widely used for modules. A 1F, 2.7V rated, radial leaded supercapacitor device was selected for its small size and would only
require two devices in series to achieve a 5V rated module with no balancing required.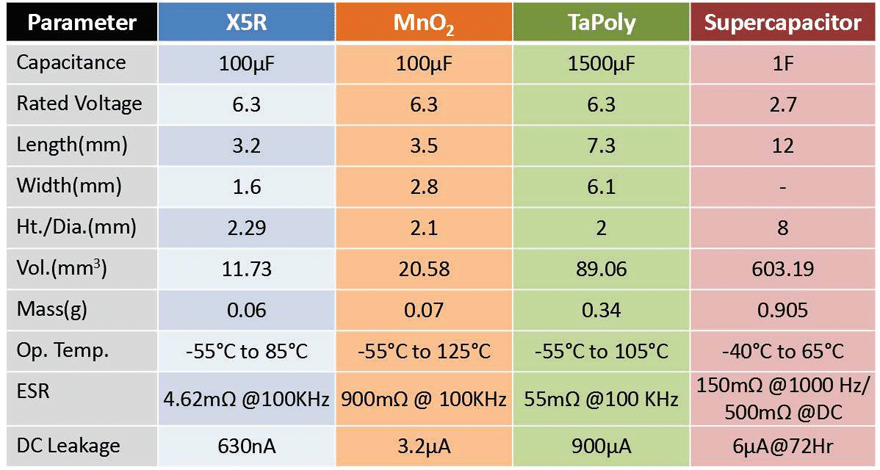 Energy Storage Capacitor Bank Setup and Specifications
Figure 4 provides details of the completed capacitor banks using the four capacitor technologies that were selected. The 5V, 1mF, X5R capacitor bank is the smallest, and has the lowest ESR, but its energy content is the lowest at 3.7mJ. This value is considerably less than what we would estimate using E = 1/2CV2, but when charged to its rated 5V there will be a reduction of capacitance capability because of the DC bias performance of Class 2 MLCCs. It was decided to limit the number of devices to ten in consideration of size for the most part, but it was also known that 1mF would provide enough significant data points during the discharge test.
The Tantalum module is comparable in size and leakage to that of the X5R module, but has higher energy storage capability because of its stability across voltage, but also higher ESR due to the inherently convoluted surface area of the dielectric and cathode interface, which also contributes to the broadband frequency response of Tantalum devices. The TaPoly module takes up the largest surface area but has low ESR because of the conductive polymer cathode system and has the benefits of voltage and temperature stability afforded by Tantalum technology.
The supercapacitor module is the most size efficient when it comes to bulk energy storage, and only two devices were required to achieve an acceptable capacitance and voltage rating. Supercapacitor modules could have been designed with more parallel/series devices with balancing resistors to lower ESR and leakage further but is outside the scope of this paper. The goal is to provide a brief overview of technology performance so that complex scenarios can be expanded on this effort.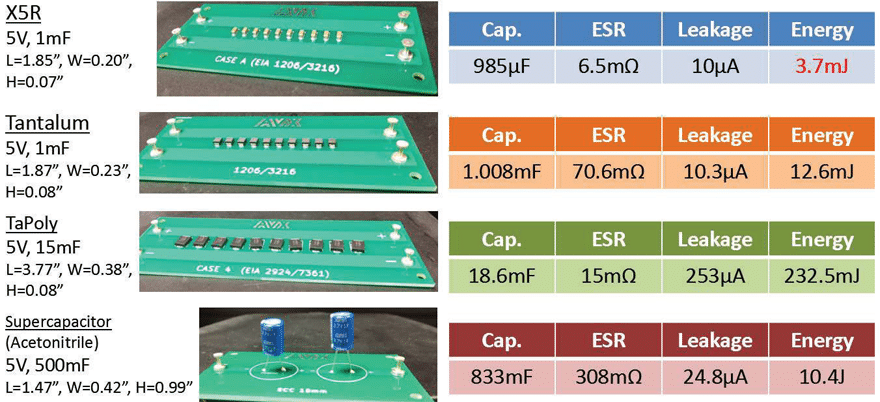 Charge Retention Test
Each module was charged to 5V, removed from power, and monitored for three days to measure the quality of charge retention. This could theoretically account for a remote solar powered module experiencing inclement weather for an extended time. It was observed that the TaPoly module had a higher voltage drop, but was within expectations, due to its conductive polymer cathode, but it is also expected that it will have improved performance in a discharge test. In addition, having capacitors in parallel increases the leakage current of the bank of capacitors. The remaining modules performed comparably after 72 hours, with X5R performing the best which is expected due to inherently high insulation resistance (IR) values of MLCCs. The series orientation of the supercapacitors helps the supercapacitor module in terms of leakage currents, because the IR values would be additive, increasing charge retention performance.

Discharge Test
The capacitor banks were charged to 5V for the discharge test and subsequently exposed to a pulsed load with the waveform found on figure 5. Again, the load is to mimic a high-power RF transmission of a remote IoT module. Voltage levels on the capacitor banks were recorded during the test to monitor discharge rate. Figure 6 displays the duration that the capacitor banks could support the pulsed load. For an arbitrary cut-off voltage of 1V, it's observed
that the supercapacitor bank lasted ~20 minutes, TaPoly ~33s, MnO2 ~2s, and the X5R was just over a second.
Although the MnO2 Tantalum capacitor bank was an equivalent to the X5R MLCC bank, it lasted twice as long, but this is not surprising knowing about the DC bias effects on Class 2 MLCCs. Also, the TaPoly had about a 10% increase in discharge efficiency versus the standard Tantalum bank. And, of course, the supercapacitor bank is enabled by its unique technology to support the system for the longest amount of time. It should be noted the supercapacitor module
was extremely simple i.e. no balancing circuit or voltage monitoring, and that environmental effects were not taken account for, all measurements and test were performed at 25°C. Complex module designs, austere environment or simply applications with low power and duty cycle requirements may not benefit from the use of supercapacitors.