GaN based RF devices offer significant advantages in a wide spectrum of applications ranging from commercial to high reliability / flight use equipment. This paper looks at the ability of Tantalum Polymer capacitors to be used on the voltage supply lines of GaN based Power Amplifiers. The fundamentals of Tantalum Polymers are presented along with recent products intended for flight systems.
A comparison of Tantalum Polymers to Aluminum Electrolytics & MLCCs in both electrical and environmental performance is provided. An example of a high power GaN RF transistor will be shown along side with performance features of each technology.
The paper was presented by Ron Demcko, AVX USA and Slavomir Pala, AVX Czech Republic at the 3rd PCNS 7-10th September 2021, Milano, Italy as paper No.4.3.
Tantalum Polymer Capacitors
Tantalum Polymer capacitors are created by utilizing a conductive polymer in the cathode of the tantalum capacitor as shown in figure 3.
The anode wire is tantalum and a porous pellet of Tantalum powder is pressed onto the anode wire. The resulting structure is sintered into a monolithic block and a Ta2O5 dielectric is formed. A conductive polymer layer is deposited onto that structure and with added processing a tantalum conductive polymer capacitor is formed. This results in very low ESR devices compared to traditional Tantalum devices. ESR decreases of up to eight times are reasonable to expect and that translates into up to eight times the current capability compared to traditional tantalum capacitors.
Tantalum Polymer capacitors have added advantages of:
Improved energy density allowing wide range of product values in smaller case sizes thus providing low inductance in face down/undertab designs
Wide voltage range: 2.5v to 125v
Lower de-rating required:

90% rated voltage / 10% voltage de-rating for products rated up to 10Vr
80% rated voltage / 20% voltage de-rating for products rated 16Vr and higher

Benign failure mode if shorted
No DC Bias voltage effects
High Reliability – Space flight qualified & auto grade families available

A key feature of Tantalum conductive polymer capacitors is improved energy density and the flexibility that allows in providing reasonably sized capacitance ratings in small case sizes with reduced component height. Currently, case size dimensions can range from 0402 to 2924 and heights can be as low as 0.55mm.
Such small sizes translates into a capability of tantalum polymer bulk capacitors to withstand high levels of shock & vibration associated with automotive and flight applications.
Common conditions achieved are:

Shock: MIL-STD-202, Method 213, Condition I, 100 G peak
Vibration: MIL-STD-202, Method 204, Condition D, 10 Hz to 2,000 Hz, 20 G peak
It is especially important to note that the broad range of conductive tantalum polymer capacitor package types and case sizes allow designers to place these capacitors at ideal PCB locations for maximum efficiency. Potentially smaller parts that have the capability to be placed in ways to reduce the loop inductance of the bulk capacitor relative to the capacitor bank. The wide number of different sized cases allows designers to utilize the ideal physical device in most applications. The inductance of Tantalum Polymer case sizes is shown in figure 4.
Aluminum Electrolytic Polymer capacitor
Aluminum Electrolytic Polymer capacitors come in either layered or wound styles. In the case of layered conductive polymer aluminum capacitors, a conductive polymer is the electrolyte. The layered devices have an aluminum cathode as shown in figure 5a. Layered aluminum polymers tend to offer reduced inductance over wound aluminum polymers – thus extended frequency response. Also layered aluminum polymers exhibit greatly reduced heights relative to wound aluminum polymers. Lowered height results in better shock and vibration performance as well as ease of implementation into height-constrained designs. The case of layered aluminum polymers is resin compound with J leads.
Wound conductive epoxy aluminum polymers are based upon a conductive polymer electrolyte but utilize a wound electrode structure vs stacked (as in the case of layered conductive polymers). Wound aluminum polymers shown in figure 5b) offer a larger capacitance range than layered aluminum polymers. In addition, wound aluminum polymers provide potentially lower ESR than stacked Aluminum polymer technology.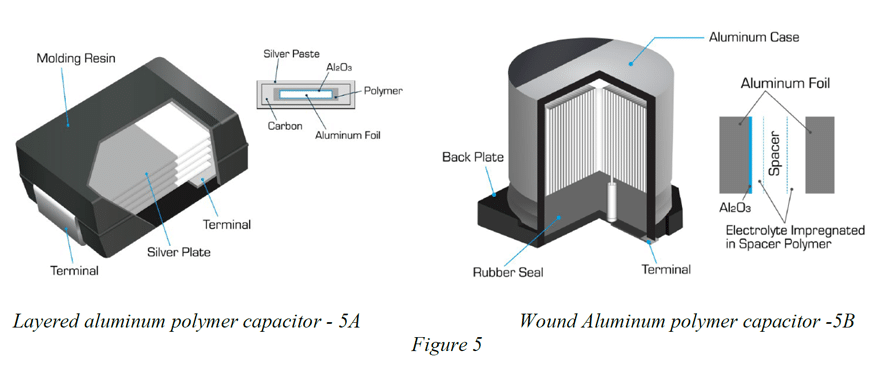 The prior device design explanations help understand the characteristics of these two devices in terms of Electrical and environmental performance. Figure 6 is a high-level comparison of the three technologies.

Tantalum Polymer Flight Approvals
The power, weight and volume advantages of GaN semiconductors is welcomed by the spectrum of flight platforms across the world.
Specifically, the ESA has published recognized advantages of GaNs as [4]:
High output power density, small size, easy impedance match
High voltage operation, simplified voltage conversion
Operation under extreme environmental conditions
The desire to utilize GaN is understandable given that the cost to launch hardware can be considered approximately $25 per gram.
Tantalum Polymer Capacitors can complement and further GaN based system size & weight reduction.
Tantalum Polymer Capacitors be as small as 0402 case size with volumes as low as 0.363mm3 and weights low as 1mg. Such small size components are ideal for providing miniature bulk capacitance in advanced performance PAs.
Currently, NASA has Tantalum Polymer under review for flight use and the ESA has recognized Tantalum Polymer Capacitor technology for flight system use. ESA has approved TCS series capacitors in ESA 3012/006 as a Polymer MultiAnode Tantalum Capacitor Based on TCS Type. This family of parts has a maximum rated voltage of 50v. One very common used gate bias capacitor value is 10uf with a rated voltage of 35v. In fact, 35v rated ESA 3012/006 capacitor are approved in values up to 33uf, which may also potentially be used on low voltage drain bias filtering lines as well.
Hermetic encapsulated tantalum polymer capacitors are available as well in the TCH series – ESA3012/00*
The presence of excess moisture initiates a degradation of the polymer cathode material which is further accelerated by temperature and voltage (i.e. 85C/85% RV). The result is a loss in the polymer cathode conductivity causing an unpredictable drop in capacitance which is not generally recoverable. Though automotive AEC-Q200 and COTS-Plus grade Polymer capacitors are commonly used in moisture sensitive applications the hermetic packaged device offers even higher levels of enhanced performance.
Hermetic packaging of polymer capacitors was developed for extreme use applications in an attempt to suppress the impact of humidity and oxidization on the Tantalum Polymer capacitor. TCH capacitors are ideal for flight gate & drain bias banks with voltage ratings as high as 100v. Common values of use are: 22uf at 100v rating, 33uf at 75v rating, 47uf at 50v rating and 150uf at 35v rating.