Continuous ripple current, power rating, transient/pulse capabilities etc. are the key parameters to consider for a proper capacitor selection in electric circuit design.
Capacitors are naturally limited by its capability to handle/dissipate ripple current and pulse energy load. The limitation may be significantly different by each capacitor technology, dielectric type, its losses (and its characteristics), but also to a specific construction of the product type individual series. In general, the impact of inrush and ripple current can be divided to three time zones:
high current immediate surge spike
transient load dI/dt (dV/dt)
continuous ripple current/voltage load
The key differentiator is the time domain – how long the current is flowing through the capacitor and how / how quickly / the component can handle / dissipate the heat. See the following figure illustrating general model of the ripple/inrush current load as function of time.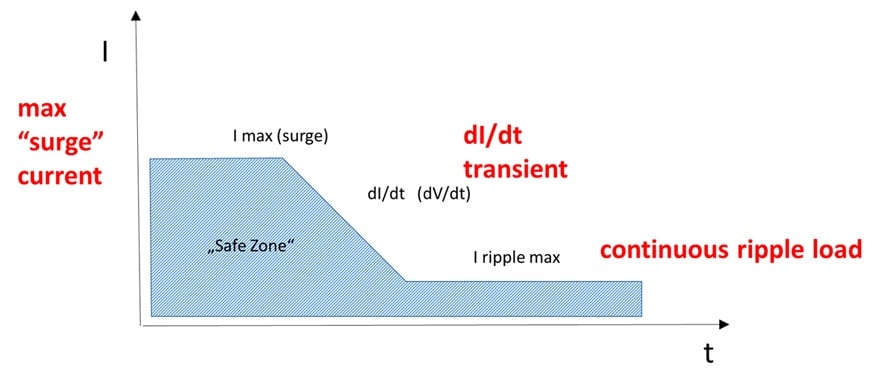 Capacitor ripple current calculation principles and details are explained also in the following article:
Ripple Current and its Effects on the Performance of Capacitors
The high immediate current spike is a typical short time 'micro-seconds' load zone during power switch ON/OFF of a high power, low impedance source circuit. In low impedance circuits, the current spikes can easily reach tenth or hundreds of amperes and it can present an overload risk to the capacitor. Typical example would be a hot plug-in of a low ESR, high capacitance, capacitor directly to automotive 12V battery terminations.
During the "current spike", high current is flowing through the lowest impedance parts of the capacitor and as this a "high frequency" ripple load type, the current path will flow first mainly through a "surface skin effect" area of conductive materials. The capacitor dielectric may be then subjected to immediate high electrostatic mechanical pressure force once the electric field on electrodes is created. Depending on duration of the surge spike, Joule heat is generated that has to be absorbed by the capacitor. This is indeed more relevant to the dI/dt transient discussed in the next chapter, but the initial spike may generate some "pre-conditioning" stage of the capacitor and a total energy to be dissipated by the capacitor during the power on sequence has to be considered.
The maximum allowable capacitor's current shall be specified by manufacturer, however in some cases, the internal resistance of the capacitor is high enough not to allow any dangerous current to flow through the capacitor structure and thus ripple current specification of the part is specified only. It means the capacitor technology is not sensitive to power on load as for example conventional aluminium electrolytic "high ESR" capacitors.
A good circuit design practice is to use soft start circuits, where applicable, to limit the power ON/OFF current load that eliminates most of the immediate current surge load and of course improve overall the hardware design robustness and reliability.
Some capacitor constructions such as tantalum MnO2 capacitors are sensitive to the maximum surge current. Manufacturers and standards (ESA) specify its surge current limits.
Note: "voltage spike" is another phenomenon, however, during voltage spike, the maximum available current can be limited. Typical example of a voltage spike is a low impedance switching between inductor and capacitor that is used in high voltage start-up systems. The risk here is the capacitor electric breakdown when the induced voltage exceeds its breakdown voltage. Sufficient design margin, protective diode or other circuit protection measures may be good idea to implement for robust design of such circuits. In some cases, dangerous "unwanted" low impedance switching can be caused by broken connector/jumper or PCB crack under a vibration conditions – as a tip for uneven capacitor failure identification.
Transient Load dI/dt
In the next transient time domain – approximately in miliseconds to hundrends of milliseconds about range – the current move from the skin surface to the bulk of materials / lower conductive sites of the capacitors and heating of its real resistive elements begin. This Joule heat has to be dissipated by the construction and not to cause any thermal damage to its structure.
This zone is a "usual" operating transient load zone for the capacitors, as most of the power management systems will use soft-start circuits and "shift" the power switch peak from the very short duration of very high current spike (tenth and hundred of amps in microseconds) to this range of typically units of Amps within tenth to hundreds of milliseconds range.
dI/dt (dV/dt) transient power source capability is the key parameter for high power, high voltage circuits using film or ceramic capacitors, thus attention shall be paid for the correct design respecting capacitor manufacturers' recommendation.
The maximum allowed ripple current and transient load may be very specific to the capacitor type. Some capacitor technologies may define ripple current and maximum surge current only, while dI/dt is considered to be covered by its "maximum surge current limitation". Thus manufacturer datasheets and technical notes should be followed for details.