"Failure analysis of capacitors and inductors" article by Javaid Qazi and Masahai Ikeda from KEMET Electronics appeared in ASM International® publisher book "Microelectronics Failure Analysis Desk Reference", Seventh Edition edited by Tejinder Gandhi. Passive components blog received permission from both authors and publisher to share this article on passive-components.eu website.
Failure Analysis of Capacitors and Inductors
Chapter by
Javaid Qazi
KEMET Electronics, Simpsonville, SC USA also, an Adjunct Faculty at the School of Materials Science and Engineering, Clemson University, Clemson, SC
Masahai Ikeda
TOKIN a subsidiary of KEMET Electronics, Sendai, Japan
source: Kemet Engineering Center White Paper
Abstract
General construction of Tantalum, Aluminum electrolytic, Multi-layer Ceramics, Film, and Super capacitors and Common Mode Choke and Surface Mount inductors are explained. Major failure modes and the mechanisms for each one of these are discussed. Different failure analysis approaches used for these components along with development of some of these techniques are described as well.
Introduction
There is an increasing use and reliance on electronics in daily life, from portable electronics to pacemakers, high reliability of these systems is expected and demanded. Passive components might not be the "brains" of these electronic systems, however, failure of any of these could result in a partial to complete electronic system shutdown. These malfunctions lead to annoyance or can escalate to safety or even life-threatening situation. Failure Analysis (FA) of these components helps determine the root cause and improve the overall quality and reliability of the electronic systems.
Passive components can be broadly divided into Capacitors (CAPS), Resistors, and Inductors (INDS), with each having drastically different functions and hence constructions. Within each of these categories, there are subcategories, based on different materials and constructions used in each, as listed in Tables 1 and 2 [1]. This makes the FA of passive components a broad topic. The current work supplements an article in the previous edition of Microelectronics Failure Analysis Desk Reference [2]. General construction of select components along with typical failure modes and relevant FA techniques are discussed.
Before delving into the specific FA approaches for different components, some of the common FA practices are briefly discussed here. Examining and documenting the failed component in as-received condition, such as physical anomalies and damage, orientation on the board, condition of the surrounding parts, and so on, are crucial, as these provide invaluable information. Understanding, documenting and in many instances, confirming the reported failure mode (i.e. leakage or short, open circuit, etc.) is the next important step.
Next non-destructive internal and external examinations by optical microscopy, X-ray, C-mode Scanning Acoustic Microscopy (C-SAM) and so on, should be performed. Performing basic electrical characterization, which is discussed in individual sections, is the next logical step. The reader is encouraged to refer to the specific components' section below to ensure that no further damage occurs to the component due to any of the above analyses. Before performing any FA, it is critical to gather history of the failed component, including lot information, board mounting and washing conditions, any testing performed on it, when and how it failed, what failure was detected and so on. Ensuring that counterfeit or wrong component is not the cause of failure is another consideration. Understanding the construction of the component plays a vital role in performing FA, as it varies within each category, as well as, across manufacturers (some of which are listed in references [1, 3-7]).
The type of failure, component construction and condition determine the best isolation approach. Removal with hot air pencil, cutting the leads or solder pads, cutting the board around the component, etc. are the common options for isolation. The goal is to remove the component with little or no damage.


Proper safety and handling practices, and applicable codes should be followed. Improper handling of chemicals and/or electrical systems could cause bodily injury or even death.
The inductor (IND) is an electrical component that can store magnetic energy. These are used mainly for power conversion like DC/DC converter and noise reduction applications. Basically, an IND is comprised of a conductive coil and magnetic material. The conductive coil is generally made of insulation coated wire which is called "magnet wire or enameled wire", copper trace, or sintered silver paste. The representative magnetic materials are ferrites and iron-based metal alloys.
Based on the construction, INDS can be divided into two common types, Common Mode Choke Coil and Surface Mount Powder Choke Coil, (Fig. 23), both are discussed in the following.
Common Mode Choke Coil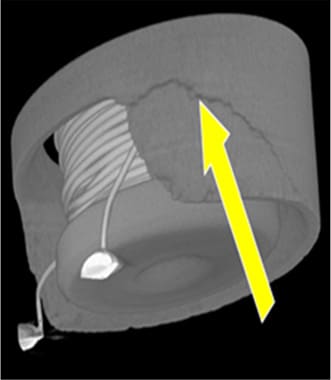 Common Mode Choke Coil (CMCC) is used for common mode noise reduction in power line. It is normally comprised of toroidal core and wound wire. The core is ferrite, pressed metal powder, or laminated metal ribbon. Insulation coated copper wire is used for winding. The ends of the wound wire are used as the connecting terminals.
CMCC's electric performance depends on the permeability of the magnetic material, core size, and number of turns of the wire. The core, which has some conductivity, is encased for keeping insulation between the wire and the core. The diameter of the wire is determined by its rated current. For high current ratings, sometimes two or three wires are wound simultaneously around the core, instead of one thicker wire, which might be difficult to wind to the core. Material of the core is determined by required permeability and environmental conditions such as temperature, humidity, and mechanical stresses.
CMCCs could fail open, short, or exhibit parametric losses. Shorting by insulation defect is the most common failure mode. Insulation coating of the wire could be damaged by mechanical stress, during winding, or the wire is over heated by excessive current (during application), and so on.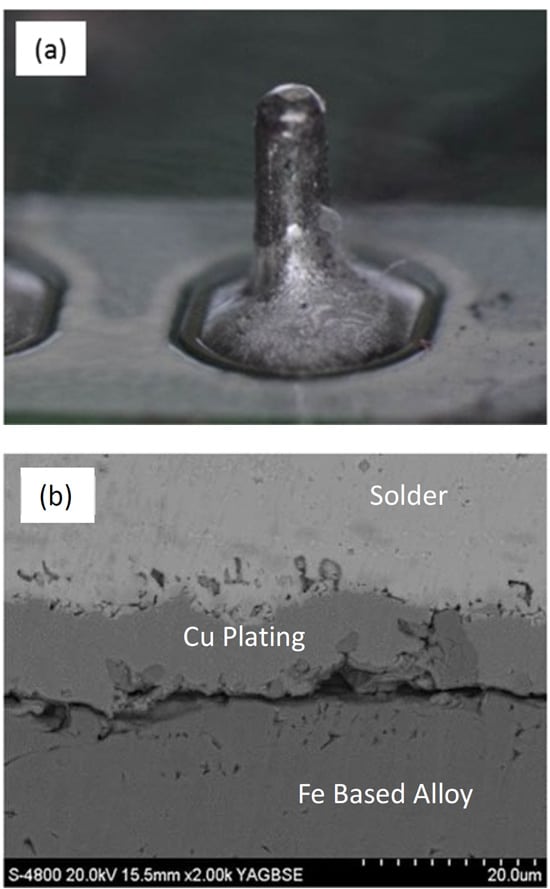 Open mode failure may occur by excess current and/or a defect in terminal soldering. A damaged core, such as cracking, may cause parametric changes because its magnetic properties are changed. This is especially true for a ferrite-based core: the ferrite being brittle in nature, can easily be damaged by mechanical or thermal shock. In one such example, external examination of a low inductance failure did not show any anomalies. Internal construction examination utilizing X-ray CT (Fig. 24) revealed the existence of a crack in a ferrite core. Decrease in the core size could lower the inductance. The nature of the crack suggests that the core was damaged by mishandling.
An open mode failure could occur by compromised lead connection. Fig. 25a shows a closeup of a terminal of an open IND after soldering operation. External examination did not reveal any apparent defect. The part was potted in an epoxy and cross-sectioned for an internal construction examination. SEMEDX analysis of the terminal solder interface showed delamination between the terminal (Fe-based alloy) and copper plating (under plating between terminal and solder).
These types of failures are typically attributed to an improper plating process. Application temperature variation can lead to parametric failures. Magnetic properties of materials are temperature dependent and above the Curie temperature, magnetism of the material is lost completely. Curie temperature is composition dependent, e.g. for ferrite-based materials it is between 120°C to 220°C, depending on composition.
Surface Mount Inductors
Surface Mount Inductors (SMI) are used for power conversion circuits such as DC/DC converters. They are comprised of preformed inner coil which is molded over using a composite material (mixture of a magnetic metal alloy's powder and resin). The inner coil is made of round or squared wire with insulation coating. Insulation coating has two roles: insulating between adjacent wires and insulating between the coil and the over-molded material. The manufacturing process involves setting up the inner coil in a die, backfilling the die with composite material and pressing it, curing the resin and plating solder on the wire ends, and finally folding the wire ends to form terminals.
Surface Mount Powder Choke Coil could fail open, short or exhibit parametric losses. Improper conditions at pressing could damage the wire's insulation by metal powder (part of composite) rubbing/pushing against it, consequently creating a short condition. This type of IND is attached to the board by two terminals, which supports its heavy body as well. Any damage by mechanical stress, especially vibration, can compromise either or both terminals, thereby creating an open condition. When vibration frequency is consistent with IND's natural resonance frequency, these terminals might break resulting in an open mode failure.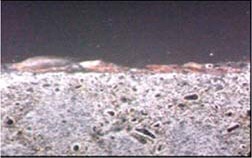 Surface oxidation and/or corrosion may occur because the composite material contains metal powder which is mainly iron. Such rust and corrosion may cause slight parametric change but typically are mere physical appearance issue. A cross sectional view of an IND, (Fig. 26), which had been exposed to high humidity for extended time, shows presence of rust just on the surface. It is most likely caused by peeling away of coating on metal powder on the surface.
This was a superficial cosmetic defect, as no penetration of rust was detected even after long exposure times. More importantly, no deterioration in magnetic characteristics was detected. Improvement of coating material and coating condition resulting in stronger adhesion eliminates even the surface rust.
Summary
The goal of passive components' failure analysis (FA) is to determine the root cause for an electrical failure. The findings can be used by the manufacturers to improve upon the design, materials, and processes used to create their components. This leads to better quality and higher reliability components. The FA also provides feedback for the users to improve their handling, storage, and applications of these components.
The improved quality and application conditions of these components, help reduce and eliminate premature failures, and enhances the overall electronics' performance and reliability.
To perform proper FA, an understanding of component construction is crucial. Typical construction of Ta, Alelectrolytic, Film, MLCC and Super CAPS along with Common Mode Choke Coil and Powder Mode Choke Coil Inductors are discussed. Initial examination and documenting the failure in as-received condition, common for all of these, is very critical and should be done.
For capacitors, typically high leakage or short condition results from either dielectric compromise or bridging across the positive and negative terminals, what causes this and how it occurs varies for the different CAPS. High ESR, low or no capacitance typically result from compromised connections, the cause of which varies depending on the capacitor type.
Mechanical damage, harsher environment along with some production defects are the dominant factors for Inductors failures.
Acknowledgments
Authors would like to acknowledge KEMET colleagues for their help in preparing and reviewing this chapter, especially A.Parker, B. Reeves, D.Hepp, P. Bryson, M. Fulton, Z. Dou, V.Andoralov, D. Adam, M. Wright, M. Michelazzi, D. Montanari, J. Chen, C. Fischer, C. MotaCaetano, A. Gurav, C. Riedl, J.Bultitude, O. Pirakaew, P. Khomwongthep, K. Oga and P.Lessner.
We would also like to thank J. Kaplan of Cornell Dubilier for his help.
References
[1] KEMET Electronics Corporation, www.kemet.com
[2] Ross, R., Microelectronics Failure Analysis Desk Reference 6th Edition, ASM International, (Ohio, 2011),pp. 111-120.
[3] www.avx.com
[4] www.cde.com
[5] www.murata.com
[6] www.vishay.com
[7] www.panasonic.com
[8] Qazi, J., "An Overview of Failure Analysis of Tantalum Capacitors", Electronic Device Failure Analysis, Vol. 16, No. 2 (2014), pp.18-23.
[9] Ye. J, Stolarski, C., Yaun, M., "Conductive Polymer Based Tantalum Capacitors for Automotive Applications", Tantalum International Study Center, 56th General Assembly Meeting, 2015.
[10]Freeman, Y., Hahn, R., Lessner, R., and Prymak, J., "Reliability and Critical Applications of Tantalum Capacitors", Capacitors and Resistors Technology Symposium, Electronic Components, Assemblies and Materials Association (ECA), March 2007.
[11] Freeman, Y., "Effects of Thermal Oxide on Anodic Oxide of Ta", Capacitors and Resistors Technology
The article has been published on Passive Components Blog passive-component.eu under Copyright © 2019 ASM International® www.asminternational.org and permission from authors.
The full book can be accessed at following address https://doi.org/10.31399/asm.mfadr7.9781627082471