Dennis Zogbi, Paumanok Inc. publishes on TTI Market Eye 2023 outlook on passive components for defence electronics. The article shows electronic materials price trends for passive electronic components.
DEFENSE SPENDING: ELECTRONIC TECHNOLOGY: 2012-2022
The market has been stagnant from 2012 to 2016 due to government-imposed sequestering in the United States, but in 2017 through 2019 this market showed remarkable signs of growth in the narrow end-market areas of aircraft and space electronics.
In 2020, the global pandemic sent demand for defense electronics plunging 11 percent in one year, and a shift in U.S. leadership has kept defense spending in check through 2022.
For 2023, however, demand is expected to increase in the small and precise European markets for defense electronics, which will focus on missiles and missile defense.
INSIGHTS: It is important to note that the pandemic devastated advanced markets in high-reliability defense electronics as global priorities shifted away from conviction to medical technology and laboratory test equipment. High voltage defense markets will have to increase in the near term in an effort to stabilize. But for many defense vertical platforms, the pandemic spelled doom.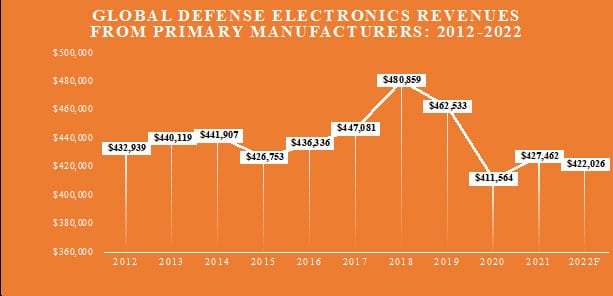 PASSIVE COMPONENT CONSUMPTION IN DEFENSE ELECTRONICS: 2023
The global market for high-reliability passive electronic components includes a significant amount of demand from the defense sector. Defense applications for capacitors, resistors and inductors are usually associated with power supplies, communications circuits and munitions and require value-added performance at frequency, temperature and voltage.
The passive component segment for defense electronics includes capacitors, resistors and inductors.
Defense Capacitors
Within those sub-categories, ceramic capacitors are the most preferred product line, followed by tantalum capacitors, although plastic film capacitors and aluminum electrolytic capacitors are also consumed in the defense and aerospace sector as well.
Ceramic Capacitors for Defense Electronics
Multilayered Ceramic Chip Capacitors (Huge)
Stacked Multilayered Ceramic Chip Capacitors (Big Sub-Market)
Multilayered Axial Leaded Ceramic Capacitors (Specialized)
Multilayered Radial Leaded Capacitors (Legacy)
Single Layered Ceramic Disc High Voltage Ceramics
Single Layered SMD Chip Ceramic Thin Film High-Frequency
Single Layered Ceramic Valve Block For High Voltage Power Supplies
Plastic Film Capacitors for Defense Electronics
Polypropylene Film Capacitors, Large Cans, for Pulse Discharge
PTFE, FPE and PI Capacitors for High Temperature
Tantalum Capacitors for Defense Electronics
Molded Chip Tantalum Capacitors
Coated Chip Tantalum Capacitors
Tantalum Wet Slug Hermetic Capacitors (Big Sub-Market)
Axial Leaded Tantalum Capacitors
Radial Leaded Tantalum Capacitors
Other Defense Capacitors
Exotic Dielectrics
Glass Capacitors
Aluminum Electrolytic for Motor Start
Double Layer Carbon
Capacitors are consumed for bypass, filtering and decoupling applications but are also consumed in pulse discharge applications for radar circuits, munitions and railguns.
Defense Resistors
In resistors, the defense and aerospace segment consumes a myriad of ruthenium-based chip resistors and networks, as well as nichrome metal film, tin-oxide and bulk metal foil resistor products and wirewound resistors for power.
Thick Film Chip Resistors
Thick Film SIP and DIP Networks
Nichrome Metal Film Resistors
Nichrome Bulk Metal Foil Resistors
Tin-Oxide Flameproof Resistors
Wirewound Resistors
Resistors are consumed in almost all defense platforms, and the segment prefers the use of nickel chromium in film, wire and foil formats because of its operational reliability and resistance to moisture.
Defense Inductors
In discrete inductors, consumption of molded chip inductors and wirewound axial and radial leaded inductors is noted in defense and aerospace electronics.
Molded Chip Ferrite Inductors
Ceramic Chip Coils
Ferrite Cores
Wirewound Axial (Conicals)
Wirewound Radials
Thin Film Barium Strontium Titanate for High-Frequency
In discrete inductors for defense, the majority of products are consumed for noise abatement in communications and navigational equipment only.
PASSIVE ELECTRONIC COMPONENT INTENSIVE DEFENSE PLATFORMS
The defense end-market represents the largest single end-market for "value-added and application specific passive electronic components." The primary circuit applications in defense electronics are:
Power Supplies
Communication and Navigation
Computing and Networking
Displays and Controls
Munitions
Optics and Sensors
In many instances, the following criteria are required of the components consumed in the defense and aerospace sector:
High Voltage >500 Vdc
High Frequency >1 GHz
High Temperature >175 C
Low Temperature <-55 C
Harsh Environment Operation
The categories can further be broken down into multiple supply chains. Paumanok uses the following portfolios of the major defense manufacturers to guide the core sub-sets where passive components are consumed as follows.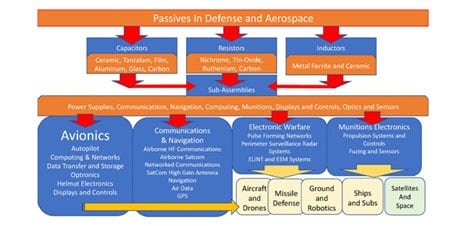 Avionics
Communications, navigation, display and multisystem management, when combined together form the core subset of the defense and aerospace electronics segment known as avionics. Avionics uses open systems architecture (OSA) and commercial off-the-shelf (COTS) technology to best meet system requirements within budget. Automatic flight controls are required to perform reliably in all types of flight situations to reduce pilot distraction and fatigue on long haul flights. Also, the unmanned military drone technology also employs autopilot technology, including single and multiple redundant configurations, providing automation along with both reliability and electronic safety features.
Autopilot
Computing and Networks
Data Storage
Optronics and Optical Assemblies
Helmet Mounted Displays
Aircraft Networks
Displays and Controls
Engines and Controls
Power Supplies
Communications & Navigation
Modern military communication systems provide advanced platforms that span the operational spectrum and include the following sub-categories:
Airborne High Frequency Communications
Airborne SATCOM
Networked Communications Airborne Radio
SATCOM High Gain Antenna
Navigation
Air Data
Ground Communications Products
Micro GPS Receiver Application Module
Airborne VHF/UHF/L-Band
High-speed Transceiver
Perimeter Surveillance Radar Systems
Electronic Warfare and Other Radar
Munitions Electronics
In the market sub-segment known as munitions electronics, we see the primary areas of consumption of electronic components in power supply (Power up) and in pulse discharge detonation circuits.
Power Up and Power Supply
Pulse Discharge
Propulsion Systems & Controls
Fusing and Sensors
Satellites
In the market sub-segment known as satellites, we see the primary areas of consumption of electronic components in power supply (Power up) and in unique communications circuits and filtering technologies.
Communication Satellites
Imaging Satellites
SUMMARY AND OUTLOOK
The defense and aerospace electronics sector represents a significant part of the value added and application specific segment of the passive electronic component supply chain. Because of its small size (<$500 MM U.S. dollars in military specification grade capacitor, resistor and inductor sales to defense worldwide), this segment of the market requires high-reliability capacitors, resistors and inductors that can operate at high temperature, high frequency and/or high voltage applications in multiple fragmented subassemblies primarily in avionics, communications, munitions and satellites.
In 2023, the market is expected to grow in Europe to satisfy increased demand for new electronic platforms in France and Germany, as well as additional increased defense spending at smaller countries throughout the region.
Overall, however, the market will not return to pre-pandemic levels until a Republican agenda returns to the Executive Branch in the United States, which determines the demand for military specification electronics worldwide, and as of 2022, the market remained below historical spend levels.